If owners pass playoff expansion, does the union have to approve it?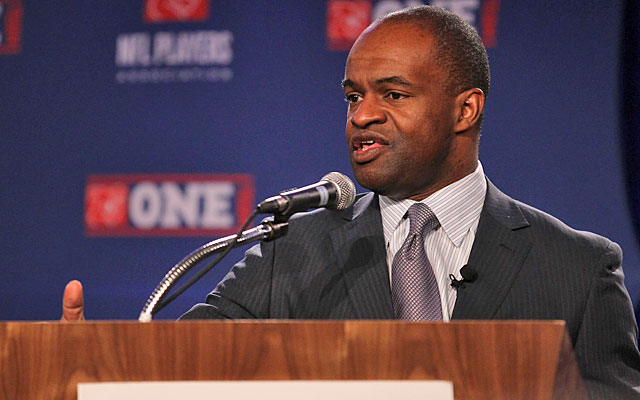 More Draft coverage: 2015 Mock Drafts | 2015 Top 100 | 2014 Draft Grades | News
If you like the idea of expanding the playoffs and making it a 14-team (instead of a 12-team) postseason, it seems likely the NFL will grant you that wish. Playoff expansion almost certainly will be a topic of conversation at the owners meetings in Atlanta on Tuesday, and if it comes to a vote, it seems likely that it will pass.
After all, it will mean more money for the NFL, and whenever that equation appears before the owners' eyes, they usually do all they can to make sure it happens.
But even if 24 of the 32 owners vote to expand the playoffs, that doesn't necessarily mean it's going to happen because, according to the players union, the NFLPA also has to agree to the idea. And according to USA Today's Tom Pelissero, the NFLPA hasn't been approached by the NFL to talk about the possible expansion.
Not only that, but the paper writes the union could put pressure on the NFL about worker compensation issues in order to agree to more playoff teams.
As we wrote about last weekend, the NFLPA is miffed about the law that could become a law in Louisiana that would, in the union's eyes, limit the workman's comp money a player would earn if he's injured during the course of his job.
The union last Friday sent a letter to player-agents that subtly suggested that perhaps players should think twice about playing for the Saints because of this potential law, and New Orleans quarterback Drew Brees is on record saying the law should not be passed.
"Under the CBA, all changes in player working conditions, such as expanding the number of games played, requires negotiation with the players," Smith told USA Today on Monday. "Player leadership has consistently made it clear that we do not consider any issue, let alone issues that affect player health and safety, in a vacuum. We have seen the NFL owners and the league support rollbacks in injury care benefits and loss wage benefits in Louisiana, California and Arizona.
"Their inability to address and resolve these issues among various clubs means that players suffer disparate treatment in a league that disciplines to maintain uniformity. Most recently, the Saints introduced a bill aimed at only professional athletes to reduce players' workers compensation benefits."
But, according to at least one owner, none of this should be an issue anyway.
jerry Jones says he does not believe union has to sign off on playoff expansion.

— Judy Battista (@judybattista) May 19, 2014
Even if the owners do pass the expanded playoffs on Tuesday, don't expect that to be the end of it. Because it sounds like the NFL and the NFLPA are gearing up for another fight.