With Sean Lee's season in doubt, Cowboys look for replacement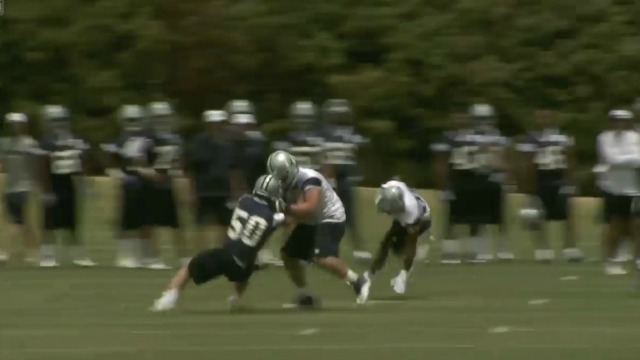 More NFL offseason: League minicamp dates | Latest news, notes
Cowboys linebacker Sean Lee has a torn ACL, but no other ligamant damage, reports CBS Sports NFL Insider Jason La Canfora. The Cowboys linebacker will get a second opinion, but until then, a team source says, it remains unlikely that the Cowboys confirm anything publicly.
Lee will likely have surgery next month after the swelling goes down.
The injury occurred during Tuesday's practice when Lee slipped and crumpled to the turf just before he was hit by first-round pick, guard Zack Martin.
La Canfora reports that Lee continues to absolve Martin and the team of any culpability in the matter.
Meanwhile, the Cowboys need a contingency plan in the event that Lee's season is over before it starts, and that begins with the players currently on the roster.
"We always want to be able to look at the entire landscape of who's available to us," coach Jason Garrett said. "But we felt like we've added some resources to our team at that position -- we want to give guys a chance and see what they can do."
That means more work for Anthony Hitchens, DeVonte Holloman and Justin Durant.
"I've still got to get my alignments down and just play fast and just try to learn as quick as I can," Hitchens, a rookie, said Tuesday. "They're not here to hold my hand and walk me through this stuff, so I've got to take a lot of time on my own to learn this playbook."
Garrett, talking about Holloman and Durant, added: "DeVonte Holloman played some Mike linebacker for us last year, so we would see him working in that spot. Justin Durant has played different spots for us and played different spots in his career."
But the coach wasn't ready to concede that Lee's season is effectively over.
"We want to evaluate what Sean's situation is first, then we'll give some other guys an opportunity to get in there and show us what they can do," he said.
And while Garrett remains impossibly optimistic, Lee's teammates already appear to be embracing reality.
"I was right behind him when it happened, "safety Barry Church said of Lee. "And that's one of my best friends on the team. Feels kind of awful. But we have his back no matter what. That's tough right there."
Whatever fate awaits Lee, his coaches and teammates know he'll find a way to contribute.
"[Lee's] been hurt in the past during the season, when he's been on IR, and we have meetings that start at 7:30 in the morning and he's there," Garrett said. "He's there helping guys out when he's inactive and he can't play for the rest of the season. That's the approach he's always taken."