2002 NFL MVP Rich Gannon: Johnny Manziel's Vegas trip was a mistake
Johnny Manziel's trip to Las Vegas over Memorial Day weekend has divided the nation into two sides: People who believe Manziel had the right to go on his weekend off and people who think the trip was a mistake.
Former NFL MVP Rich Gannon is on the latter side.
"If you're Brian Hoyer, you're doing cartwheels after seeing those pictures of Johnny in Las Vegas because it helps him," Gannon told USA TODAY Sports. "I don't see how that weekend helps Johnny. Look he didn't do anything wrong or bad. But all players aren't created equal. You're held to a higher standard as the face of the franchise."
Gannon says Manziel would have been better off not going to Vegas.
"We all make mistakes. But he's got to realize you're better off laying low -- just use better judgment," Gannon said.
Manziel really only made one mistake over the weekend and that was having his picture taken with Pauly D from Jersey Shore. A picture with Snooki would've been better. Actually a picture with anyone would've been better.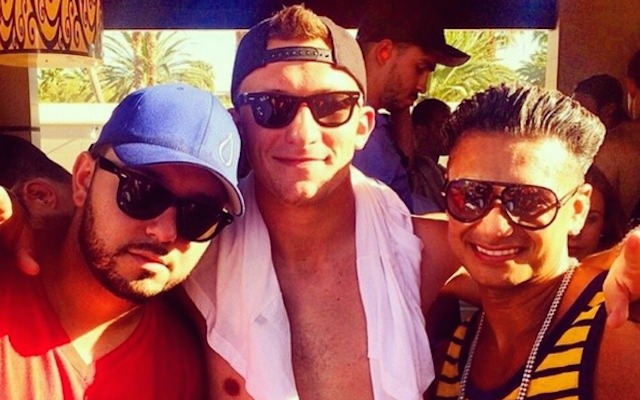 Anyway, back to Gannon, who alluded to the fact that Browns owner Jimmy Haslam probably wasn't thrilled with the Vegas trip.
"Their owner, Jimmy Haslam, just got done saying, 'This isn't Hollywood. It's Cleveland. It's a blue-collar town. We haven't had success at that position in years. You've got to work hard to win the starting job,'" Gannon said. "Johnny has got to be very conscientious and smart about what he does and who he runs with."
There were predraft concerns that Manziel's lifestyle might preclude him from finding success in the NFL and Gannon says the trip to Vegas doesn't help.
"I talked to a lot of coaches and GMs and they said, 'There's a lot to like there. But there's also some genuine concerns. Is he going to be in the building on our Tuesday off-day working? Or is he going to be out in L.A. at a photo shoot?'" Gannon said.
In the end, the only opinion that really matters is the one that belongs to Mike Pettine -- and Pettine didn't seem to mind Johnny's Vegas trip. "He did nothing illegal," the Browns coach said.
As for all the media coverage? "It's the price tag for the reputation he has," Pettine said.