Police: Marcell Dareus charged, 'possibly racing,' will miss OTAs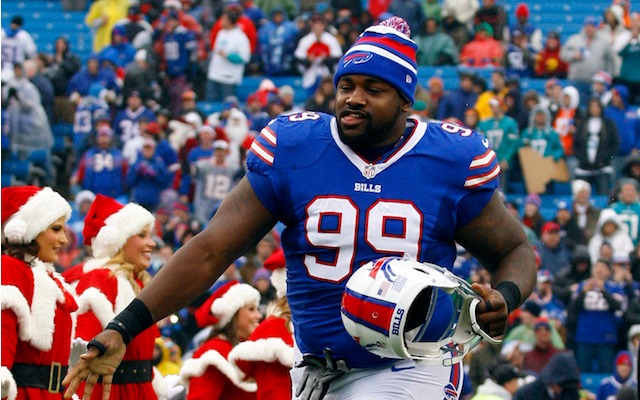 Bills defensive tackle Marcell Dareus was "possibly racing" according to Hamburg, N.Y., police.
The Hamburg police department issued a statement on Tuesday stating Dareus was charged with three crimes: Reckless endangerment in the second degree (a class A misdemeanor), reckless driving and participating in an illegal speed contest.
The latter two are unclassified misdemeanors as well as traffic violations, according to police.
Witnesses told police that a white Jaguar, operated by Dareus, and a black Camaro were "possibly racing" down Route 179 in the afternoon on May 30 when the Jaguar "left the roadway near the entrance of the Mongolian Buffet."
The Jaguar, witnesses said, "continued westbound over the grass and onto the parking lot of that restaurant, before striking a tree on the northeast front portion of the restaurant property."
This latest arrest, originally reported on Monday afternoon, is not a good look for Dareus, the third overall pick in the 2011 NFL Draft.
Dareus previously explained that he's "not a trouble guy," except he's managed to get arrested twice in the past month.
Bills coach Doug Marrone announced Tuesday that Dareus would miss the remainder of OTAs.
Marrone says Dareus will not attend the remainder of OTAs. Will return for mandatory minicamp

— Mike Rodak (@mikerodak) June 3, 2014
Buffalo recently picked up the fifth-year option on Dareus, but it's guaranteed for injury only. If he continues to fall out of favor with the organization, there's no guarantee he sticks around.