Ron Rivera wants Richard Sherman on Madden cover, not Cam Newton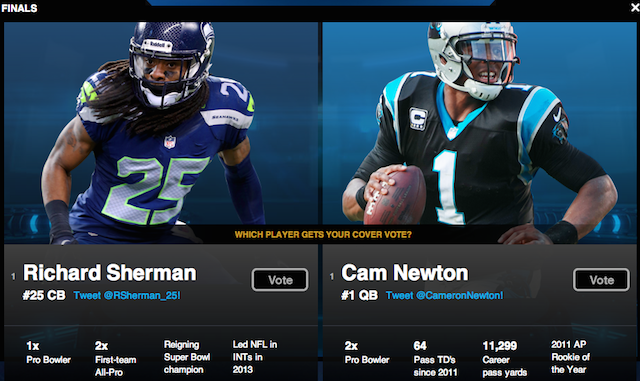 More NFL offseason: League minicamp dates | Latest news, notes
The world will find out on Friday who's going to win the Madden NFL 15 cover vote. The two finalists for the cover are Seahawks cornerback Richard Sherman and Panthers quarterback Cam Newton.
The player who's tallied the most votes by Friday afternoon will get to grace the cover of the long-running EA Sports game.
If Newton loses the cover to Sherman by one vote, the Panthers quarterback will be able to place the blame on one person: His coach. That's right, Ron Rivera is not voting for Newton.
Rivera said on Wednesday that he's voted 'for the opposition' multiple times, "I'm trying to avoid the jinx," Rivera told ESPN.com.
Although Rivera doesn't play video games, apparently he knows all about the Madden Jinx. It's a curse that's struck everyone from Garrison Hearst (1999) to Michael Vick (2004) to Vince Young (2008) to Brett Favre (2009) -- and that's only a short list of that players who have been affected.
Hearst was the first player on the cover -- before that it was Madden -- and he broke his ankle. Vick broke his leg, Young injured his quadriceps and Favre tore his biceps tendon.
Keep in mind that the year a player is on the cover isn't the jinx year. For instance, Madden 15 is coming out in 2014, so 2014 is the jinx year. In Vick's case, he was on the Madden 2004 cover that came out before the 2003 season, so 2003 was the jinx year.
Anyway, Newton doesn't seem to care about any curse. The Panthers quarterback was a finalist for the Madden 13 cover and he even made a video asking people to vote for him. The cover ended up going to Calvin Johnson.
Newton made a new video this year. You can watch that below. The cover winner will be announced on Friday during a 6 p.m. ET edition of SportsCenter.