Richard Sherman will be on 'Madden 15' cover after winning vote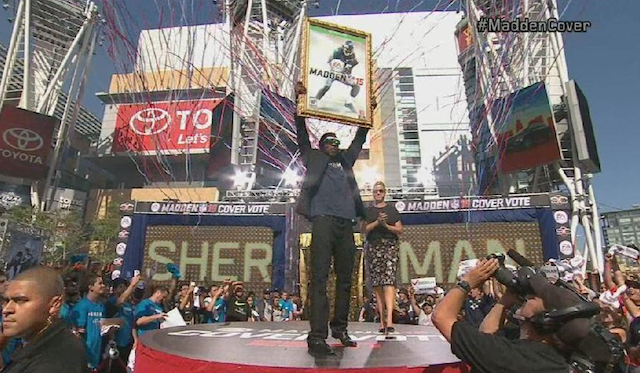 More NFL offseason: League minicamp dates | Latest news, notes
The people have spoken and the people want Richard Sherman on the cover of "Madden 15." The Seahawks cornerback will grace the cover of the game, which is scheduled to be released on August. 26.
Sherman beat out 15 other players in a nationwide vote that was setup like an NCAA tournament bracket on ESPN.com. In the finals, Sherman beat out Panthers quarterback Cam Newton.
The Seahawks corner also topped Bears wideout Alshon Jeffery in the first round of voting (73 percent-27 percent) and Saints tight end Jimmy Graham in the quarterfinals (75-35), before crushing 49ers quarterback Colin Kaepernick in the semifinals (65-35).
Kaepernick probably didn't care about losing though because he's going to be the first player ever with tattoos in a Madden game.
Anyway, to get to the finals, Newton topped Steelers wideout Antonio Brown in the first round (80-20) and Chiefs running back Jamaal Charles (58-42) in the quarterfinals, before beating Colts quarterback Andrew Luck in the semifinals (56-44).
Sherman will be the second Seahawks player to grace the cover, joining Shaun Alexander, who was on the cover of Madden NFL '07, which was released in 2006.
If you're wondering why Newton lost, it might have been because of his coach. Ron Rivera said this week that he was voting for Sherman because he wanted Newton to 'avoid the jinx.'
That jinx Rivera is talking about is the Madden curse. Fourteen of the past 16 players who have been on the cover of Madden have struggled the following season. If you believe in curses or just like reading about curses, you can read more about the Madden curse here.
Oh and just in case you can't see the cover Sherman's holding at the top of the page, here's a better look.
JUST ANNOUNCED: Your new #MaddenCover athlete for Madden 15 is @Seahawks CB @RSherman_25. pic.twitter.com/BzcwBLCDlL

— NFL on ESPN (@ESPNNFL) June 6, 2014