VIDEO: Ravens coach John Harbaugh crashes marriage proposal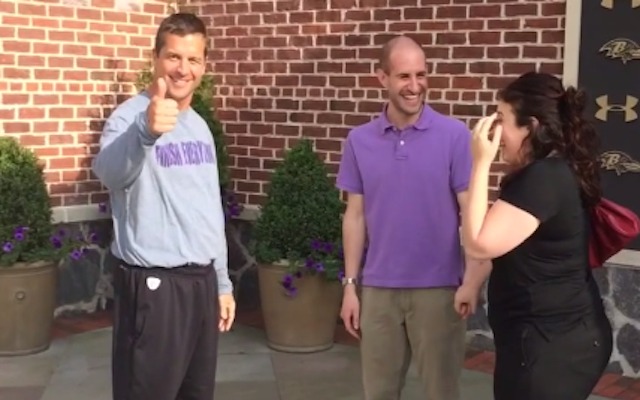 More NFL offseason: League minicamp dates | Latest news, notes
David Rudich and Amy Segall should probably just cancel their wedding because there's no way it's going to top the proposal.
Segall is a huge Ravens fan, so Rudich decided to propose at the team's practice facility last week. Just after he pops the question, Ravens coach John Harbaugh randomly shows up.
Harbaugh then asks them if they "Just got engaged."
"Congratulations. Let me shake your hand," Harbaugh said.
Segall's reply, "My hand's already shaking!"
Was this a random run-in? Or did Harbaugh know about it before hand? It's hard to say, but it's clear that Segall was surprised and really, that's all that matters.
The newly engaged couple is scheduled to get married next May. Obviously we know Segall's a big Ravens fan because she made sure the wedding wasn't scheduled during football season.
If you watch the video below, keep in mind that there's a very not safe for work word in the first five seconds. After that you're home free.
(Wink of the CBS Eye to SI's Extra Mustard)