13 facts you may not know about CBS Sports' broadcasting of NFL games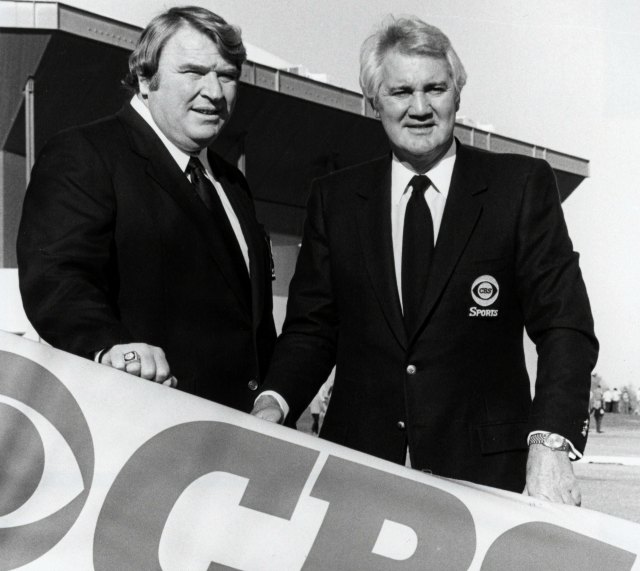 CBS Sports on Tuesday released the booth pairings for this upcoming season, and with that announcement, it was confirmed that Jim Nantz and Phil Simms would return as the No. 1 team with Tracy Wolfson as the sideline reporter, Ian Eagle and Dan Fouts would move to the No. 2 spot, and new analyst Trent Green would be paired with Greg Gumbel to round out the top three teams.
For 55 years, CBS Sports has been broadcasting NFL games, and though there have been some added twists for 2014 -- Wolfson along with Jenny Dell and Evan Washburn will be sideline reporting -- it's worth hopping into the CBS Sports time machine and reminiscing about the broadcast teams of old.
Because it's June and because why the heck not?
Thus, we present to you "13 facts about the NFL on CBS broadcasts that you might not have known but almost certainly would be interested in hearing about if some enterprising NFL writer would only present them to you in an easily digestible story that features a few pictures and plenty of words."
1. I'd never heard of the Dumont Television Network, which competed against CBS, NBC and ABC from 1946-56. And the DTN took over broadcasting NFL games from ABC in 1951, but by 1956, with the network about to fold, CBS took over to broadcast 11 of the 12 teams' games. Only the Browns held out, forming their own syndicated network.
2. That same year, CBS was the first to air a pregame show. It was called "Football Preview," and it was hosted by Chris Schenkel, who would go on to broadcast Giants games until 1968.
3. From 1956-67, each team had its own set of announcers that would cover every game. In 1968, though, CBS went to more of a merit system, which is still in use today.
4. In 1968, the network's No. 1 team included Jack Buck as the play-by-play man and Pat Summerall as the analyst. Not too shabby.
And here's Buck getting excited about how referee Red Cashion called for a first down.
5. Red Grange, perhaps the best collegiate player of all time, broadcast Bears games for CBS Sports for eight seasons. In all, he worked 312 Bears contests from 1947-63. We imagine, though, he refrained from trying to sell you bottles of Jim Beam during the broadcasts.
6. Jim McKay, best known as the host of ABC's Wide World of Sports for four decades, was a Giants analyst in 1956 and 1957. His play by play partner was Schenkel.
7. Bears Hall of Famer George Connor emerged from the womb two months early and weighed less than 3 pounds and though his mother nursed him through that harrowing time by feeding him droppers full of boiled cabbage juice, he eventually grew up to deliver hellacious stiff-arms like this. He also helped broadcast Bears games with Grange, Buck, Lindsey Nelson and Jack Drees for a number of years.
And in case you need to see that stiff-arm again, here you go.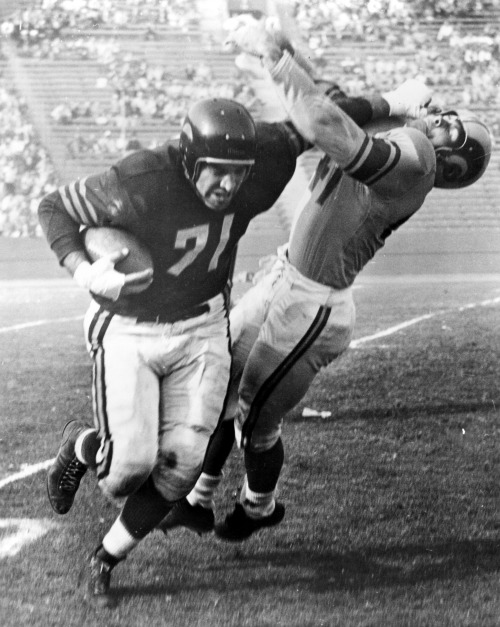 8. Dan Fouts, as we mentioned above, is the color analyst for CBS' No. 2 broadcast team. But did you know his father, Bob Fouts, called 49ers games throughout the 1960s? And if so, did you know that he briefly coined the phrase "Red Dog" whenever linebackers rushed the passer. Today, of course, that's called a "blitz." Said Fouts in a SF Chronicle piece from 2002: "That was from [former 49ers coach] Red Hickey. When he was playing end for the Rams and [Bob] Waterfield was the quarterback . . . he could spread out a little bit, he could tell if the linebacker was going to come after the quarterback. If he saw that he would yell, 'Red Dog!' and Waterfield knew he had to get rid of the ball right away. And that kind of interested me because the blitzing changed the whole game."
9. Frank Gifford, who went on to star as the play-by-play man on Monday Night Football, came on board the CBS train helping cover Giants games in 1965. His partner in the broadcast booth: Schenkel.
Just for fun, here's Gifford with host Allan Ludden and Betty White on the game show Password in 1967.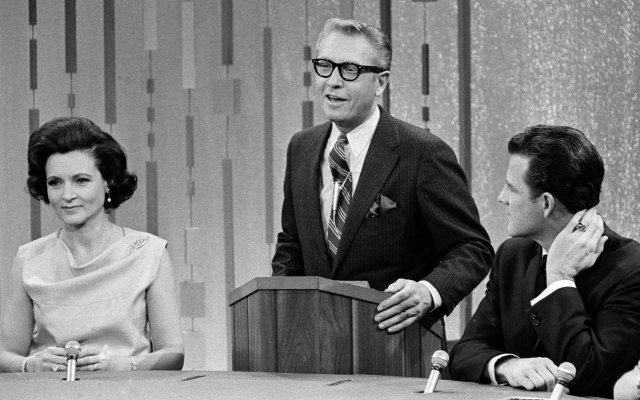 10. In 1966, Lowell Perry broke the national broadcasting color barrier by covering Steelers games on CBS.
11. From 1973-74, Bart Starr helped broadcast games with, we assume, Vitalis in his hair. After his second season in the booth, Starr left to become the Packers head coach.
12. Did you know that Vin Scully called football games for CBS? He did indeed from 1975-81.
Listen to his beautiful voice here.
13. History was made in 1979 when, for the first time, Summerall and John Madden were paired together. Summerall normally worked with Tom Brookshier, but Brookshier had to miss the game because of a family commitment. So, Madden stepped in for the day. And they eventually went on to form one of the most blessed broadcasting unions of all time.