Researcher says more players to wear helmet sensors in 2014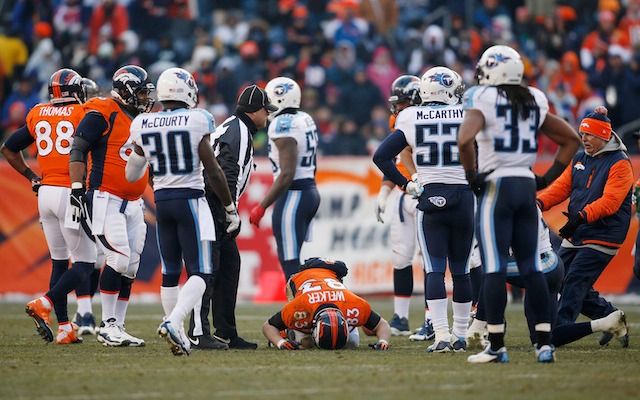 More NFL offseason: League minicamp dates | Latest news, notes
For half of the 2013 season, two teams wore sensors in their helmets in order to measure the magnitude and location of impacts to the head during a game. Now, as the NFL and the union continues to try to figure out the league's concussion conundrum, USA Today reports that even more players will wear the sensors in 2014. And researchers hope all 32 teams will have them by 2013.
"We need a sample of these players across all positions and studying every play type possible," Kevin Guskiewicz, a University of North Carolina researcher, told the newspaper Sunday night. "So, that's the next step. Then I hope from there that, if we find (the devices) have utility that could actually help an individual player … my hope would be that we would go league-wide."
As such, two companies are "fine-turning" the head accelerometer devices that measure the impact on blows to the head.
More from the newspaper:
Two NFL teams participated in a pilot project for half of the 2013 season that focused in large part on logistics, Guskiewicz said. The next phase is to find the best technology for assessing head impact biomechanics and collect data that answers questions about potential rule changes that could improve player safety, along with improved equipment design and altered behavior ... Head accelerometers don't diagnose concussions. They assess frequency, location and magnitude of impact, providing more information for researchers and teaching tools for coaches, who can match video to data and encourage high-risk players to change the way they play ...

Last year, only the research committee had access to the data, Guskiewicz said. Once the program goes live, participating players would be able to sign consent forms allowing others to access it, creating the possibility a team doctor someday may have real-time data that prompts him to remove a player from a game -- something the UNC football program already can do.
Yet a player might not want to sign those consent forms, thinking the team could use the results against him in the future when it comes to signing a new contract or keeping him on the team at all.
In order for the program to expand, the league and the NFLPA would need to give their approval.