RG3: 'It's just not time' to speak about Redskins name controversy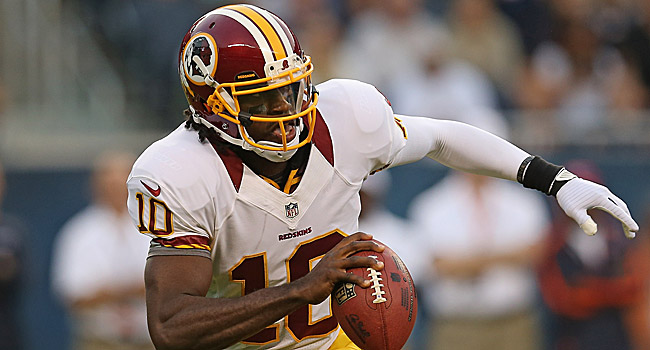 More NFL offseason: League minicamp dates | Latest news, notes
It seems that everyone -- inside and outside of football -- has weighed in on the Redskins name controversy. And with the United States Patent and Trademark Office's decision to cancel the team's trademark registration earlier this week, the story isn't going away.
One person who hasn't given his thoughts on whether Redskins is "disparaging to Native Americans" is Washington quarterback Robert Griffin III. And he doesn't have any plans to, either.
During an interview with Lavar Arrington and Chad Dukes on Washington DC's 106.7 The Fan, RG3 was asked if he feels he has an opportunity to take a stance against the team's name.
"When it comes to those conversations, it's just not the time," Griffin said, via CBS DC. "And I understand, trust me, I'm African American, I've grown up being African American my entire life and I understand oppression and all the things that come with it.
"But for us, like I said, as players, we have to control what we can control right now, and right now that's the football season. If anything to that extent came up as a player, and you had an opportunity to be the Muhammad Ali of your generation, when it comes to oppression and just things being wrong -- my parents grew up in that time, I've heard stories about it, I've watched movies about it; I understand that -- and if it comes to that, then you make a decision at that time, but at this time particularly, we have to focus on what we can control."
It's not uncommon for athletes to avoid polarizing social topics. Several years ago, former Browns great and Hall of Fame running back Jim Brown, who has never shied away from speaking his mind, called out Tiger Woods and Michael Jordan for their lack of social activism.
While Griffin focuses on football, the Redskins will appeal the Patent Office's ruling -- just like they did 15 years ago -- with the expectation that the ruling will be overturned.
But should the ruling be upheld, the team would face pressure to change its name. Cowboys owner Jerry Jones spoke to this recently.
"That would be one of the things that you'd consider if you're going to do everything that you could to promote the franchise, to promote that name," he said. "If you didn't have exclusive use of that name, then that would be a deterrent to using it."