City of Jacksonville to pay $1.25 million to upgrade EverBank wi-fi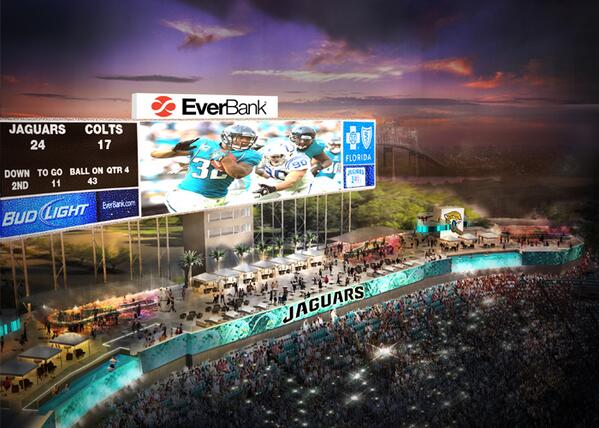 More NFL offseason: League minicamp dates | Latest news, notes
Good news: EverBank Stadium, home to the Jaguars, is getting $63 million in improvements.
Bad news: Taxpayers will be on the hook for $1.25 million wi-fi upgrades, according to WOKV.
"This will be a huge improvement for our fan's experience," said Jaguars President Mark Lamping.
The total cost of the upgrade: $4 million. The Jags will contribute $1.8 million while the city will borrow $1.25 million. WOKV adds that "The remainder of the cost will be covered by savings from the ongoing construction of the new video boards, cabana spaces and more."
Ah, yes, the cabanas. As CBSSport.com's Will Brinson wrote last summer, the Jaguars' game-day experience will now include cabanas and swimming pools at the stadium. Because, really, what says NFL football like lounging around like you're on a Caribbean vacation? (Perhaps more importantly, the renovations will do way with those end zone tarps once and for all. So there's that.)
The new wifi upgrade is a result of the NFL requirements to equip the entire stadium with service. Previously, only the press areas had limited wifi access.
You need to be able to facilitate that for fans when they spend their hard-earned money to attend NFL games," Lamping said.
More details via WOKV:
City Council gave the bill quick approval Tuesday night in order to allow the construction to happen in conjunction with the other improvements taking place at EverBank Field.

"We would save a good bit of money by doing it now since the construction crews are already on-site," says Council President Bill Gulliford. Gulliford says this financial partnership is another example of the Jaguars, and owner Shad Khan, stepping up for the community.

"He's willing to come up to contribute part of the costs when they really don't have any legal obligation to do so," he says.
The Jaguars are funding $20 million of the $63 million in renovations, and the cabana seating has already been sold out for the 2014 season.
"Having a stadium that has state of the art services and amenities puts EverBank in a position to be able to attract even more events," Lamping said, though we'd imagine fans would just settle for a good football team.