Redskins hire liberal blogger to fight Redskins name-change pressure
More NFL offseason: League minicamp dates | Latest news, notes
Barack Obama thinks the Redskins should change their name. So do most of the Senate Democrats, a number of Native Americans and, apparently, the U.S. Patent Office.
But that hasn't deterred team owner Daniel Snyder, who produced this quote in May of 2013 -- "We'll never change the name. It's that simple. NEVER -- you can use caps."
And now Snyder is fighting back by trying to create some positive media of his own. Which, we suppose, is the reason he, as reported by NBC 12, has hired liberal political blogger Ben Tribbett.
"I have been a Redskins fan my entire life," Tribbett said, via the website. "It is an honor to help the team promote a tradition that means so much to so many people."
It's an interesting hire for the team, because so much of the pressure to change the name has emanated from those who would consider themselves left-leaning in the political world. Considering that's where Tribbett's political loyalties also seem to lie, perhaps Snyder believes he can win this fight by convincing a liberal that he can convince other liberals to temper down the pressure.
(Surely, Tribbett would agree that the Washington Reagans moniker probably wouldn't be a good idea.)
Writes NBC 12: "Tribbett is a known progressive figure in Virginia who is in passionate support of defending the nickname. He brings deep political ties to the conversation and has a unique knack for understanding the changing political winds in the State Capitol. It shows that Snyder is continuing to bare down in a fight that doesn't appear to be going away any time soon."
Snyder's position seems obvious. As play by play man Al Michaels said recently: ""It seems to me as if [Snyder] is going to hold on. I mean all of the sudden -- I mean, for 70-some odd years this was a zero issue, and then it became an issue. I understand we live in this politically correct environment. It's crazier than ever; you know, senators want to weigh in on this, like there's nothing better to do in Congress. This becomes a big issue. I mean, I just think it's nuts. And I do know, I've talked to Snyder about it -- not recently but when we were in Washington last year -- and he basically said 'over my dead body.'"
The 70-some odd years, of course, is incorrect, as I wrote about here and as you can see below in an AP story from 1971. For the record, that's 43 years ago.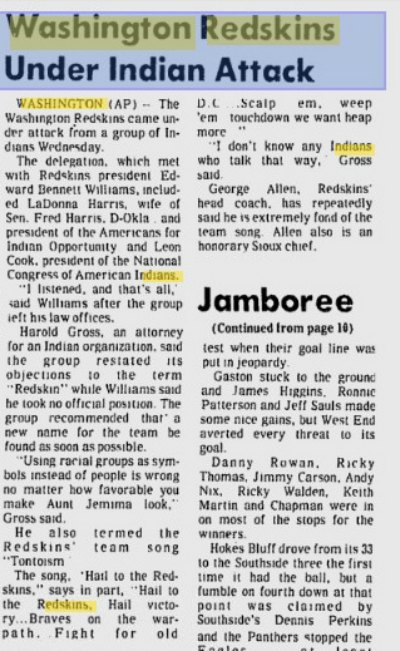 As pointed out by the Washington Post, Tribbett defended the team name in a Facebook post last October.
Wrote Tribbett then: "I'm going to weigh in here on the Redskins name. The team started in Boston as the Boston Braves, later the Boston Redskins. Later they moved to Washington. The name is a *tribute* to the people from the Boston Tea Party that dressed as Indians to dump the tea in the harbor and start the American Revolution. The team name was kept when they moved to Washington because of the importance the Boston Tea Party has to our national history and because of that was deemed an appropriate name for a team in the nation's capital. Before you say the team name is a "slur" on anyone, understand the history please."
Left unanswered: the fact that many Native Americans feel the name is a slur today.
As for his role with the team, here's what Tribbett had to say.
@joshkatzowitz not blogging but could write some stuff if ever needed

— Ben Tribbett (@notlarrysabato) June 26, 2014