Tony Romo, Cowboys players read mean tweets from fans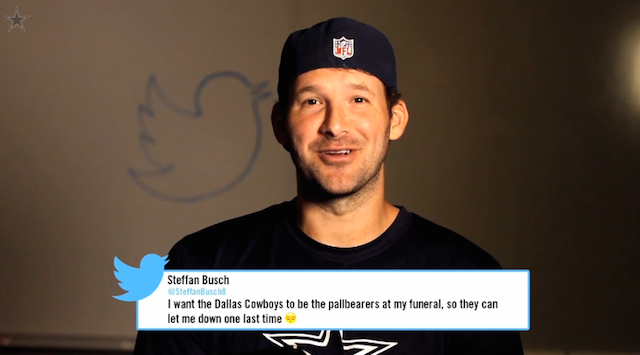 Back in March 2012, someone at "Jimmy Kimmel Live" had a brilliant idea, an idea that involved having celebrities read mean tweets about themselves. Fittingly, the segment was called 'Celebrities read mean tweets.'
If you've ever been on Twitter, you may have noticed that celebrities aren't the only ones who get mean tweets sent their way -- so do athletes. The Cowboys decided to take advantage of this by producing their own video, 'Cowboys players read mean tweets from fans.'
You have to go to the Cowboys website to watch the video, but I promise it'll be worth it because you'll get to see cornerback Brandon Carr read this tweet.
Brandon Carr is OVERpaid and OVERrated!! He's been getting burnt like toast all year. Smh!!!!

— Broderick Walton (@BroderickWalton) December 22, 2013
You'll also get to see Jason Witten read this one.
Jason witten slow as hell lol but it works

— insert generic lil _ (@HollywoodCold85) September 9, 2013
Plus you get to see Dez Bryant's reaction to this tweet.
please donate your gently used hamstrings to the Dallas Cowboys. it's for a good cause.

— Lana Berry (@Lana) November 11, 2013
If that's not enough, kicker Dan Bailey reads off this tweet.
DAMN IT DAN BAILEY YOU HAD ONE JOB #FantasyFootballProblems

— !(TomBrady) - GOAT (@DouchyTomBrady) September 29, 2013
And then there's Tony Romo, who gets stuck reading this one.
Oh, and there's a fan who drops an F-bomb in a tweet, wondering why Jerry Jones would waste money on signing Brandon Weeden. Of course, Weeden reads the tweet. You can see the entire video here.