Jordan Cameron changes Twitter bio after Jimmy Graham ruling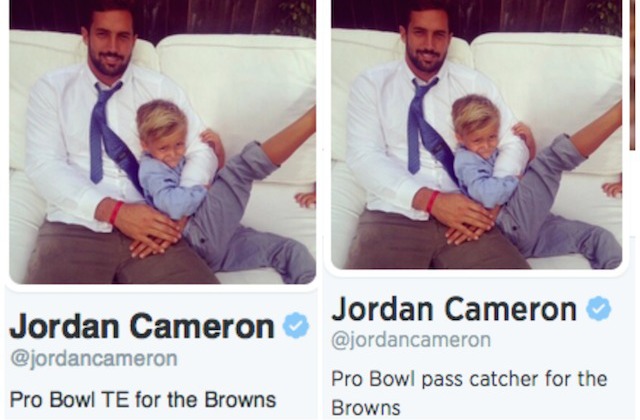 Browns tight end Jordan Cameron is no longer Browns tight end Jordan Cameron -- at least not on Twitter. Cameron changed his bio on Wednesday, just hours after an independent arbitrator ruled that Jimmy Graham is a tight end.
One of the reasons the arbitrator ruled against Graham is because Graham listed himself as a tight end on social media.
From the ruling:
Mr. Graham refers to himself as a tight end in social media that he controls (Twitter and Facebook), and his agents do so as well.
If Cameron ever ends up in arbitration he won't be losing his case because of his Twitter profile. As you can see at the top of the page, Cameron changed his bio from "Pro Bowl TE for the Browns" to "Pro Bowl pass catcher for the Browns."
Thought no one would notice that minor change in the bio. Thanks @darrenrovell for calling me out.

— Jordan Cameron (@jordancameron) July 2, 2014
If Graham had changed his profile, he might have made slightly more money in 2014. A tight end hit with the franchise tag will make $7.035 million this season, while a receiver will earn $12.312 million. That's a $5.277 million Graham won't see unless he reaches a long-term deal with the Saints.