Joe Montana, Jerry Rice to play final football game at Candlestick Park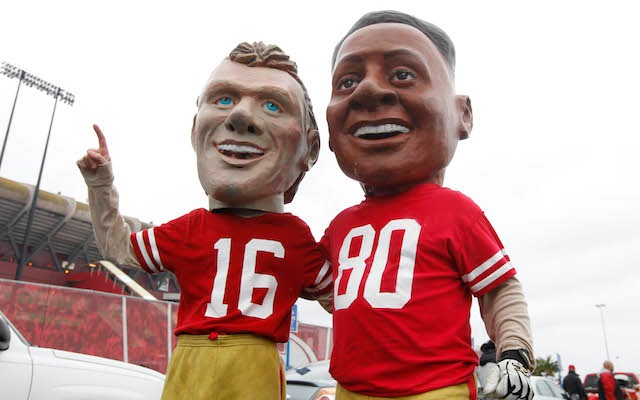 Candlestick Park officially hosted its final NFL game on Dec. 23 when the 49ers beat the Falcons on Monday Night Football. Unofficially though, there's one more football game to be played and it will involve some of the best players in NFL history.
Hall of Famer Joe Montana will lead a "Legends of Candlestick" team in a flag football game against Dan Marino and his "All-Star" team on July 12.
Former 49ers running back Roger Craig says the game is a "big deal."
"This is like the gladiators returning to the Colosseum in Rome, paying their tributes to a historical stadium," Craig told the San Francisco Chronicle. "This is a big deal."
Craig will be joined by several former 49er teammates including Hall of Famers Montana, Jerry Rice and Steve Young.
The "Legends of Candlestick" team will also include Dwight Clark, who made the most famous "Catch" in stadium history in January 1982 when he caught a 6-yard touchdown pass from Montana that gave the 49ers a 28-27 win over the Cowboys in the NFC title game. San Francisco would go on to beat the Bengals in Super Bowl XVI.
Another 49er who caught a famous pass will also be playing. John Taylor, who hauled in a 10-yard touchdown pass from Montana with 34 seconds left to beat the Bengals in Super Bowl XXIII, will also be at Candlestick.
The "Legends of Candlestick" team also includes Ronnie Lott, Brent Jones, Charles Haley and Jeff Garcia, among others.
Going up against the Candlestick team will be Marino and a roster that includes Hall of Fame offensive lineman Anthony Munoz. Both Marino and Munoz lost to the 49ers in a Super Bowl -- with Munoz losing two as a Bengal and Marino losing in Super Bowl XIX.
Scheduled to join Marino and Munoz are Tim Brown, Drew Bledsoe, James Lofton, Ed McCaffrey, Dave Krieg and Troy Vincent.
You can see the complete roster for both teams at the game's official website here.