2014 NFL training camp dates, locations announced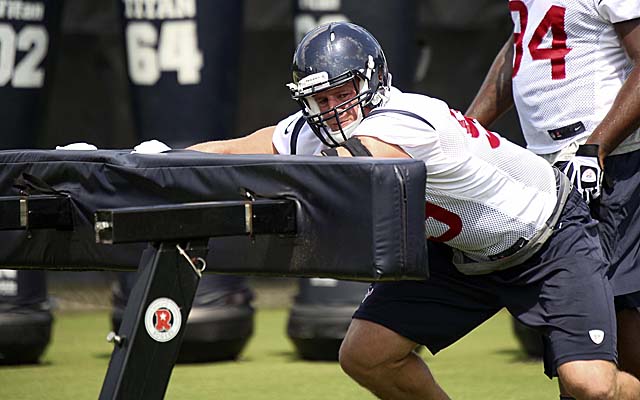 Here is the complete list of 2014 NFL team training camp locations and report dates for rookies and veterans, released by the NFL on Monday.
Note that each team's first official practice is generally held the day after veterans report.
Preseason games begin on Sunday, Aug. 3, as the Bills face the Giants at the Hall of Fame Game in Canton, Ohio, at 8 p.m. ET. Preseason continues through Aug. 28, with teams making their final cuts to reach the 53-man roster limit later that week.
2014 NFL Training Camp Dates, Locations
AFC
TEAM
SITE
LOCATION
ROOKIES
VETERANS
Baltimore Ravens
Under Armour Performance Center
Owings Mills, MD
7/16
7/23
Buffalo Bills
St. John Fisher College
Pittsford, NY
7/16
7/19
Cincinnati Bengals
Paul Brown Stadium
Cincinnati, OH
7/21
7/23
Cleveland Browns
Cleveland Browns Training Facility
Berea, OH
7/23
7/25
Denver Broncos
Paul D. Bowlen Memorial Broncos Centre
Englewood, CO
7/23
7/23
Houston Texans
Houston Methodist Training Center
Houston, TX
7/21
7/25
Indianapolis Colts
Anderson University
Anderson, IN
7/23
7/23
Jacksonville Jaguars
Florida Blue Health & Wellness Practice Fields
Jacksonville, FL
7/21
7/24
Kansas City Chiefs
Missouri Western State University
St. Joseph, MO
7/20
7/23
Miami Dolphins
Doctors Hospital Training Facility
Davie, FL
7/24
7/24
New England Patriots
Gillette Stadium
Foxboro, MA
7/20
7/23
N.Y. Jets
SUNY Cortland
Cortland, NY
7/22
7/23
Oakland Raiders
Napa Valley Marriott
Napa, CA
7/24
7/24
Pittsburgh Steelers
Saint Vincent College
Latrobe, PA
7/25
7/25
San Diego Chargers
Chargers Park
San Diego, CA
7/23
7/23
Tennessee Titans
Saint Thomas Sports Park
Nashville, TN
7/25
7/25
NFC
TEAM
SITE
LOCATION
ROOKIES
VETERANS
Arizona Cardinals
University of Phoenix Stadium
Glendale, AZ
7/22
7/25
Atlanta Falcons
Atlanta Falcons Training Facility
Flowery Branch, GA
7/22
7/24
Carolina Panthers
Wofford College
Spartanburg, SC
7/24
7/24
Chicago Bears
Olivet Nazarene University
Bourbonnais, IL
7/24
7/24
Dallas Cowboys
City of Oxnard Fields
Oxnard, CA
7/23
7/23
Detroit Lions
Detroit Lions Training Facility
Allen Park, MI
7/22
7/27
Green Bay Packers
St. Norbert College
Green Bay, WI
7/25
7/25
Minnesota Vikings
Minnesota State University, Mankato
Mankato, MN
7/24
7/24
New Orleans Saints
The Greenbrier
White Sulpher Springs, WV
7/20
7/24
N.Y. Giants
Quest Diagnostics Training Center
East Rutherford, NJ
7/21
7/21
Philadelphia Eagles
NovaCare Complex
Philadelphia, PA
7/25
7/25
St. Louis Rams
Rams Park Training Center
Earth City, MO
7/22
7/24
San Francisco 49ers
SAP Performance Facility
Santa Clara, CA
7/16
7/23
Seattle Seahawks
Virginia Mason Athletic Center
Renton, WA
7/24
7/24
Tampa Bay Buccaneers
One Buccaneer Place
Tampa, FL
7/21
7/24
Washington Redskins
Bon Secours Training Center
Richmond, VA
7/23
7/23