Jim Harbaugh, 49ers agree to table contract talks until after season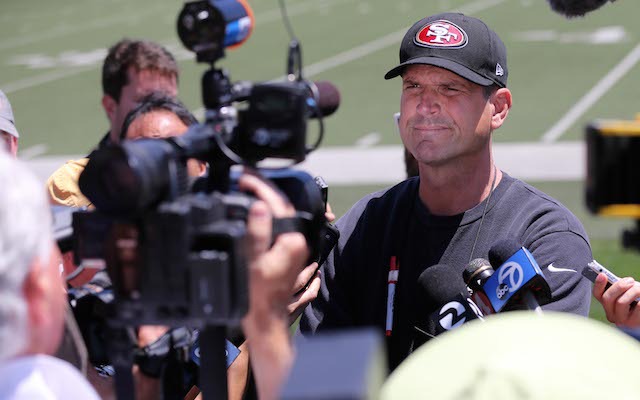 More NFL: Photos | Videos & GIFs | Training Camp updates | Manziel watch
If Jim Harbaugh's going to get a contract extension in San Francisco, it's not going to be anytime soon. Forty-niners CEO Jed York said on Thursday that the two sides have agreed to table contract talks until after the 2014 season.
During an interview with Yahoo! SportsTalk Live, York said the team would begin negotiating with Harbaugh 'a week or so' after the season.
"We actually just had this conversation [on Wednesday]," York said, via CSN Bay Area. "Lots of people were talking to him about it. We just said, 'You know what, let's not do anything during the season. Let's sit down a week or so after the season is over and let everybody know we're not focused on anything that's off the field right now.' Jim and I will sit down a week or so after the season is over and we'll figure out where we go."
Harbaugh's going into the fourth-year of a five-year deal that he signed in January 2011. The contract is paying the 50-year-old coach $5 million a year and he's believed to want substantially more than that.
The 49ers reportedly made an offer in June, but Harbaugh never responded. However, Harbaugh has gone on the record saying that there's 'zero chance' he would leave San Francisco before the end of his deal in 2015.
One of the reasons there hasn't been an extension yet is because the two sides are believed to be far apart on how much they think Harbaugh deserves to be paid.
If the 49ers win the Super Bowl in 2014, York said he would have no problem opening up his checkbook and giving Harbaugh what he wants.
"Like I've said publicly and very loudly in the past, I hope he has the utmost leverage when we sit down and talk about his contract at the end of the season. It's a good thing," York said of Harbaugh's value going up. "It's an unbelievable problem to have."
Before Harbaugh's arrival, the 49ers hadn't had a winning season since 2002. Since 2011 when Harbaugh was hired though, the team has made the NFC title game three straight times, including 2012 when they lost Super Bowl XLVII to the Ravens.
If you're a 49ers fan, this means you can stop holding your breath waiting on an extension to get done and go eat some 'gobble, gobble turkey.'