Browns OL Jason Pinkston, 26, expected to retire due to blood clots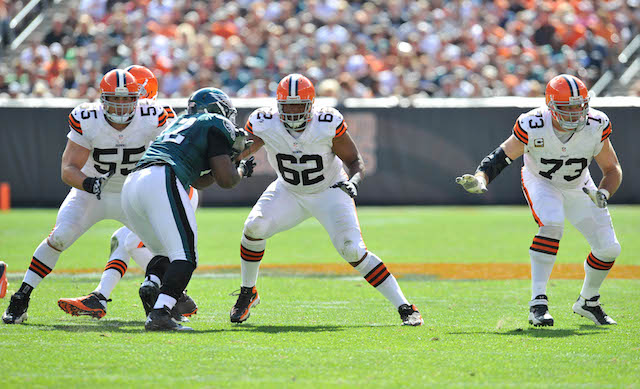 More NFL: Photos | Videos & GIFs | Training Camp updates | Manziel watch
After three short years in the NFL, Jason Pinkston's career is likely over. The Browns offensive lineman told ESPN.com that he'll probably be retiring due to health reasons. Pinkston has been dealing with blood clots in his lungs for the past 11 days.
The offensive lineman reached a settlement with Cleveland and the team released him shortly after that on Monday.
"More than likely I'll have to retire," Pinkston texted to ESPN. "The Browns were great working with me and I would love to thank GM Ray Farmer and Owner Jimmy Haslam for my opportunity here in Cleveland. It's been an honor to be apart of the organization and city."
Pinkston's most recent battle with blood clots isn't the first time he's had to deal with the issue. The 26-year-old was hospitalized in October 2012 after feeling sick. Pinkston felt ill for several days and thought he had pneumonia, but doctors would later discover that he was sick due to the blood clots. Pinkston missed the final 10 games of the 2012 season, but did return in 2013 to start two games for Cleveland.
There will likely be no return to the NFL this time. Pinkston told Cleveland.com on Monday that his most recent blood clots were "way worse than last time."
The former fifth-round pick started a total of 24 games for Cleveland, including all 16 during his rookie year in 2011.
If Pinkston does end up retiring, he'll join Sidney Rice (27) and David Wilson (23) as players in their mid-20's who were forced out of the game or chose to retire this offseason because of injuries.