Red McCombs would buy into Raiders for San Antonio move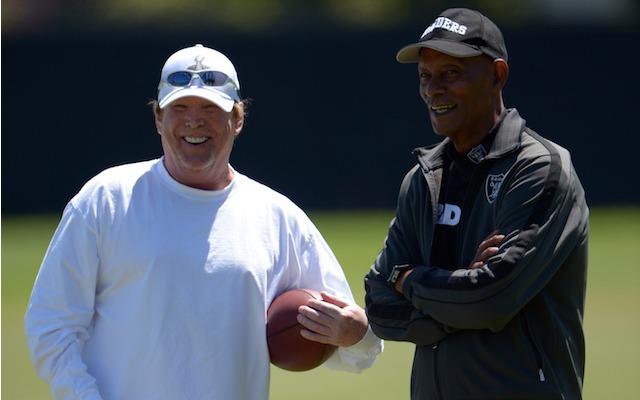 More NFL: Photos | Videos & GIFs | Stories | Training Camps | Manziel watch
A much-publicized and reported visit to San Antonio from Mark Davis has plenty of people talking about the possibility of the San Antonio Raiders.
Even if the whole thing is simply a bluff for stadium-procuring purposes, the chatter won't slow down after billionaire and former Spurs/Nuggets/Vikings owner B.J. "Red" McCombs praised Davis' visit.
"I don't think it could have gone better," McCombs said via MySanAntonio.com.
McCombs added he would be willing to buy into the Raiders with Davis "if that's what it would take to get them" to San Antonio.
Not that it's a requirement -- McCombs also said he didn't know if Davis even wanted to bring "local investors" in on purchasing the team.
"But I told him if he wanted some, they wouldn't be hard to get," McCombs said.
It's hard to find an NFL team for sale; if you get a chance to buy one and can actually afford to do so, you better take advantage.
If Davis ultimately wanted to move the team and needed financial backing from other parties, it wouldn't be hard to find it.
Perhaps most terrifying for Raiders fans: McCombs called the idea of relocation a "definite possibility" and said it's a "myth that San Antonio is a bargaining chip."
It's hard not to see San Antonio as a bluff for the Raiders, whose stadium lease expires after the 2014 season.
But the freedom to go anywhere -- pending approval from NFL owners -- is a pretty impressive bargaining chip for Davis, particularly when he's getting assistance from someone with a history of relocating a franchise, as McCombs did with the Spurs way back when.