Report: Jets RB Chris Ivory suffers bruised ribs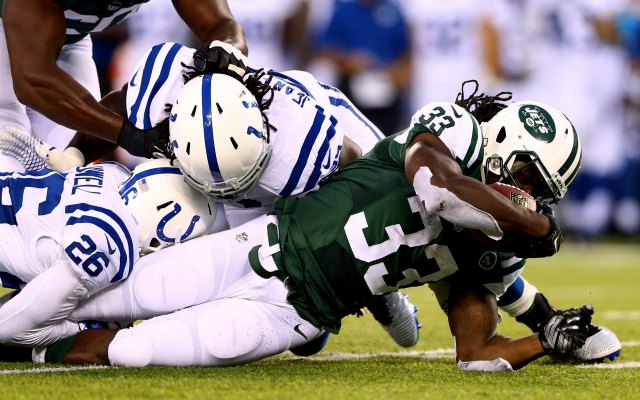 More NFL: Photos | Videos & GIFs | Training Camp updates | Manziel
During the Jets 13-10 preseason victory against the Colts on Thursday, we got to see backup quarterback Michael Vick in a new uniform and how he performed as compared to presumed starter Geno Smith.
But New York also showed off its trio of running backs, including Chris Ivory, Chris Johnson (who scored a 1-yard touchdown) and Daryl Richardson. Though Ivory had to leave the game in the second quarter after injuring his ribs, the NY Daily News reports that he only suffered bruised ribs.
Which is obviously better than, say, a cracked rib (which Ivory suffered in Week 17 of last season).
Either way, it'd suit Ivory to return to practice as soon as possible. Aside from Johnson and Richardson, Bilal Powell and Alex Green -- who led the team Thursday with 29 yards on seven carries -- also are vying for playing time this season.