PHOTO: Terrell Owens and Mr. Belding visit Cowboys training camp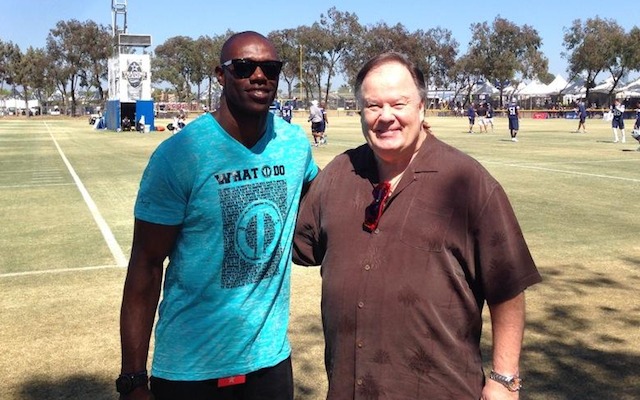 More NFL: Photos | Videos & GIFs | Training Camp updates | Manziel watch
The Cowboys had some special visitors at practice on Thursday, but that's only if you consider Terrell Owens and Mr. Belding special. It was Owens' first time at a Cowboys practice since the team cut him in March 2009.
As for Mr. Belding (AKA Dennis Haskins), apparently he's a regular. ESPN.com's Todd Archer says that Haskins usually stops by practice at some point.
I know what you're thinking, "Was Belding trying to get the Cowboys to sign Slater?" I can't say for sure.
What I can say for sure though is that Mr. 'Getcha Popcorn Ready' was eating popcorn. Talk about irony.
TO eating his popcorn at Cowboys camp. #getyourpopcornready pic.twitter.com/B0DnWqTJ4a

— Charean Williams (@NFLCharean) August 14, 2014
Oh, and T.O. says he can still play.
T Owens on if he can still play: Absolutely. What kind of question is that. I worked out this morning. Looking good. pic.twitter.com/hxRKEq88Wf

— Clarence Hill (@clarencehilljr) August 14, 2014