Report: Johnny Manziel, other rookies fined after being late to team meeting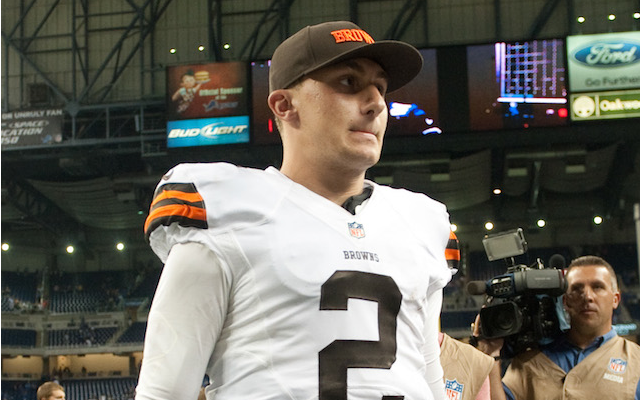 More NFL: Photos | Videos & GIFs | Training Camp updates | Manziel watch
Johnny Manziel hasn't made any off-the-field mistakes since the Browns started training camp, but apparently that changed on Monday. According to ESPN's Chris Mortensen, Manziel was a few minutes late for a team meeting.
It wasn't just Manziel who was late though, there were at least two other unidentified rookies who showed up late to the short five-minute meeting the Browns held to start the week.
"[Manziel] and a few other rookies misread the schedule and they were, I think, fined for being a couple minutes late on Monday morning," Mortensen said during Monday Night Countdown.
According to the report, Manziel's tardiness played no part in coach Mike Pettine's decision to start Brian Hoyer in the Browns second preseason game on Monday.
Manziel was accounted for during his bed-check on Sunday night, so the team has no reason to believe he was out partying.
During the team's day off on Sunday, Manziel spent four hours at the Browns practice facility getting treatment and reviewing game film from Cleveland's 13-12 loss to Detroit.
Manziel threw for 63 yards and was the Browns' leading rusher with 27 yards in the loss to the Lions.
Despite the fact that he's not starting against Washington, Manziel is expected to get as many first-team reps as Hoyer. At least that's Pettine's current plan.
"The goal is, when we look at the stat sheet at halftime, they both have the same amount of repetitions and hopefully they both get a good amount of work," Pettine said.