Saints QB Drew Brees plans to make preseason debut this week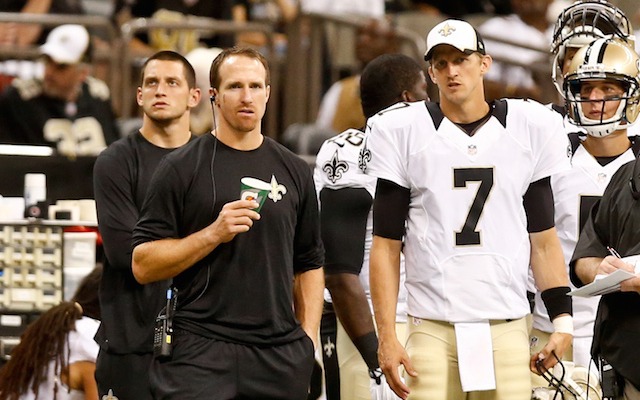 More NFL: Photos | Videos & GIFs | Training Camp updates | Manziel watch
Saints fans can stop holding their breath, it looks like quarterback Drew Brees is finally healthy. Brees returned to practice on Sunday, marking the first time in over two weeks that he's worked out with the team.
Brees had been sidelined with a strained oblique since Aug. 1. Not only did Brees return to practice, but he says he plans on playing as many as two quarters in the Saints preseason game on Saturday against the Colts.
"I think the expectation is a half," Brees said of what his playing time will be. "If we go out and we score on the first three possessions, then it might be less than that. If we go out and we don't score at all, then it's going to be more than that. I think typically, a half is what we've gone in the past."
Brees missed the Saints first two preseason game with the strained oblique, but he said it was important for him to get back for the third preseason game.
"As you approach that third preseason game, this is really kind of the final dress rehearsal for the season," Brees said. "This is when the season becomes very imminent."
The Saints quarterback said he's not quite 100 percent yet, but he also added that he hopes to be 100 percent by the time the Saints and Colts kick off at 8 p.m. Saturday on CBS.
"I feel good. [Sunday] was my first day to kind of be full go," Brees said. "I've been taking it very slow, very deliberate, no use in rushing something that could get worse. So I wanted to make sure that it was all good. I'm still not 100 percent but I hope that by Saturday, I am."
Even if he's not 100 percent, Brees says he won't be limited.
"I don't expect to be limited at all. I wouldn't play if I was limited," Brees said. "That's not smart. So my goal this entire time, the minute I got hurt, the minute I got the prognosis, was, 'I'm going to be very smart, I'm going to take it one day at a time and I'm going to be playing in that Indy game. That's my goal.'"
With Brees out, the Saints relied on Ryan Griffin and Luke McCown in the team's first two preseason games. Griffin has looked impressive in wins over Tennessee and Chicago, completing 29 of 42 passes for 358 yards and three touchdowns.