Madden 15: Eagles kicker has higher hit power than Richard Sherman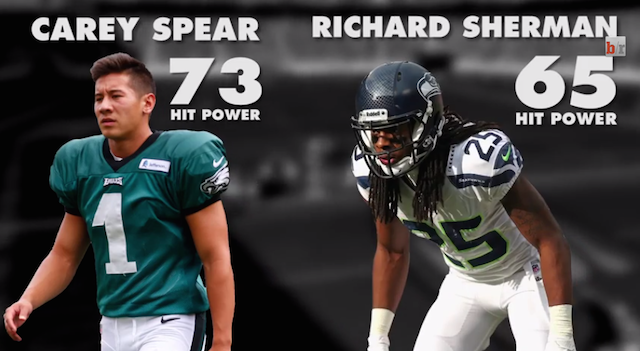 More NFL: Photos | Videos & GIFs | Training Camp updates | Manziel watch
The makers of Madden 15 raised some eyebrows in July when they released the initial batch of player ratings for the game -- a batch where Tom Brady and Russell Wilson were both rated the same.
EA Sports released a few more player ratings this week and the most notable one probably belongs to Eagles kicker Carey Spear.
According to the Madden guys, Spear has a hit power of 73. That means the Eagles kicker hits harder than Richard Sherman, Osi Umenyiora and Darnell Dockett.
The guy behind the ratings, Donny Moore, explained to Bleacher Report why Spear got such a high rating.
"Hit power is something we don't have a lot of hard data behind, so its something we watch a lot of game film on," Moore said. "For instance... kicker Carey Spear has the highest hit power ever for a kicker in Madden 15 based on a few YouTube highlights that I happened to come across."
Fortunately for every kick returner in the NFL, it doesn't look like Spear will be doing any hitting this year. Spear is currently losing the Eagles kicking competition against veteran Alex Henery. "It's clear in our mind that Alex is the clear No. 1 over Carey," Eagles coach Chip Kelly said over the weekend.
Since you might not get to watch Spear hit anyone in the NFL this year, you'll have to settle for watching the former Vanderbilt kicker level a Tennessee returner in the video below. Madden 15 is scheduled to be released on Aug. 26 and you can see some of the player ratings here.