Raiders LB Sio Moore taken to hospital, X-rays come back negative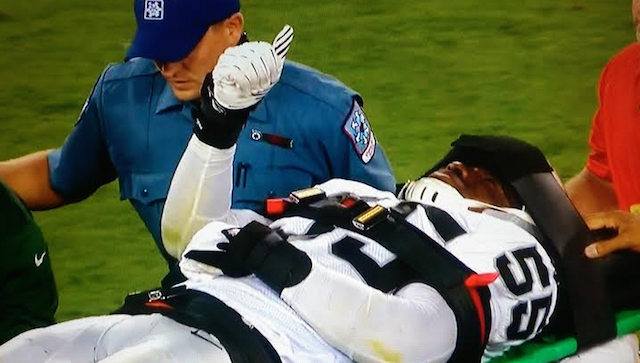 Raiders LB Sio Moore was taken to the hospital after suffering a neck injury in the second quarter of Oakland's game against Green Bay. Raiders coach Dennis Allen said after the game that Moore's X-rays came back negative.
Although Moore did suffer a neck sprain, the 24-year-old has been OK'd to fly back to Oakland with the team.
Moore was pursuing Packers running back DuJuan Harris on the play when he appeared to get hit on the side of the head by Green Bay's John Kuhn. Moore went straight to the ground after taking the hit and was laying face down for almost 10 minutes while the Raiders training staff tended to him.
Oakland's medical staff eventually secured Moore on a body board and then wheeled him off the field on a stretcher. Packers fans gave Moore a loud ovation as he was taken off the field. Moore then gave the fans at Lambeau Field a thumbs up.