Rams QB Sam Bradford taken to locker room with knee injury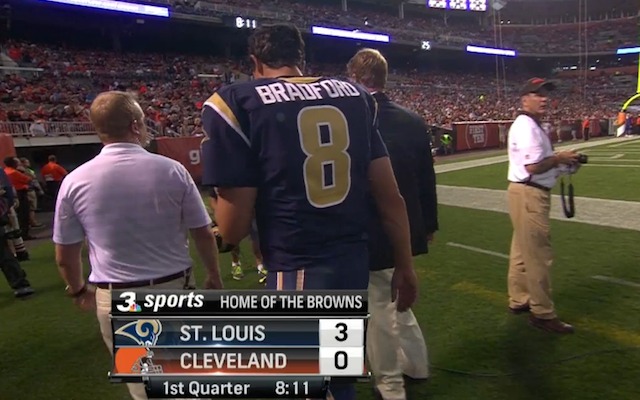 Rams quarterback Sam Bradford was taken to the locker room in the first quarter on Saturday after taking a hit from Browns defensive lineman Amonty Bryant. Bradford was clutching his left knee as he went down, the same knee that he had ACL surgery on last season.
The Rams confirmed that Bradford suffered a knee injury, but the team didn't say how severe it was.
On the play where Bradford was injured, Bryant hit the Rams quarterback up high. Bradford then took and awkward step back and a small hop before falling to the ground.
The 26-year-old quarterback then limped off the field and was taken to the locker room.
The team hasn't provided an update on Bradford's health yet, but you can bet Rams fans everywhere are holding their breath. Not only did Bradford miss nine games last season after tearing his ACL, but he also missed six games in 2011 with a variety of injuries, including a high ankle sprain.
If Bradford misses any serious time, that would mean St. Louis would presumably go into the regular season with Shaun Hill as the team's starter.
Here's the play where Bradford was injured.