Browns QB Brian Hoyer throws awful interception against Rams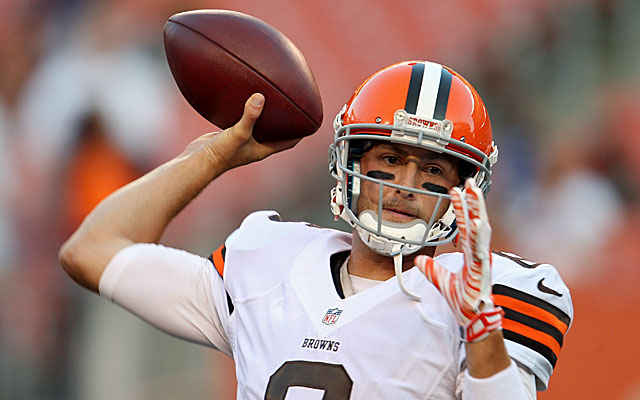 Brian Hoyer was named the Browns' starting quarterback earlier this week but we're guessing coach Mike Pettine filled out the depth chart in pencil. Because it's only a matter of time before Johnny Manziel gets his chance. We're on record as saying it'll happen no later than Week 5, but it could come much sooner than that if Hoyer continues to look overwhelmed and out of sorts.
Early in the second quarter of the Browns' third preseason game against the Rams, Hoyer stared down wide receiver Miles Austin, didn't notice the triple coverage around him, and linebacker Alec Ogletree got the easiest interception you'll ever see.
Behold the magic here.
Predictably, Twitter was unimpressed.
I'm not exaggerating but that Hoyer Interception might actually be the worst pass I've ever seen.

— Matthew Colaluca (@MattColal7) August 24, 2014
Hoyer found his inner-Weeden on that interception.

— Anthony Y (@hunkura) August 24, 2014
Hoyer vs. Manziel is Quinn vs. Anderson 2.0

— DK (@Kirschda) August 24, 2014
It's not all bad news, though.
First Hoyer third down conversion of the pre-season followed by first Hoyer interception of the pre-season. #ClassicCLE

— Spencer G. Wells (@The_SGW) August 24, 2014
Yep, Hoyer did convert his first third-down conversion, so there's that. But moral victories aside, the reality is that the Browns' first-team offense has been terrible. So terrible, in fact, that they haven't scored a touchdown all month. That includes preseason games and the team's intra-squad scrimmage.
UPDATE:Hoyer had led the Browns on a touchdown drive.
TOUCHDOWN BROWNS! Andrew Hawkins works open over the middle for a TD catch of 5 yards from Brian Hoyer. Rams 20, Browns 7

— SportsTime Ohio (@SportsTimeOhio) August 24, 2014
Season saved.