NFL Preseason: Drew Brees looks unstoppable, EJ Manuel struggles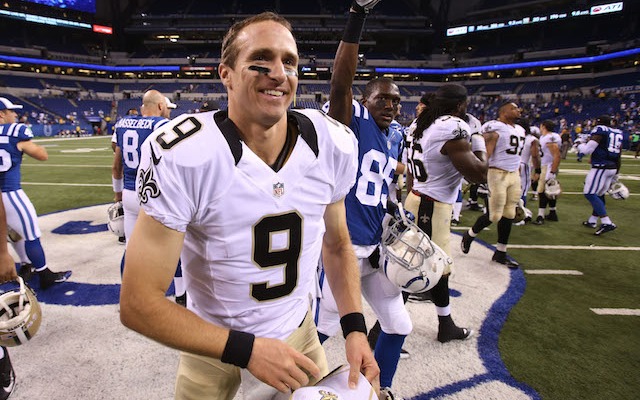 They say the NFL is a quarterback's league. They also say that Week 3 of the preseason is a dress rehearsal.
If quarterbacks are important and Week 3 of the preseason is somewhat important, then there are a few fan bases that should be slightly worried as we march closer to the first day of the NFL season on Sept. 4.
Ryan Leaf-level worrying
Buffalo: What I saw on Saturday from EJ Manuel definitely wasn't encouraging. The second-year quarterback was erratic and never really got into rhythm during the first two quarters when he was going up against Tampa Bay's first-team defense.
Manuel finished the half 9 of 18 for 67 yards, and you're probably not going to believe this, but it didn't even feel like he was "9 of 18 for 67 yards" good. The crowd at Ralph Wilson Stadium wasn't impressed, they were booing early and often.
Bills coach Doug Marrone didn't really make any excuses for his team's performance -- or Manuel's.
"I don't think any of us are happy," Marrone said. "When you play poorly, you should get booed. I don't have any problems with that."
Manuel also threw a first-half interception, but that can't be held against him because his receiver slipped.
On the encouraging side, the Bills' first-team offense did score its first touchdown of the preseason. In the third quarter, Manuel hit Mike Williams for a 14-yard score that came against Tampa's second-string defense.
There is some other encouraging news, too: Manuel did look sharp in the second half, going 10 of 10 for 131 yards. Yes, those numbers came against the Buccaneers backups, but at this point, if that second-half performance helped Manuel build confidence, that's a good thing for Buffalo, which ended up losing, 27-14.
It's also worth mentioning that Manuel didn't have Sammy Watkins, who wasn't in uniform on Saturday, but Watkins can only do so much when his quarterback is throwing passes straight into the ground.
EJ Manuel reaction from Twitter:
or as i like to say. EJ Manuel looks like EJ Manuel #Bills RT @PriscoCBS: EJ Manuel looks horrible

— thestreetfreeagent (@TheStreetFA) August 23, 2014
Cleveland: The worst thing that could have happened to the Browns happened: Brian Hoyer was mediocre and then Johnny Manziel came in and gave the team a spark and then that spark went out in a 33-14 loss to St. Louis.
Hoyer threw an ugly interception on his way to a 10-of-15 performance. Manziel wasn't much better -- and unlike Hoyer, he got to play against the Rams' second-team defense -- but he was better. You get the feeling that if the Browns are going to be bad this season, the fans would rather be bad with Manziel than Hoyer. Unlike the other teams listed here, Cleveland has a quarterback problem that doesn't feel like it's going to go away anytime soon, whereas a team like Buffalo will sink or sail with Manuel.
Hoyer reaction from Twitter:
@mattgolfer13 hoyer sucks and will not start week 5 he sucks he's horrible I hate him his own city hates him all Heil @JManziel2

— Grether Football (@GretherFootball) August 24, 2014
Washington: For the second straight week, RG3 was RG Average. Robert Griffin III looks lost on the field and still doesn't know how avoid taking a hit. Griffin was sacked three times by the Ravens and only threw for 20 yards.
Washington coach Jay Gruden started RG3 in the second half, but that didn't last long. Griffin's first pass of the third quarter was picked off, and he spent the rest of the game on the bench. Even if benching him was by design, it can't be comfortable for the coaching staff to sit and watch Kirk Cousins outplay Griffin every week.
When Griffin left the game, the Ravens were leading 13-3. It will be interesting to see if RG3 has a leash in Washington and if he does, how long will it be?
RG3 reaction from Twitter:
No way to sugar coat this RG3 looks horrible i have been skins fan for 36 yrs i love them but gotta keep it real

— Michael Brooks (@BigBodyBrooks) August 24, 2014
St. Louis: The Rams' problem isn't necessarily a skill problem, it's a "Sam Bradford can't stay healthy" problem. Bradford went down with a knee injury in the first quarter against Cleveland and headed straight for the locker room. According to ESPN.com, initial tests showed that Bradford doesn't have a torn ACL, but that doesn't mean he won't miss any time.
Bradford is streaky and has trouble staying healthy, two things you don't want from a starting quarterback. If I'm a St. Louis fan, I'm slightly disconcerted with the fact that the team's success in 2014 basically depends on how well Bradford plays.
Sam Bradford reaction from Twitter:
Sam Bradford always gets hurt, I swear

— Joey Maleszyk (@joeymal6) August 24, 2014
Rex Grossman-level worrying (You don't expect him to take you far, but he could)
Tennessee: The Titans are my dark horse pick to make the playoffs in 2014 and it all kind of hinges on Jake Locker. For the second straight week, Locker looked good going against a first-team defense. Locker threw for 188 yards against Atlanta, including a 63-yard touchdown pass to Nate Washington in the Titans' 24-17 win.
One of the biggest knocks on Locker is his accuracy, something he's improved upon this preseason. Over the past two weeks, Locker has completed 71.4 percent of his passes, well above the 57.2 percent he's completed in his career.
Jake Locker reaction from Twitter:
Jake Locker looked scary good. Like 2009 UW good #ProDawg

— Chris Sylvia (@sylvioso) August 24, 2014
Miami: Ryan Tannehill led the Dolphins' first-team offense on exactly one scoring drive this preseason. That's not encouraging. What is encouraging though are his numbers. He has completed 68.3 percent of his passes and thrown for 291 yards.
Tannehill wasn't spectacular in the Dolphins' 25-20 win, but he did consistently move the offense with four drives that went over eight plays, including two 10-play drives and a 12-play drive. Once the regular season starts, those drives will need to end with points. Against the Cowboys, only one of those four drives ended with points, the other three ended with a fumble, a punt and an interception.
Ryan Tannehill reaction from Twitter:
Nobody should write Ryan Tannehill off. He's flashed. He's athletic. First time supporting cast is ok. But can you worry? Yes. That's fair.

— Pablo (@pabloknows) August 24, 2014
Drew Brees-level worrying
New Orleans: Drew Brees-level worrying only involves one thing: Brees' health. After missing most of the preseason with a strained oblique, Brees made his debut on Saturday and put to rest any concerns anyone might have about his health.
Brees only played one quarter, but in that one quarter, he managed to throw for 128 yards and two touchdowns before showing the Colts mercy and heading to the bench for the rest of the game, a game the Saints won, 23-17.
The scariest part for everyone in the NFC, Brees says he's not even fully healthy yet.
Brees: I don't think I'm 100 percent yet but the rhythm is getting better.

— WWL-TV Sports (@wwltvsports) August 24, 2014
In case you missed it
Michael Sam sacked Johnny Manziel and did Manziel's money fingers to celebrate.
Peyton Manning got flagged FOR TAUNTING.
Coby Fleener did a fake dunk over the crossbar because fake dunks lead to fake fines.
Buccaneers running back Doug Martin did an imaginary ALS ice bucket challenge as his end zone dance after scoring a touchdown.
Redskins safety Brandon Meriweather laid someone out and he led with his helmet, so he should probably get his checkbook ready because there will likely be a fine coming next week.