Best case, worst case scenarios for each NFC West team in 2014
The whole idea started on our award-winning podcast (embedded below): what would each NFL team look like in their "Armageddon scenario"? In other words, what's the absolute worst thing that could happen to each NFL team? And, conversely, what's the best-case scenario for each team? (Yes, theoretically "16 wins and the Super Bowl" works, but let's be realistic.)
We'll go by division on these and if you want to hear the breakdown for each one,subscribe to the Eye on Football podcast via iTunes. Up now, the AFC East.
Dream Weaver: The best-case scenario for the Seahawks revolves around one question: Can they repeat? And the answer is "Absolutely." Their formula -- aggressive defense, run-heavy offense, roster built around steals in the draft -- is in play for this year and in the future as well. In this scenario, Marshawn Lynch doesn't slow down and Robert Turbin/Christine Michael continue to grow as would-be feature backs and current complements for Lynch.
Russell Wilson takes another step in his mastery of Pete Carroll's offense, increasing both his efficiency and volume numbers. Paul Allen starts to worry about what sort of contract he'll command so he renames Microsoft's operating system "The Wilson" and writes Russell a mammoth endorsement check as a good faith gesture.
Percy Harvin gets 12 healthy games and Darrell Bevell gets weird with him, moving him around offensive formations and dropping bombs like triple-option plays with Wilson, Harvin and Lynch.
What defensive rules? The Seahawks remain aggressive but play well within range of the stricter defensive holding enforcement, and Richard Sherman/Earl Thomas and the Legion of Boom enjoy another destructive season as the league's top secondary and defense.
Seattle storms through the schedule again. The swagger level is out of control. Best Case: 14-2
Armageddon: The stricter enforcement of defensive holding destroys Seattle, which, thus far, doesn't seem like a particularly likely scenario.
Only one team has not been flagged for a defensive holding penalty: The Seattle Seahawks, the team many blame for "point of emphasis" flags

— Brian McIntyre (@brian_mcintyre) August 24, 2014
But play along anyway: The flags cripple Seattle's aggressive defense and teams are able to throw on the Seahawks. They're still good, but they're no longer great.
A brutal Super Bowl champion schedule leads to a rough start out of the gates (Seattle plays the Packers, at the Chargers and the Broncos the first three weeks of the season), especially when Harvin gets hurt on the opening kickoff of Week 1. Lynch continues to struggle with yards per carry, the offensive line isn't blocking well, Russell Okung is hurt again, Turbin and Michael can't step up and Wilson hasn't taken a "leap" or whatever his critics want to see. Worst Case: 9-7
Dream Weaver: Roger Goodell's feeling really, really good when he wakes up the morning of Aldon Smith's hearing and decides not to suspend the bomb-threat-making, DUI-tree-crashing pass rushing star. Smith sets the sack record and helps everyone forget the secondary is a problem for the 49ers. NaVorro Bowman makes an incredible recovery in time to pair with Patrick Willis again for the playoff stretch run.
Frank Gore remains a fantasy zombie but Carlos Hyde is a delightful addition to the running game, Alex Boone gets paid, the offensive line gels and the 49ers' rushing attack never skips a beat. Stevie Johnson/Brandon Lloyd summon the ghosts of 2010, Michael Crabtree takes the step everyone expected last season and Vernon Davis justifies his "brand" as the passing game elevates to the next level.
Colin Kaepernick takes his contract incentives and sticks them in everyone's face, marching this team to a Super Bowl victory. Best Case: 13-3
Armageddon: Everything falls apart while rumors of Jim Harbaugh trades surface. Aldon's out for an extended period of time and the defensive front seven is suddenly old and unable to generate a pass rush. Willis is studly but struggles to do it alone. Eric Reid takes a leap but the rest of the secondary takes a couple steps back.
The emergence of Kaepernick isn't what everyone expected and the wide receiver corps looks overmatched when forced to throw too many times a game.
Harbaugh turns full heel and starts wearing designer jeans on the sideline along with his freshly grown mustache and a pair of aviator sunglasses. No one can talk with him, least of all Trent Baalke. The only solution is accepting Jerry Jones' (hypothetical) offer of picks in exchange for Harbaugh and trying to reboot things in San Fran. Worst Case: 7-9
Dream Weaver: Kevin Minter (he of zero career tackles) and Larry Foote (he of the 2002 draft class) step in and plug the middle of the defense seamlessly. Tyrann Mathieu is completely recovered from injury and this defense -- led by a ridiculous cornerback group of Patrick Peterson, Antonio Cromartie and Jerraud Powers -- is a dominant unit once again in 2014.
Carson Palmer actually does throw for 5,000 yards even though he doesn't need to. Breakout years for Michael Floyd and John Brown aren't even ruined by Larry Fitzgerald seeing suppressed numbers; there's more than enough footballs to go around. Best Case 12-4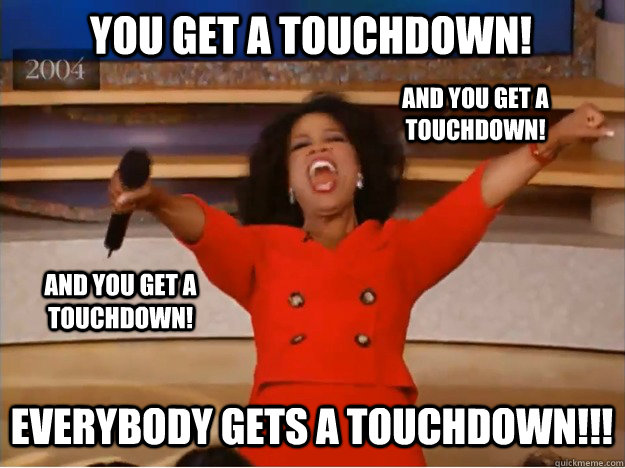 Armageddon: Jonathan Cooper isn't "back" for the first time and Jared Veldheer can't stay healthy either. The result is Andre Ellington unable to find running lanes and Palmer not getting any protection.
Palmer's still going for a huge yardage total anyway, though, because the defense can't stop the run with a weakened spine up the middle of the defense thanks to Daryl Washington's suspension and Darnell Dockett's injury. But it's not efficient and it's not pretty. Worst Case: 8-8
Dream Weaver: Dr. James Andrews invents a surgery where ACL recoveries only take one week and Sam Bradford is back in time for the season opener, giving the Rams one more shot at making him their franchise quarterback. Too soon? Yeah probably. Take two ...
Shaun Hill does his best late-2013 Kellen Clemens impersonation (stop with the Trent Green-Kurt Warner stuff; Marshall Faulk, Torry Holt and Isaac Bruce aren't walking through that door), Brian Schottenheimer schemes things around to let the wide receivers elevate Hill's play, Zac Stacy has a massive season and the defense does what the defense should do: Sack the hell out of opposing quarterbacks. Best Case: 8-8
Armageddon: Hill is, well, Shaun Hill. Greg Robinson struggles to adjust to even the NFL running game, no one from the pu-pu platter of Kenny Britt, Tavon Austin, Brian Quick and Chris Givens can break out for a big season, Stacy loses reps to Benny Cunningham.
Robert Quinn barely hits 10 sacks because everyone is running against the Rams and double teaming him. The linebackers and secondary can't withstand the battering from the rushing attacks they're seeing and the Rams defense crumbles under the weight of carrying the team. Worst Case 3-13