Mike Tomlin: Bell, Blount will not be suspended by Steelers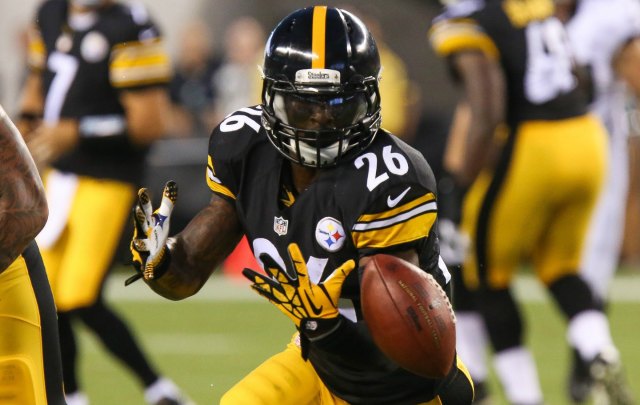 After Steelers running backs Le'Veon Bell and LeGarrette Blount were charged last week with marijuana possession -- only a few hours before the team was leaving on a flight to Philadelphia (!) -- coach Mike Tomlin acknowledged that a suspension for both could be in the works, saying "everything is on the table."
Except, apparently, an actual suspension.
As the Pittsburgh Post Gazette explains, the Steelers "certainly are not going to make either one unavailable to play" in Thursday's preseason finale vs. the Panthers or in any other regular-season game.
In other words, Pittsburgh won't be suspending Bell, who's been charged with DUI, or Blount.
Instead, the team will handle its discipline in-house.
"They will [be punished] but like I told this group, that's our business," Tomlin said. "It won't come from me. I won't talk in great detail about what we laid down in regards to dealing with the situation. But it's rest assured that we deal with unfortunate situations in an appropriate manner when they rise up and hopefully those two guys will show what's capable in terms of moving past it."
Asked if the duo would play Thursday, Tomlin said "Absolutely."
One reason for the Steelers' desire not to ban their players from actual playing is stated in the CBA, because that document says the team can't punish them in that way. As the Post Gazette points out, this is what Article 42, Section 6 says:
NFL Drug and Steroid Policies: No Club may impose any discipline against a player, including but not limited to terminating the player's Player Contract, as a result of that Player's violation of the Policy on Anabolic Steroids and Related Substances or the NFL Policy and Program on Substances of Abuse, or for failing any drug test, provided, however, that the fact that a player has violated the Policy on Anabolic Steroids and Related Substances or the NFL Policy and Program on Substances of Abuse, or has failed a drug test will not preclude the termination of his Player Contract if such termination is otherwise expressly permissible under this Agreement or the player's Player Contract.
That, of course, doesn't address how Bell will fare in the courts. One thing, though. Ignorance is bliss isn't a strong legal defense.
Said Bell according to police: "I didn't know that you could get a DUI for being high."