Bills WR Sammy Watkins leaves game after re-injuring ribs against Lions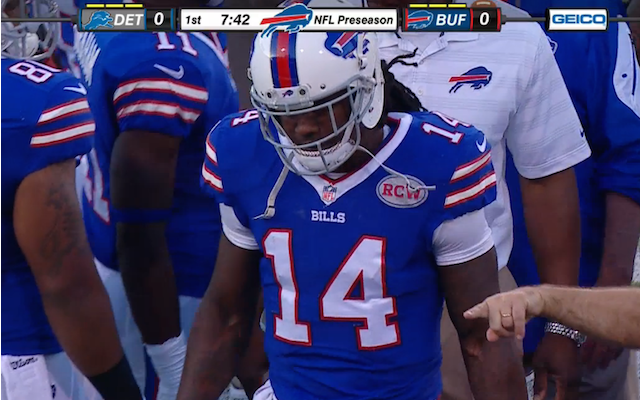 Bills rookie Sammy Watkins didn't play against the Buccaneers last week after suffering a rib injury against the Steelers on Aug. 16. Watkins finally returned to action on Thursday, but he only lasted a total of nine plays before re-injuring his ribs.
The fourth overall pick in the NFL Draft was taken to the locker room in the first quarter after taking a hit from Detroit linebacker Ashlee Palmer. It looked like Watkins was going to stay in the game after taking the hit from Palmer, but after the officiating crew stopped the game to fix the clock, Watkins decided to head to the sideline.
The Bills confirmed that Watkins suffered a rib injury and the team also announced that he'd be spending the rest of the game on the bench.
The injury to Watkins occurred just three days after he had returned to practice on Monday.
During his brief time in the game against Detroit, Watkins caught zero passes and wasn't targeted once by quarterback EJ Manuel.