Ex-Cowboys DT Josh Brent reinstated, has to serve 10-game suspension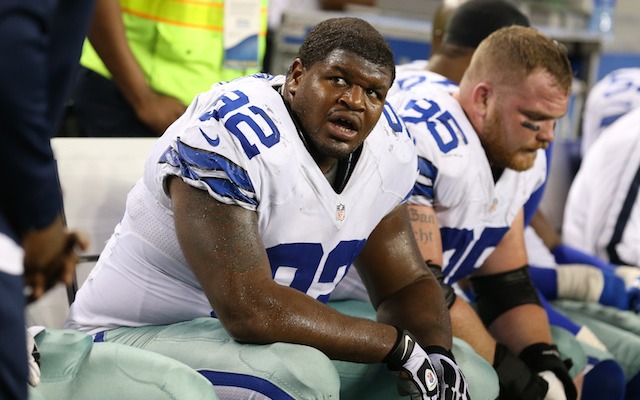 Former Cowboys defensive tackle Josh Brent said over the summer that he'd like to the return to the NFL. Now he can. The league announced on Tuesday that Brent, who was found guilty of intoxication manslaughter in January, will be eligible to play this season after he serves a 10-game suspension.
Cowboys owner Jerry Jones said in August that his team would make a roster spot for Brent if the NFL reinstated him and it looks like Jones will have at least six weeks to create that roster spot.
Although Brent is suspended for 10 games, he'll be to eligible to visit the Cowboys' practice facilities after six weeks and he'll be allowed to practice with the team after nine weeks. The earliest Brent could possible play for Dallas is Week 12 because the Cowboys have a Week 11 bye.
Brent officially retired in July 2013. The retirement came seven months after teammate Jerry Brown was killed in a December 2012 car crash where Brent was the driver.
In January 2014, Brent was found guilty of intoxication manslaughter and sentenced to 180-days in jail. Brent was released from jail on June 15. The 26-year-old then spent several weeks in an alcohol and drug treatment facility where he was released from on July 29.
Shortly after his release, Brent's agent, Peter Schaffer, announced that Brent had plans to return to the NFL.
"He has decided he would like to continue his NFL career if the Cowboys will have him and the NFL will take him back," Schaffer said.
Brent has received the blessing of Stacey Jackson as he seeks to return to football. Jackson is the mother of Jerry Brown. Jackson invited Brent to Brown's memorial service in December 2012 and forgave him for his actions.
Jackson talked about her relationship with Brent during a segment that aired on CBS' The NFL Today last Thanksgiving.
"I knew Josh was hurting just as much as I was because Jerry was his brother," Jackson said in November. "If being mad at Josh would bring Jerry back, then I'll be mad at Josh, because I want my son, but then what do you give to the rest of your family if you're bitter. So, I had no problem with him coming to be at the memorial service with us. I had to forgive him."