Richard Sherman cries Deflategate in Madden game vs. Shane Vereen
by Igor
Mello
| CBSSports.com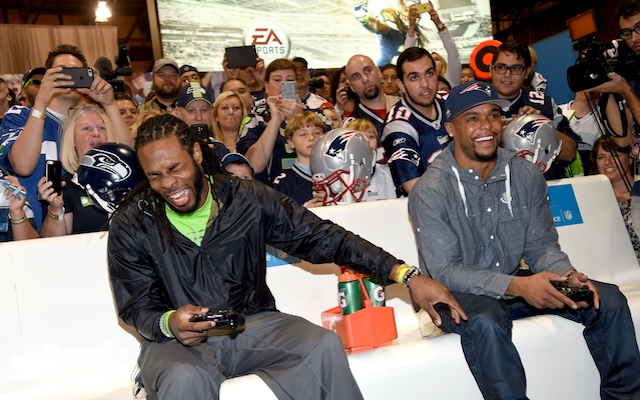 Patriots running back Shane Vereen took down Seahawks cornerback Richard Sherman in a game of Madden NFL 15 at the Phoenix Convention Center this week, 14-0. As you can imagine, Sherman didn't take his drubbing lightly.
After Xbox Tom Brady hooked up with Julian Edelman for the game's first score, Sherman cried Ballghazi, per the Boston Globe.
"Check the football, ref." Sherman said.
Ah, the good old "the game is cheating" excuse. Good one, Sherman. If you've played Madden before, I'm sure you've heard opponents use that excuse all the time. He'll have to ask EA Sports to launch an investigation to see if the virtual footballs were properly inflated.
As you've noticed from all the media sessions, Sherman has not backed away from the Deflategate scandal surrounding the Patriots. On Sunday, he said the Patriots won't be disciplined by the NFL for because of owner Robert Kraft's relationship with commissioner Roger Goodell. Kraft struck back at Sherman calling the Madden coverboy a "marketing whiz."
Oh, he and Russell Wilson also did the salsa with a female reporter at Media Day. Fun times for Sherman leading up to Sunday's big game.
In case you were curious to see highlights of that game, some Brazilians dudes for ESPN.com.br narrated the game in Portuguese on YouTube.
Vereen's video game victory falls in favor of EA Sports' Super Bowl 49 simulation, which was released Monday morning. Like Vereen, the simulation had Brady connecting with Julian Edelman for a touchdown pass to clinch a 28-24 win. How accurate are Madden's Super Bowl predictions, you ask? The simulator is 8-3 in predicting the correct winner since 2004.
---
Pats QB Tom Brady fighting a cold
by Larry
Hartstein
| CBSSports.com
Patriots quarterback
Tom Brady
, who's been battling a cold for nearly a week, said he expects to be fine for Super Bowl 49 on Sunday. Brady sniffled often during his news conference Wednesday.
The Patriots are 1-point favorites over Seattle after opening as 2.5-point underdogs.
---
Raiders not expected to re-sign RB Darren McFadden
by Larry
Hartstein
| CBSSports.com
With expectations sky-high for
Latavius Murray
in 2015, the Raiders
aren't expected to re-sign
impending free agent running back
Darren McFadden
, reports CSNBayArea.com. McFadden, 27, averaged 3.4 yards per carry this season and has not had a good year since 2011.
Oakland also is expected to part ways with 29-year-oold running back Maurice Jones-Drew, saving the team $2.5 million.
Murray, 25, averaged 5.2 yards on his 82 carries and will enter next season as the starter.
---
Bengals could bring back TE Jermaine Gresham
by Larry
Hartstein
| CBSSports.com
Bengals tight end
Jermaine Gresham
is headed for unrestricted free agency after five years with Cincinnati. Offensive coordinator Hue Jackson indicated the team has not moved on from Gresham.
"To me, there's a place for him," Jackson said, via ESPN.com. "But again, he's free, so that's going to work itself out for him however it works itself out."
Gresham caught 62 passes for 460 yards and five touchdowns, but he fumbled three times and missed two key late-season games with injuries.
---
Report: Warrant issued for Ravens S Will Hill
by Larry
Hartstein
| CBSSports.com
New Jersey law-enforcement officials confirmed there is an active warrant out for Ravens safety
Will Hill
, for failure to pay child support, reports the
Baltimore Sun
. The amount owed is $16,588, the report said.
Hill played in 10 games this season, making 41 tackles and returning an interception for a touchdown.
---
Marshawn Lynch adds 'you know why I'm here' to his repertoire
by Igor
Mello
| CBSSports.com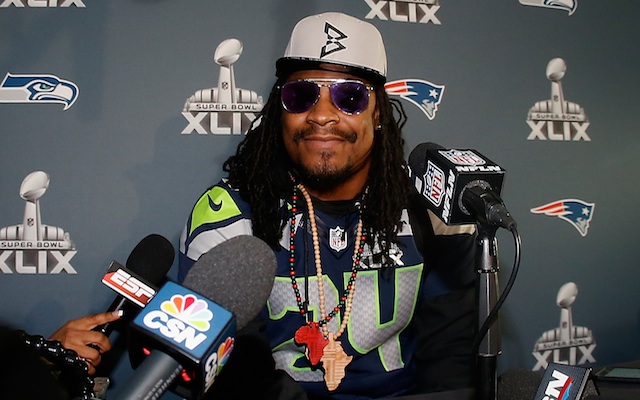 A new day, a new catchphrase.
Although Marshawn Lynch is avoiding fines by the league, the Seahawks running back took the podium again in front of a jam-packed room of reporters wearing the same Beast Mode cap that could hurt his pockets.
He set a timer on his phone to five minutes, and this time around, he answered every single question with "you know why I'm here." Lynch essentially repeated the same phrase 14 times, slightly altering his approach at times.
Once his phone alarm went off, Beast Mode exited the stage.
If we're keeping score, Lynch's greatest hits include, "yeah," "nope," "thanks for asking," "I'm thankful," "I'm here so I don't get fined," and now "you know why I'm here."
You can try all you want, but Lynch doesn't care about your questions, media members. Seattle fans are clearly behind Lynch, so much so that they recently started a petition for the NFL to revise its media policy and stop "bullying" Lynch out of his money. Even the GM kind of loves what Beast Mode does. If you want him to talk, have him in a controlled environment doing commercials.
Lynch has an odd relationship with the media, and he'll get to come up with another catchphrase at Thursday's league-mandated session at the Seahawks' resort hotel.
Any suggestions for his next act?
---
Bills RB Anthony Dixon recovering from knee surgery
by Larry
Hartstein
| CBSSports.com
Bills running back
Anthony Dixon
tweeted a photo of himself indicating he underwent surgery to fix a torn meniscus in his knee, reports ESPN.com. Dixon ran for 432 yards and two touchdowns last season, averaging 4.1 yards per carry.
---
Raiders not expected to re-sign DT Pat Sims
by Larry
Hartstein
| CBSSports.com
Raiders defensive tackle
Pat Sims
saw his playing time decrease in 2014, and the team is unlikely to re-sign him, reports ESPN.com. Sims played 37 percent of the defensive snaps and finished with 25 tackles and no sacks.
Sims, 29, spent the past two seasons with Oakland after a five-year run in Cincinnati.
---
Packers not expected to make offer to WR Jarrett Boykin
by Larry
Hartstein
| CBSSports.com
Packers wideout
Jarrett Boykin
is set to become an unrestricted free agent, and it's unlikely the team even makes him an offer, reports the
Milwaukee Journal Sentinel
. Boykin lost the No. 3 receiver job this season to rookie
Davante Adams
, who outperformed any Packers rookie wideout since James Jones in 2007.
Boykin finished the year with the same number of catches as drops, three, the paper noted.
If Randall Cobb re-signs with Green Bay, the Packers will enter 2015 with Jordy Nelson, Cobb and Adams as their three primary wideouts.
---
Jaguars MLB Paul Posluszny says he'll be 100 percent for OTAs
by Larry
Hartstein
| CBSSports.com
Jaguars middle linebacker
Paul Posluszny
, who tore his pectoral muscle and missed the last nine weeks of the season, told the team's website he's recovering well from surgery and will be 100 percent for the offseason program starting in mid-April.
"That shouldn't be an issue for us," he said.
Posluszny posted six straight years of 100-plus tackles until making 69 in seven games this season.
---