10 Bold NFL Predictions: Falcons soar, 49ers fall, Jim Harbaugh bolts
Ready to go out on a limb? We have the Falcons coming back in a big way and the 49ers missing the postseason entirely. That's not all. Jim Harbaugh will coach the Cowboys.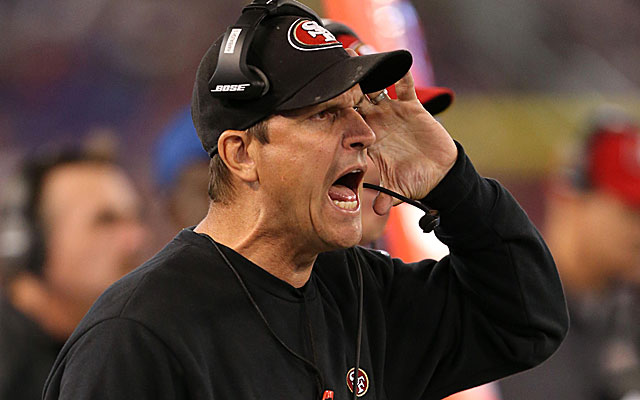 Who wins the NFC South? How good will Andy Dalton be this season? Andre Ellington ? The 49ers?
These are just some of the things that highlight my 10 bold predictions for 2014.
Eat them alive.
1. The Atlanta Falcons will win the NFC South.
Call me nuts on this one, but I think with all the injuries they had last season they were in a lot of those games they ended up losing, which will help this season.
As long as Julio Jones is back healthy, the offense will score. On the other side of the ball, a lot of young players got time last year and that will show up.
The corners will be good. Paul Worrilow is a potential Pro Bowl player at inside linebacker. There are still some concerns about the pass rush, but they can scheme them away like a lot of teams do. The additions of run stoppers on the front like Tyson Jackson and Paul Soliai will help.
Matt Ryan will push to be in the MVP conversation this season.
2. The Arizona Cardinals ' Andre Ellington will lead the NFL in rushing.
We saw a similar style of back in LeSean McCoy lead the league last season. Ellington is the guy who will do it this year.
Like McCoy, he is what I call an "air back," a player who excels in space or air. Look for the Cardinals to get him a ton of touches both inside the tackles and wide -- and use him in the passing game.
The offensive line is better, so he will be better. Ellington is set to become a household name.
3. The San Francisco 49ers will miss the playoffs.
Call it a hunch, but I think they will take a small step back and fail to make the postseason.
My biggest concerns are on the defensive front seven with NaVorro Bowman out until October and Aldon Smith facing a suspension. Justin Smith isn't a kid either. This will all show up on a team noted for being physical.
The offense will still be able to run the ball, but it's all about Colin Kaepernick growing as a passer. Can he? Will he?
And then there's the Jim Harbuagh situation. He looks like a coach who has one foot out the door, and you have to wonder if the shelf life on his ways with his players is wearing out.
4. Jim Harbaugh will be the coach of the Dallas Cowboys next year.
Like I said, I think he's out in San Francisco -- no matter what they try and say.
Jerry Jones will offer him a boatload of money to take over for Jason Garrett. Harbaugh won't be able to refuse.
5. Andy Dalton will throw for 4,500 yards and 35 touchdown passes.
The new-look offense with new coordinator Hue Jackson will make Dalton that much better. They have a ton of weapons and the way they use them will really help Dalton become a better passer.
The Cincinnati Bengals will run the ball more under Jackson, and they will change their mentality some up front. That will help Dalton with the play-action passing and open up more lanes for him to throw.
With A.J. Green , Mohamed Sanu and Marvin Jones outside and Tyler Eifert and Jermaine Gresham inside, they will have chance to make plays in the passing game -- and Dalton will make them.
One more thing: Dalton will win a playoff game this year.
6. The Green Bay Packers will run away with the NFC North.
I know a lot of folks think the division will be competitive, but I don't. I think Green Bay is the class by far.
The Packers will be explosive on offense and the defense will be much improved. Coordinator Dom Capers took a lot of heat the past few seasons, but he is a good football mind. This is a bounce-back year for him.
7. Gregg Williams will be the Defensive Coordinator of the Year.
Williams is an egocentric coach who hasn't been a coordinator since Bounty-gate, and his role in it.
But he's back with the St. Louis Rams , and that's a good thing. He has a brilliant defensive mind and will add a lot of new wrinkles to a talented group of players. Williams might not be a head coach again, but he will excel in this new role.
8. Miami Dolphins quarterback Ryan Tannehill will have the best passing numbers of any of the third-year quarterbacks.
That's right. Better than Andrew Luck , Nick Foles and Russell Wilson
The new offense seems to suit Tannehill and outside receiver Mike Wallace . It will help if his line block better. He was dumped 58 times last year. That won't happen again, and his numbers will go up. He threw 24 touchdown passes last season and it wouldn't shock me to see that number in the 30s this time around.
9. Minnesota Vikings receiver Cordarrelle Patterson becomes a star.
With his abilities in the return game, coupled with his explosive play as a receiver, he has a chance to take down the record for all-purpose yards. Even if he doesn't get that, he will have a Pro Bowl season no matter who plays quarterback.
10. Houston Texans DE J.J. Watt will push for the 20-20-20 he talked about last year.
Watt told me last summer his goal was to get 20 sacks, 20 tackles for loss and 20 passes defended. He didn't come close. But he still played at a high level. He just didn't have help. Now he does.
With Jadeveon Clowney now on the Texans roster, he will provide the extra pressure to help Watt get more single blocking. Look out. He will once again show why he's such a dominant player as he pushes for 20-20-20.
Show Comments
Hide Comments
Four defensive backs are picked in the final five spots of the first round in Rob Rang's final...

The last version of Will Brinson's 2017 NFL Mock Draft sees the Chiefs land their new franchise...

Character has become such a concern for draft prospects that scouts spend a majority of their...
Also, expect Haason Reddick to go higher than expected and Reuben Foster to be taken on Th...

Plus the Cowboys and Steelers find new cornerbacks late in the first round in Dane Brugler's...

The league appears fully prepared if the Browns decide to pull off a few unexpected trades