2013 NFL season preview: Atlanta Falcons
Pete Prisco says the Falcons could be one of the NFL's highest-scoring offenses in 2013. Will it get them to the Super Bowl? Here's a preview of the Falcons' season.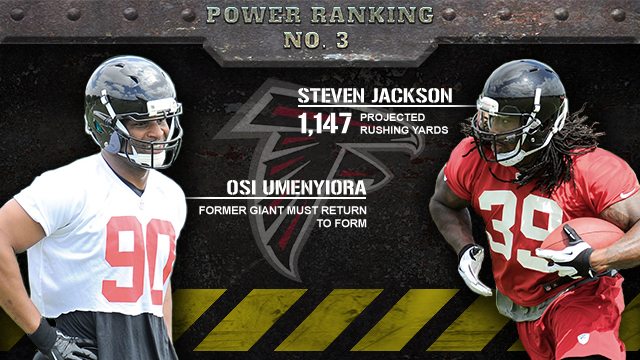 The Falcons will once again be one of the NFL's best teams, especially on offense. There is no denying they are loaded with offensive skill players, led by Matt Ryan . The big question is the defense. They've added a lot of key, young players on that side of the ball, but they will be asking them to grow up quickly.
Coach Mike Smith has preached to his team that they weren't 10 yards from a Super Bowl, which they were in their NFC title game loss to the 49ers last January, but instead they are five months away from it.
Translation: Work to get there.
The talent says they will be in the mix again. Can they finally get over the hump?
Offense:
With Ryan and his up-tempo offense, the Falcons have the ingredients to be one of the league's highest-scoring teams. Ryan loves playing for offensive coordinator Dirk Koetter, and it shows. Koetter allowed Ryan more chances last season down the field than he had in his first four seasons.
Falcons' Rivals: NFC South


2013 Preview • Schedule
Panthers @ Falcons: 12/29 (1 p.m. ET)
Falcons @ Panthers: 11/3 (1 p.m. ET)


2013 Preview • Schedule
Saints @ Falcons: 11/21 (8:25 p.m. ET)
Falcons @ Saints: 9/8 (1 p.m. ET)


2013 Preview • Schedule
Bucs @ Falcons: 10/20 (1 p.m. ET)
Falcons @ Bucs: 11/17 (1 p.m. ET)
It makes sense with Julio Jones and Roddy White on the outside and Tony Gonzalez at tight end. All three are among the best in the league at what they do. Jones should be ready to stake a claim as one of the NFL's elite wide receivers this season. He is bigger, stronger and much more comfortable in the offense.
The addition of veteran runner Steven Jackson will help the running game, but it will also play a big role in the improvement of the screen game.
The key to making it all work might be how well the line comes around. They will have three new starters -- with Peter Konz moving inside -- and one of those is second-year player Lamar Holmes at right tackle. He has to show quick improvement. The team likes his potential.
Defense:
Defensive coordinator Mike Nolan did a heck of a job with his unit last season, overcoming a lack of star power at key spots to make improvements. Nolan is a master at scheming up ways to get to the quarterback.
He will need to do that again in 2013 with no great outside pass rusher. Veteran Osi Umenyiora was signed to help, but he has to show more than he did last season for the Giants. Keep an eye on youngsters Jonathan Massaquoi and Stansly Maponga .
Linebacker Sean Weatherspoon is one of the bright young stars on the defense and he should be even better now that he has a better handle on what Nolan wants to do.
The secondary features two good safeties and a good corner in Asante Samuel . But the Falcons need to get a big year out of Desmond Trufant , their first-round pick, and Robert Alford , their second-round pick, at the other corner spots.
Atlanta Falcons

: 2013 schedule predictions
Date
Opponent
Time (ET)
Pete Prisco's Pick
Will Brinson's Pick
Sep. 8
at New Orleans
1 p.m.
Sep. 15
St. Louis
1 p.m.
Sep. 22
at Miami
4:05 p.m.
Sep. 29
New England
8:30 p.m.
Oct. 7
N.Y. Jets
8:40 p.m.
Oct. 20
Tampa Bay
1 p.m.
Oct. 27
at Arizona
4:25 p.m.
Nov. 3
at Carolina
1 p.m.
Nov. 10
Seattle
1 p.m.
Nov. 17
at Tampa Bay
1 p.m.
Nov. 21
New Orleans
8:25 p.m.
Dec. 1
at Buffalo
4:05 p.m.
Dec. 8
at Green Bay
8:30 p.m.
Dec. 15
Washington
1 p.m.
Dec. 23
at San Francisco
8:40 p.m.
Dec. 29
Carolina
1 p.m.
Atlanta Falcons' 2013 projected record:
12-4
10-6
Final thoughts:
They've been in the playoffs four of Smith's five seasons, and there's no reason to think that will change. The offense will be explosive, but it's imperative that the defense has a pass rusher emerge, and one of those rookie corners needs to have a big season. If both happen, they will be pushing for the Super Bowl again. This time, 10 yards might not keep them out.
More 2013 NFL season previews: Select a team
AFC North
AFC South
AFC East
AFC West
NFC North
NFC South
NFC East
NFC West
Show Comments
Hide Comments
Conley, a first-round talent, has denied rape allegations that came to light this week

Lamps Plus and Charmin' are to the rescue for some smart endorsement money

Here's everything you need to know about the 2017 NFL Draft
Will Garoppolo be Tom Brady's backup in 2017 or will he be dealt Thursday?

Ben Roethlisberger, Alex Smith and Carson Palmer get youngsters to mentor in Prisco's final...

Plus Jonathan Allen falls further than expected and the Saints double dip in the secondary