2013 NFL season preview: Jacksonville Jaguars
It's do or die time for Blaine Gabbert in Jacksonville, but QB isn't the only position where this team needs to improve. Here's a look at the 2013 Jaguars.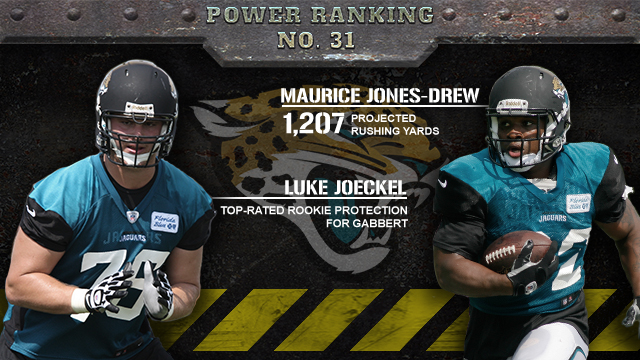 Coach Mike Mularkey lasted one season in Jacksonville, going 2-14, the worst record in team history. Owner Shahid Khan wanted to make the Jaguars relevant again and unlike some of his counterparts, he's happy to hire the football people to see that vision through.
New general manager David Caldwell and new coach Gus Bradley have been tasked with revitalizing a franchise that came into the league in 1995 and then proceeded to make the playoffs four straight years from 1996-1999, including two AFC Championship Game appearances. In the 13 years since: Two trips to the playoffs and nine seasons of sub-.500 football.
One thing those early Jags teams had that the current version doesn't: A franchise quarterback. Jacksonville drafted Blaine Gabbert 10th overall in 2011 but the results have been mostly disappointing. This almost certainly will be Gabbert's last chance to prove himself and if the 2013 season goes belly up, expect Caldwell and Bradley to move forward with their quarterback, whether that's through trade or free agency, or some yet-to-be unearthed college player who works his way up draft boards in the coming months.
Offense:
Jaguars' Rivals: AFC South


2013 Preview • Schedule
Texans @ Jaguars: 12/5 (8:25 p.m. ET)
Jaguars @ Texans: 11/24 (1 p.m. ET)


2013 Preview • Schedule
Colts @ Jaguars: 9/29 (1 p.m. ET)
Jaguars @ Colts: 12/29 (1 p.m. ET)


2013 Preview • Schedule
Titans @ Jaguars: 12/22 (1 p.m. ET)
Jaguars @ Titans: 11/10 (1 p.m. ET)
The good news: Gabbert has looked sharp at times during the preseason, even running the Jags' no-huddle offense like a grizzled vet. Gabbert is also just 23 and when he has at least 2.6 seconds to throw the ball, he goes from being one of the league's most inconsistent quarterbacks to among the top third. Which leads us to the offensive line, which allowed the third-most sacks in the league last season. It's why the organization drafted tackle Luke Joeckel.
Running back Maurice Jones-Drew is also healthy after missing the final 10 games of last season with a foot injury, and the Jags have provided Gabbert with something other than the worst wide receivers corps on the planet. Cecil Shorts is the best player most of you have never heard of (he had 55 catches for 979 yards and 7 TDs last season), and the team drafted playmakers Ace Sanders and Denard Robinson in back-to-back rounds during the April draft.
Any success this unit has begins with Gabbert. But he can't do it alone. He can't take 50 sacks like the Jags' quarterbacks did a season ago. The offensive line has to improve, the running game can't be nonexistent and the downfield playmakers -- like Justin Blackmon, the fifth-overall pick in 2012 who, incidentally, will miss the first four games of the season for violating the league's substance abuse policy -- have to show up.
Defense:
The 2012 Jaguars defense was just as inept against the run as the pass. That's part of the reason Khan hired Bradley, who, in his previous job, transformed the Seahawks into one of the league's most aggressive defenses. It's also why the organization used second- and third-round picks to bolster the secondary, taking safety Jonathan Cyprien and cornerback Dwayne Gratz. Both players are expected to start in Week 1, which means that a young athletic unit will also be short on experience.
The addition of former Titan Sen'Derrick Marks allows the Jaguars to move Tyson Alualu from defensive tackle to defensive end, and Roy Miller arrives from Tampa Bay where he was known for his ability to wreak havoc for opposing interior offensive linemen.
Linebacker Paul Posluszny anchors the middle of the defense but once the games count, the true measure of this group will be if they can get after the quarterback, something they didn't have much success with a year ago.
Final thoughts:
This is it for Blaine Gabbert, and perhaps the same can be said for Maurice Jones-Drew, too. If the third-year quarterback doesn't come into his own, 2014 will be another rebuilding year in Jacksonville, through no fault of the new regime. Rookies Ace Sanders and Denard Robinson should make the offense more explosive, as should Justin Blackmon, assuming he can stay out of trouble. Six wins would be a moral victory for this team, and if Gabbert continues to struggle, that could be a recurring theme for the foreseeable future.
More 2013 NFL season previews: Select a team
AFC North
AFC South
AFC East
AFC West
NFC North
NFC South
NFC East
NFC West
Show Comments
Hide Comments
Jones provided Cowboys tickets and travel accommodations to officers and their families

Romo played DJ at a charity event and got Ezekiel Elliott on stage for 'O.P.P.'

Kaepernick has spent much of his offseason helping others and now supporters will return the...
Beast Mode led a bicycle parade through his hometown and apparently didn't even have to pe...

The NFL won't punish Revis, who remains on the market as a free agent

The NFL is playing the long game on L.A., but it's taking a serious hit in the short term