2013 NFL season preview: Oakland Raiders
After a major roster purge and with weaknesses at many positions, the Oakland Raiders enter the season with very low expectations. Here's a preview of the 2013 Raiders.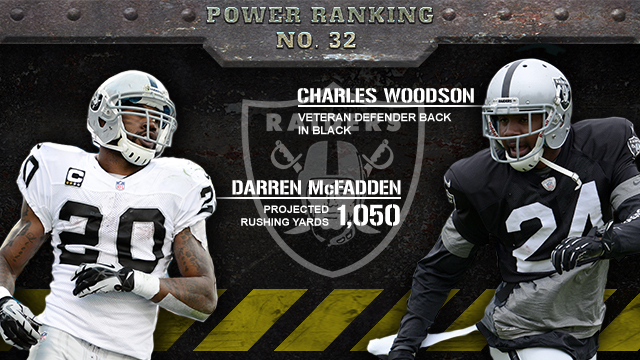 It's been an interesting offseason for the Raiders: they're the only NFL team that made news for firing their PR guy, they signed their 35-year-old kicker through 2017 and they lead the NFL in dead money, which is not something you want to lead the NFL in.
So those are the highlights.
But things aren't completely dire in Oakland. The team has a new offensive coordinator, a new quarterback -- who might not start -- and if Darren McFadden can stay healthy, a little bit of hope.
The loss of left tackle Jared Veldheer to a torn triceps won't help things on the offensive line and it also won't help the quarterback situation. Veldheer's injury might mean the Raiders need a more mobile quarterback under center, which could mean coach Dennis Allen gives the starting nod to Terrelle Pryor over Matt Flynn.
Offense:
The good news for the Raiders is that last year's offensive coordinator, Greg Knapp, is gone. Knapp's legacy in Oakland won't be a good one: he'll be remembered as the guy who abandoned the power-running game in favor of a zone-blocking scheme that no one on the team seemed to like. Under Knapp's direction, the rushing offense ranked 28th in the NFL in 2012 after ranking seventh in 2011 and second in 2010.
Raiders' Rivals: AFC West


2013 Preview • Schedule
Broncos @ Raiders: 12/29 (4:25 p.m. ET)
Raiders @ Broncos: 9/23 (8:40 p.m. ET)


2013 Preview • Schedule
Chiefs @ Raiders: 12/15 (4:05 p.m. ET)
Raiders @ Chiefs: 10/13 (1 p.m. ET)


2013 Preview • Schedule
Chargers @ Raiders: 10/6 (4:25 p.m. ET)
Raiders @ Chargers: 12/22 (4:25 p.m. ET)
In Knapp's place, the Raiders now have Greg Olson, who plans to return to the power-running game that starting running back Darren McFadden favors. Olson was the offensive coordinator for St. Louis in 2006 when Steven Jackson ran for a career-high 1,528 yards.
Switching philosophies on offense will be the easy part for Olson and the Raiders, the hard part will be everything else. The biggest questions for the Oakland offense will be: Is Matt Flynn any good? If Flynn's not any good, is Terrelle Pryor any good? Is Allen willing to go with Pryor, a quarterback with one start in two years? Whoever starts at quarterback, can of the offensive line protect him? Can Darren McFadden stay healthy? If the answer is 'yes' to the last two questions, the Raider offense could surprise some people in 2013.
Defense:
While the offense is one giant question mark, the defense has arguably improved over last year's unit that finished 18th overall in the league.
Over the past eight months, the Raiders have let a lot of defensive players go, including: safety Michael Huff, linebacker Philip Wheeler, defensive lineman Desmond Bryant, defensive lineman Dave Tollefson, defensive tackle Richard Seymour, cornerback Shawntae Spencer and linebacker Rolando McClain.
That list makes it sound like the Raiders dumped their entire defensive roster, but don't worry, they didn't. Oakland will have 11 defensive players to take the field when the regular season opens on Sept. 8.
The biggest strength on the Raider defense in 2013 could very well be the secondary and that's good news, considering Oakland plays four games against teams that finished in the top-seven in passing last year.
New additions Mike Jenkins, Tracey Porter, Charles Woodson and first-round pick D.J. Hayden, will join returning starter Tyvon Branch to form the nucleous of a secondary that should give opposing quarterbacks trouble.
Final thoughts:
The last time the Raiders made the playoffs, rookie first-round draft pick D.J. Hayden was 12-years old, Facebook hadn't been invented yet and Jerry Rice made the Pro Bowl -- as a Raider. That was 2002.
Don't look for the 10-season drought to end in 2013. The Raiders have a lot of questions and not enough answers. Oakland could win a game or two more than the four they won last year, but overtaking Denver in the AFC West will be near impossible.
The silver -- and black -- lining for Raiders fans? Oakland doesn't have the longest playoff drought. That mark currently belongs to the Buffalo Bills, who haven't made the postseason since 1999.
More 2013 NFL season previews: Select a team
AFC North
AFC South
AFC East
AFC West
NFC North
NFC South
NFC East
NFC West
Show Comments
Hide Comments
College players who didn't get drafted are now free to sign with any team in the NFL

Benjamin has had weight issues going back to college

As one exec put it, 'We don't know what the hell they were doing'
Beast Mode is headed to Oakland, but made sure to thank the people of Seattle on his way o...

The Broncos only drafted Kelly after first talking to his uncle, Jim Kelly

Whaley was on borrowed time, and now Sean McDermott gets his best shot at building a winne...