2013 NFL season preview: St. Louis Rams
Could the Rams be on the verge of a turnaround? Now that Sam Bradford has a stronger supporting cast, they just might be. Here's a preview of St. Louis' 2013 season.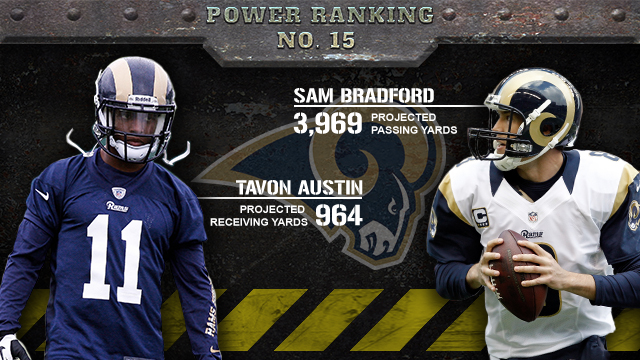 Sam Bradford is a franchise quarterback. Right? Yes. We think. Maybe. After an outstanding rookie season that saw Bradford come up just short in pursuit of the playoffs, he hasn't been progressing the way pundits prefer. That's not all his fault though: Bradford hasn't had any offensive weapons at his disposal since he played for Oklahoma.
That changes in 2013, as the St. Louis Rams -- still loaded with draft picks after facilitating the Redskins move up to get Robert Griffin III in 2012's draft -- went out and spent big on playmakers to make their primary player a legit cornerstone for the future. As a result the Rams feel like they're on the verge of doing something special. Or in St. Louis football lingo, "not being terrible" -- few teams have been as bad as St. Louis since the glory days of the Greatest Show on Turf.
Offense:
Bradford's the lynchpin here: the Rams could've attempted to trade him, draft Griffin and pursue a different venue, but Jeff Fisher remains staunchly loyal to his current quarterback. There's plenty of reason to be optimistic, especially with the additions on offense this year. Jake Long steps in at left tackle and the former No. 1 overall pick is charged with providing the protection that former No. 2 overall pick Jason Smith never could; Smith, by the by, was traded for Wayne Hunter and is about to start his second stint with the Jets. Oy.
The Rams are banking they get pre-2012 Jake Long although, quite sadly, even 2012 Jake Long would be an upgrade for this offensive line. The left ankle was one of two big-time free-agency acquisitions, along with tight end Jared Cook . Unlike long, Cook probably won't be asked to block, and his inability to keep defensive players from getting to the quarterback won't keep him off the field. Instead, Cook becomes what he always should've been with the Titans, a pure vertical threat from the tight end position, sent on vertical routes that maximize his athleticism.
Rams' Rivals: NFC West


2013 Preview • Schedule
Cardinals @ Rams: 9/8 (4:25 p.m. ET)
Rams @ Cardinals: 12/8 (4:25 p.m. ET)


2013 Preview • Schedule
49ers @ Rams: 9/26 (8:25 p.m. ET)
Rams @ 49ers: 12/1 (4:05 p.m. ET)


2013 Preview • Schedule
Seahawks @ Rams: 10/28 (8:40 p.m. ET)
Rams @ Seahawks: 12/29 (4:25 p.m. ET)
St. Louis also appears to have hit a home run in the draft. The loss of Danny Amendola to the Patriots is a stinger, but clearly St. Louis felt they would be with the addition of West Virginia standout Tavon Austin . Austin is the ultimate "space player," an explosive pass-catching machine who serves as a offensive coordinator's wet dream given his chefs-like movability around the field. Austin, considered too small to play wideout, once rushed for 500 yards in a college game. Think about that for a second. Along with Austin, the Rams also drafted Stedman Bailey , another Mountaineer product who plops nicely onto the depth chart with the underrated Chris Givens and the raw-but-potential-filled Brian Quick . Between Givens and Cook this offense should be able to get vertical and Austin will create nightmare matchup problems.
The running game could be an issue. Steven Jackson is gone, having suffered through a lot of losses. Daryl Richardon, Isaiah Pead and Vanderbilt rookie Zac Stacey will form a questionable triumvirate in the backfield. Richardson's the named starter, Pead's suspended and Stacey's untested. There's plenty of opportunity here, particularly if the line gels, and the guess is that Richardson ultimately produces something of a breakout year in a pass-happy and creative offense.
Defense:
Not enough is made of this unit -- despite a 7-8-1 record and a -49 point differential last year, the Rams were very impressive on defense, jumping from 21st in Football Outsiders defensive DVOA rankings to 7th (weighted 8th). Their defensive line, as my colleague Pete Prisco recently noted, is young and explosive. Chris Long , drafted only behind Jake in the 2008 NFL Draft, is the biggest name and a high draft pick, but still doesn't get his just due because of where on the field and where on the map he plays.
He's joined by a dynamic pairing of fellow first-rounders in defensive tackle Michael Brockers (2012) and defensive end Robert Quinn (2011). Both are fast, athletic players for their respective positions and both can get to the quarterback; there's also a little bit of thunder and lightning to the pairing. Add in Kendall Langford -- plus William Hayes , Matt Conrath , Jermelle Cudjo and Eugene Sims creating depth -- and you have the makings of the "Elite Eight," a fearsome front for opposing offenses.
The linebackers aren't too shabby either. Jo-Lonn Dunbar 's suspended to start to the season so the Rams need (the ageless?) Will Witherspoon to fill his starting role. They also need an immediate impact from oft-troubled 2013 first-round pick Alec Ogletree . James Laurinaitis is a fixture in the middle. If it seems like Jeff Fisher built this defense overnight, well, that's not entirely true, but his big move for cornerbacks in 2012 helped. He signed Cortland Finnegan as a free agent and landed controversial cornerback Janoris Jenkins in the second round. Both helped impact the Rams defense tremendously last year and should continue growing in the coming season. 2013 third-round pick T.J. McDonald 's only going to help.
Final thoughts:
Honestly, .500 feels not good enough for a team as potential-filled as the Rams. Plug them in a different division (like the AFC West, perhaps?) and suddenly they're the biggest playoff sleeper in the NFL, a rich man's Kansas City Chiefs. It's being in the same division as the 49ers and the Seahawks that holds back the Rams. Though maybe it shouldn't -- St. Louis went 4-1-1 inside their division in 2012. A repeat of that in 2013 would drastically flip the above projection and probably push the Rams into the playoffs. Of course, as St. Louis improved, so did the rest of the division so that's far from a guarantee. So to is the leap that Bradford and the offense are supposed to make this year. The pieces are there but that's irrelevant if they don't fit properly. If everything clicks on offense and the defense repeats it's performance there's some significant upside for this year's team. With a tough road schedule in the first seven weeks of the season we may know quickly whether or not St. Louis will scare for the playoffs in 2013.
More 2013 NFL season previews: Select a team
AFC North
AFC South
AFC East
AFC West
NFC North
NFC South
NFC East
NFC West
Show Comments
Hide Comments
The former Florida football player was expected to be a second-round pick in the NFL Draft

This much is certain: The Browns desperately need a quarterback

The man who signed Romo is happy to see him move on from playing the game
Roger Goodell typically announces all the first-round picks, but he'll make an exception this...

NFL teams find out their schedule on the same day you do

There probably weren't too many complaints in Kansas City after the schedule was released