2013 NFL season preview: Tennessee Titans
Could the Titans actually make the playoffs? If Jake Locker improves this year, the pieces could fall into place. Here's a preview of the Titans' 2013 season.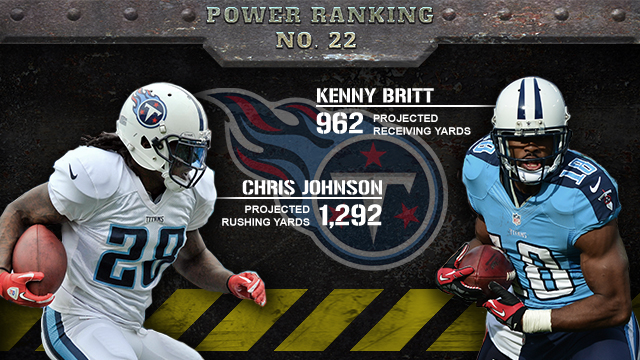 The Tennessee Titans haven't made the playoffs since 2008. The following two seasons -- Jeff Fisher's last two with the club -- the Titans were 8-8 and 6-10. Mike Munchak was hired in 2011 and won a respectable nine games his first season. By 2012, the team had slipped to 6-10 and it's reasonable to think that Munchak won't be back in Tennessee in 2014 if things don't improve.
The organization still has questions about quarterback Jake Locker , the eighth overall pick in the 2011 NFL Draft, but he will begin the season under center with a new cast of characters around him. The hope: Locker will become much more consistent. Last season, this offense averaged 20.6 points per game, which ranked 23rd in the league. It was equal-opportunity ineptitude. The passing game ranked 29th in efficiency, according to FootballOutsiders.com's metrics, while the running game was 26th.
Offense:
Titans' Rivals: AFC South


2013 Preview • Schedule
Texans @ Titans: 12/29 (1 p.m. ET)
Titans @ Texans: 9/15 (1 p.m. ET)


2013 Preview • Schedule
Colts @ Titans: 11/14 (8:25 p.m. ET)
Titans @ Colts: 12/1 (1 p.m. ET)


2013 Preview • Schedule
Jaguars @ Titans: 11/10 (1 p.m. ET)
Titans @ Jaguars: 12/22 (1 p.m. ET)
Like their counterparts in Jacksonville, the Titans want to find out what they have in Locker. While the organization might have more patience with Locker's development, don't forget that owner Bud Adams desperately wanted to shelf Locker last offseason and sign Peyton Manning . That's old history and now Locker has to prove he's more than just potential. The knock against him has always been inaccuracy, something new offensive coordinator Dowell Loggains will be charged with remedying. Loggains offered a glimpse of the Titans' offense this offseason when he said "We are going to be a run, play-action team first, but we're still going to drop back and throw the football."
Any conversation about the running game begins with Chris Johnson , who got off to a fast start in the preseason. Johnson had a bounce-back year of sorts in 2012, and while the NFL is an ever-evolving passing league, just ask the Vikings and Christian Ponder just how valuable a feature back can be to winning.
Ultimately, however, the Titans' success will rest with Locker. He has big-play wide receivers in Kenny Britt and Kendall Wright , and Delanie Walker is a versatile tight end. Now it's just a question if Locker can evolve into something more than a mobile quarterback who occasionally makes plays with his arm, too.
Defense:
To bolster a defense that allowed a league-worst 29.4 points per game last season, the Titans signed safeties Bernard Pollard (formerly of the Ravens) and George Wilson (formerly of the Bills). Up front, Sammie Lee Hill was signed away from the Lions to play defensive tackle. One of the best ways to improve the secondary? Generate a pass rush. Defensive end Derrick Morgan provides get-in-the-backfield abilities, and outside linebackers Zach Brown and Akeem Ayers combined for 11.5 sacks a season ago. In the middle, Colin McCarthy needs to stay healthy and become more consistent.
The Titans added CB Blidi Wreh-Wilson , OLB Zaviar Gooden and DE Lavar Edwards in the draft and quality depth is welcome on a defense where actually stopping people didn't appear to be a priority a season ago. Also brought on board to help: Gregg Williams, suspended for the 2012 season for his involvement in the Saints bounty scandal. He's officially listed as the senior assistant/defense, although Williams, who was Fisher's defensive coordinator at one time, will be working closely with current defensive coordinator Jerry Gray.
Final thoughts:
If Jake Locker can show some strides as an NFL passer, the Titans' offense suddenly becomes more dynamic, and less of the burden rests with Chris Johnson to rip off 70-yard runs every week. It will also allow Tennessee to take advantage of Kenny Britt and Kendall Wright, which puts more pressure on opposing defenses. If it all comes together, the Titans will have a chance to make a late run in the AFC South and possibly insert themselves in the playoff conversation.
More 2013 NFL season previews: Select a team
AFC North
AFC South
AFC East
AFC West
NFC North
NFC South
NFC East
NFC West
Show Comments
Hide Comments
Brett Hundley was apparently on the block during Day 2 of the draft

The Bills fired their GM Sunday morning, then cleaned house

Get ready to start hearing a lot about Sam Darnold and Josh Rosen
College players who didn't get drafted are now free to sign with any team in the NFL

Benjamin has had weight issues going back to college

As one exec put it, 'We don't know what the hell they were doing'