2013 NFL training camp preview: Examining the new coordinators
With nearly half of the league's coordinators switching clubs, new playcallers abound. Pat Kirwan examines what the coordinator carousel means for affected teams.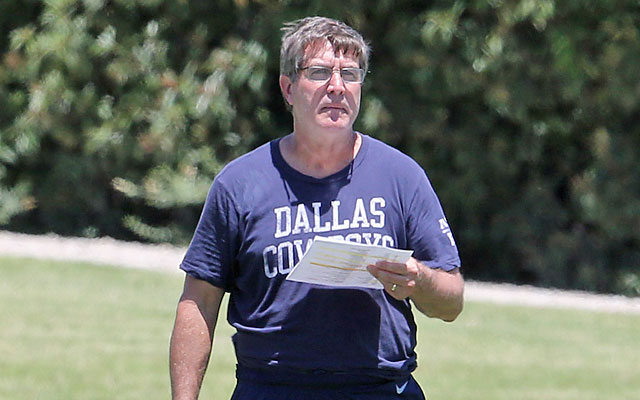 I asked a former NFL head coach how many new offensive and defensive coordinators there are in the NFL this season. He stopped, thought about it, laughed a little, and said 12 to 15.
Sorry, wrong answer.
There are 15 new offensive coordinators and 12 new defensive coordinators.
On top of that, at least five teams hired senior consultants who should have a major impact on his new team.
Throw in the eight new head coaches trying to turn around programs and there are 40 men in new positions. That's not even counting the new special-teams coaches.
There is zero stability in this league; it's no wonder players are struggling learning systems. Systems change all the time. The best advice I got from a coach was to develop a universal system so players and coaches can move around the league and be ready to play.
The nuts and bolts of any program rest in the hands of the coordinators. With 27 new coordinators plus five key consultants, there are changes all over the NFL.
Let's put this another way: There are 62 offensive and defensive coordinators in the NFL. The 2013 season will see 43.5 percent of play callers on both sides of the ball change. In reality, it's more like 50 percent when you factor in consultants like Tom Moore and Gregg Williams.
It's going to be a big challenge with the limited practice time. As one new coordinator said, "We have a challenge ahead of us about what our players can do, how much of our playbook will be effective, and how much we have to modify the plan as we go."
Below, I look at the new coordinators, the ripple effect their schemes will have on the team, the players who will fit well in the new packages, which players could struggle to play well, and some expectations for success.

Arizona Cardinals
Bruce Arians is the new head coach. That means he will be the biggest influence on the offense, even though Harold Goodwin was named the offensive coordinator and veteran Tom Moore is on the staff. Moore has been around Peyton Manning for years and knows how to win with the passing game. Arians is well known as a passing coach from his days with Ben Roethlisberger and Andrew Luck . Early reports say all the coaches are excited about what they see from Carson Palmer and his arm. I expect 35-plus pass plays a game.
The biggest beneficiary of the new offensive staff will be Larry Fitzgerald , whose production has been hurt by poor quarterback play. The offensive line is still a big issue, so using a seven-step drop will be risky.
Rashard Mendenhall was with Arians in Pittsburgh and will be given the opportunity to get 18-20 touches a game. Moore has been involved in a lot of wide-stretch run plays, which will be a part of the offense if Mendenhall demonstrates he can function in that scheme as well as he has on the inside run game. One thing is clear: The run game will come off the passing game.
As for the defense, Todd Bowles takes over for Ray Horton, who moved on to Cleveland. The defense will continue to be a 3-4 package, but reports say it is a simple version and the players feel they will play faster.
Don't be surprised to see some 4-3 concepts. Darnell Dockett was frustrated with the defense last year and will get a chance to resume his old production in this scheme. Reports from players on the Cardinals seems to indicate Patrick Peterson will get more opportunities to match up with premier receivers in man-to-man looks.

Baltimore Ravens
The Ravens have kept the staff that won the Super Bowl intact and added former NFL head coach and defensive coordinator Steve Spagnuolo. Spags likes to use zone pressure, and when you consider who Baltimore has lost on defense (Ray Lewis, Ed Reed , Paul Kruger , Dannell Ellerbe ) the team might have to get creative with pressure calls.
Adding Spagnuolo when defensive coordinator Dean Pees is still on the staff could be a delicate situation, but Spags will go slowly and figure out his role as the season goes on. This team has the man corners to take chances in the front seven. Knowing the Ravens like we do, they will not sit back and play a read-and-react scheme.

Buffalo Bills
Doug Marrone is the new head coach and has an excellent background in offensive-line play and is influenced by his time in New Orleans. The Saints offense featured plenty of inside seam routes, so I expect a lot of it in the new Buffalo offense.
Meet new Bills head coach Doug Marrone
Previous stops: Syracuse Orange, Saints, Jets, Titans, Georgia Bulldogs
Makeovers are nothing new to Doug Marrone. In New Orleans, the Saints were a doormat before Sean Payton arrived in 2006, bringing Marrone with him. The same was true at Syracuse before he turned the Orange around. Buffalo hasn't been to the playoffs since 1999. That's right in Marrone's wheelhouse.
He's a tireless teacher. He's a good manager, able to oversee all phases of the game. He knows how to tap into players. He's adept at using all his weapons -- as he proved in New Orleans -- as well as building successful offensive lines (he coached the Jets' offensive line 2002-05). Best of all, he seems to know how to instill confidence in players whose clubs have a history of losing -- something that will come in handy in Buffalo.
By Clark Judge
Tight end Scott Chandler and rookie wide receiver Robert Woods should see significant opportunities in the "Saint" looks. The play calling will be handled by Nate Hackett, who has a West Coast background because of his father, Paul Hackett.
Don't be surprised to see the Bills experiment in the pistol offense, especially if EJ Manuel wins the quarterback job. Manuel hasn't done much in this area during his college career but neither did Russell Wilson before joining the Seahawks.
The Bills have been tightlipped this spring about their offense, but one opposing coach expects plenty of no-huddle and hurry-up offense. Keep an eye on the offensive line to see if they can handle the up-tempo pace.
As for the defense, Mike Pettine comes over from the Jets with a reputation for pressure calls and lots of man-to-man coverage calls. The front seven will be labeled a hybrid package as they toggle between 4-3 and 3-4 looks.
Pettine will have his 4-2 package ready to play against the three-wide receiver packages and won't be afraid to play it all game long. There will be added pressure on corner Leodis McKelvin if Pettine wants to play the same amount of man coverage and blitz as much as he used to with the Jets. McKelvin could be on an island for close to 50 percent of the snaps, and quarterbacks like Tom Brady will target him.
Mario Williams could be the key to how flexible the Bills defense will eventually be. Will Williams stand up and drop occasionally? Will he be a "joker" or a pure pass rusher?

Carolina Panthers
The only real change in Carolina is at offensive coordinator, where Mike Shula takes over for Rob Chudzinski, who became the head coach of the Cleveland Browns . The concepts will not change very much but it sounds like Shula trimmed back the play-calling language to make things easier for Cam Newton to up-tempo the offense.
The Panthers got away from their power-run game in the past few years, but there are expectations to feature it again and take some of the run game away from Newton in the open field. Jonathan Stewart , DeAngelo Williams and rookie Kenjon Barner should benefit from the re-emphasis on the run game.
Newton has a solid relationship with Shula and the chemistry should be fine. In fact, Newton told me this spring he is excited about the direction the offense is headed. If the run game is truly established, then the vertical passing attack will be available, and Newton throws an exceptional deep ball.
All eyes should be on wide receiver Brandon LaFell , who will get opportunities with Steve Smith on the other side. Last year, LaFell was targeted 76 times with 44 receptions at 15.4 per catch, but had only six receptions over 25 yards. The big-play receptions should go up under Shula.

Chicago Bears
Marc Trestman is the new head coach and has a good reputation as a play caller with an emphasis on the passing game. His new offensive coordinator, Aaron Kromer, has an offensive-line background and brings the concepts of the Saints passing attack with him, which means expect plenty of inside seam routes.
There will be big expectations for tight end Martellus Bennett to play the Jimmy Graham role. Kromer and Trestman worked together in Oakland and have been influenced by Jon Gruden's offensive philosophy. The run game will not be ignored, but Matt Forte should really flourish in the run/pass checks at the line.
The Bears probably want to pick up the pace-of-play execution. Signing LT Jermon Bushrod helps the line but there is still a big challenge up front.
Jay Cutler should be the biggest beneficiary of the Trestman/Kromer offense, which is perfect timing for the quarterback, who is in his contract year. Cutler will have no excuses, because these offensive coaches will feature his arm and give him quick-pass concepts to avoid sacks and picks.
The defense is now under the direction of Mel Tucker, who comes from Jacksonville and is known as a 4-3 coach, which fits the Bears personnel. Tucker needs the line to be a better pass-rushing unit and avoid blitzing.
To get former first-round pick Shea McClellin on the field in non-pass rush situations, Tucker might use some 3-4 looks that could help the defense create some confusion. Keep an eye on how much man coverage Tucker uses compared to the previous staff, which could stress the corners.

Cleveland Browns
The previous staff did the right thing last year in playing as many rookies as possible. Rob Chudzinski now inherits a fairly talented young team.
Norv Turner's track record
Team
Offense Rank:
Pre-Turner
Offense Rank:
With Turner
28th (1990)
9th (1991)
26th (1993)
17th (1994)
28th (2000)
11th (2001)
21st (2001)
15th (2002)
25th (2003)
17th (2004)
30th (2005)
26th (2006)
Full Story: Browns should see offensive turnaround under Norv Turner
As solid as Chudzinski is on offense, it appears offensive coordinator Norv Turner will design and call the offense.There will be a solid run game employing all the blocking schemes with execution -- and not a lot of plays -- being the backbone of the package.
Trent Richardson will get 20-plus touches a game in this offense as long as he's healthy, but Turner will be looking for as many deep shots off the run as he can get. Wide receiver Josh Gordon could have a big year in this offense when he gets back from his suspension. Tight end Jordan Cameron is going to get a chance to catch a lot of passes.
Brandon Weeden saw a lot of his passes get blocked last season; Chudzinski and Turner are going to have to figure out how to reduce that number. Turner will use plenty of shotgun and fast passes to get Weeden in a rhythm. Weeden might be the luckiest young quarterback in the league, getting Norv Turner as his mentor.
On defense, Ray Horton takes control, and that means pressure 3-4. He has to simplify the defense and make it easier to understand if he wants solid execution early in the season. Some Cardinals players complained Horton's system was difficult to grasp when he coached at Arizona, but most of that falls on the players, not the coaches.
It will be interesting to see how Horton employs Paul Kruger, Jabaal Sheard and rookie Barkevious Mingo. I could see Horton developing a hybrid defense to get them all on the field by possibly using a two-man defensive line.

Dallas Cowboys
All eyes are on Dallas, where head coach Jason Garrett gave up play-calling duties (or was forced to give up) and handed them over to offensive line coach Bill Callahan. Is Callahan running the Garrett offense, which was pretty effective last year, or is he bringing his own flavor to the package?
The Cowboys need to fix their first-down run game, which was the least-used in the NFL last year. Callahan will surely try and balance up the run/pass ratio, which means DeMarco Murray needs to stay healthy.
It's probable the Cowboys will use a heavy dose of two-tight-end packages with a check-with-me run game, which could take some pressure off the offensive line. How much freedom Tony Romo will have at the line of scrimmage will be an interesting dimension to monitor in the Callahan offense.
The bigger change in Dallas will be the defense. Gone is Rob Ryan and his 3-4 pressure scheme and in comes Monte Kiffin and his 4-3 Tampa 2. Don't be surprised to see a lot less Tampa 2 and a lot more man coverage.
Kiffin has studied what the Seahawks are doing with their 4-3, which has 3-4 principles and lots of man to man. Jason Hatcher could be used in the Red Bryant role at times, so while everyone thinks it's all one-gap penetration up front (like it was when Kiffin had Warren Sapp and Simeon Rice), it might change.
This can be a good defense for Jeremiah Ratliff if he stays healthy at his age, and defensive line coach Rod Marinelli will push DeMarcus Ware to new heights in pass rushing. I think this defense is the perfect fit for linebackers Sean Lee and Bruce Carter . No longer will the offensive guards get a clean shot on them like they did in the 3-4 front, and they should both be much more effective run-and-hit guys.

Denver Broncos
The only change in Denver is Adam Gase replacing Mike McCoy as offensive coordinator. McCoy is now San Diego's head coach. Gase is the son-in-law of Saints coach Joe Vitt and now has the privilege of watching Peyton Manning run this offense.
Peyton is in full control of everything from the play calling to the scout-team looks. Gase will do lots of research work to help Manning prepare. Expect Manning to lean on his coordinator between series to make sure the protections are right and to help adjust things they didn't see before.
A friend of mine who worked with Manning a few years ago says, "It's amazing to coach this guy, and he makes you a better coach." Gase is on the verge of a real opportunity.

Indianapolis Colts
Pep Hamilton takes over for Bruce Arians, who ran the Colts offense last year with rookie Andrew Luck like he was coaching Peyton Manning or Ben Roethlisberger.
Things will not change much under Hamilton, who worked with Luck at Stanford and has a background in the NFL. Hamilton has seven years of NFL experience and loves to throw the ball. In 2009, he coached Jay Cutler with the Bears when the quarterback threw 555 passes and completed a franchise-record 336. The year before? Hamilton coached Kyle Orton to the fifth-highest completion rate in Bears history.

Andrew Luck was involved in 668 pass plays last year. That might come down slightly to grow the running game, but Luck will throw over 550 passes this year.

Jacksonville Jaguars
Gus Bradley left Seattle's great defense to take on the challenge of rebuilding this franchise. He will focus on the defense, which will have the Seahawks' traits, but he doesn't have the secondary players to use the exact Seahawks blueprint in Year 1. His defensive coordinator, Bob Babich, comes from the Lovie Smith/Monte Kiffin 4-3 defense.
Meet news Jags OC Jedd Fisch
Previous stops: Texans, Ravens, Broncos, Seahawks, Miami Hurricanes
Jedd Fisch's return to the professional ranks is a well-deserved step forward for the 37-year-old, adding another stop to his nine years of experience as an NFL assistant. Fisch coached on staffs under Dom Capers, Brian Billick, Mike Shanahan and Pete Carroll during stops in Houston, Baltimore, Denver and Seattle. Although he never played football, Fisch cut his teeth as a graduate assistant for Steve Spurrier's Florida teams in 1999 and 2000.
In his first season as the offensive coordinator at the University of Miami, Fisch was able to establish his pro-style offensive scheme behind 1,200-yard running back Lamar Miller, now with the Miami Dolphins, and quarterback Jacory Harris. Miller's ground game, frequently inside/outside zone run plays, set up play action opportunities of Harris, who often faced simple high-low reads after the play-action fake. After three-years of accuracy issues, Harris recorded career high numbers for completion percentage (65.0%) and touchdown-interception ratio (20-9).
Extraordinary athletes, like ACC Rookie of the Year Duke Johnson, helped Fisch's cause at Miami, but you can see how the schemes might translate to the next level. Fisch used similar concepts with multiple personnel groups to keep the defense guessing, and capitalized when the the defense guessed wrong.
But while the pro-style offense appeared NFL-ready in the ACC, Fisch will ultimately be judged on whether the Jags can execute those concepts in the AFC.
The Jags are going to have to play more zone looks to protect the secondary and might employ more zone pressures if the front four can't generate a rush. The Jags notched only 20 sacks last year and need Jason Babin to return to his old form.
On offense, little known Jedd Fisch takes over an offense with quarterback questions. Fisch has a West Coast background with influences from the Mike Shanahan system, and comes to Jacksonville directly from the University of Miami. Call his system whatever you want, but it's all about Maurice Jones-Drew running the ball and a quick-slant passing game where the QB can exploit the defense if it overplays the run game.
Former Jaguars coaches have told me Chad Henne should be the starter, so let's see what Fisch does with Blaine Gabbert .

Kansas City Chiefs
A complete turnover in coaching with Andy Reid taking over the program. Reid loves to throw the ball and is intrigued by the football smarts of his new quarterback Alex Smith . Reid has to see how much of what Smith understands in the classroom can transfer to the field. Smith has been at his best keeping his throws per game under 30. Reid usually averages more than 35 pass plays a game.
Doug Pederson is the offensive coordinator and will play more of a support role to Reid. The Chiefs hired Brad Childress as a special-projects coordinator, which means he will have an influence on the offense. If Jamaal Charles can stay healthy, he will get lots of touches in this offense, much like Brian Westbrook had in Philadelphia. In 2007, Westbrook rushed for 1,333 yards and caught 90 passes.
The Chiefs will roll through lots of personnel groups during a game and Dexter McCluster shows signs of being a an effective slot receiver in the Reid system. Jason Avant played that role in Philadelphia. I don't see TE Tony Moeaki being a featured player in this system with Anthony Fasano and rookie Travis Kelce on the roster.
New defensive coordinator Bob Sutton will keep the 3-4 defense, but I expect a lot more blitzing and zone-pressure calls. Sutton is coming to Kansas City from Rex Ryan's pressure defense with the Jets. That system called for a lot of safety blitzing, which could raise sack numbers for a guy like Eric Berry .

New Orleans Saints
Sean Payton is back but the defensive coordinator from last year isn't in New Orleans. Nothing much will change on offense, but I do expect more emphasis on running the ball.
On defense, there are radical changes with Rob Ryan taking over and converting the front to a 3-4. One coach said Ryan's 3-4 is really a 4-3 under scheme, but time will tell how much true 3-4 stuff we see in New Orleans. Ryan brought linebacker Victor Butler with him from Dallas but he is already lost to injury, placing a lot of pressure on Martez Wilson to be a rush OLB.
Two rookies should benefit from the new defense. Nose tackle John Jenkins will play a big role over the center clogging up the middle and safety Kenny Vaccaro could wind up with as many sacks as some of the linebackers.
Ryan's scheme can be complicated at times, and with this high-powered offense, he doesn't need to take as many chances. I am still unsure how former DE Will Smith and LB Jonathan Vilma will fit in the new scheme. Keep an eye on Saints cornerbacks Keenan Lewis and Jabarri Greer; they might be asked to play more man coverage than they have in the past.

New York Jets
Following the exodus after the 2012 season that included the coordinators and the GM, it feels like the only man left standing is head coach Rex Ryan.
Meet new Jets OC Marty Mornhinweg
Previous stops: Eagles, Lions, 49ers, Packers
Marty Mornhinweg stakes his reputation on his teaching, play-calling and knowledge of the West Coast passing game. In San Francisco, he helped coach Steve Young to one of his most productive years ever in 1998, with Young throwing for a league-high 36 touchdown passes -- nearly twice his output from the previous season. Then he helped make former CFL star Jeff Garcia into a four-time Pro Bowl quarterback, with Garcia leading the 49ers back to the playoffs after a two-year hiatus.
His role in Philadelphia wasn't much different, where he rebuilt Michael Vick after his return to the NFL and made Kevin Kolb into such an attractive quarterback that Arizona was willing to gamble on the guy as its starter. Mornhinweg's offenses stress success with high-percentage passes -- short and intermediate attempts -- though he's not afraid to take the deep shot if he has a qualified quarterback.
By Clark Judge
His new offensive coordinator is Marty Mornhinweg and he has a reputation to run the ball. That sounds like a good thing considering Mark Sanchez has struggled in the past two seasons. Chris Ivory is the new running back, acquired in a trade from the Saints, and will benefit from the new scheme. Former Pittsburgh Steelers guard Willie Colon should lead a power-run scheme if he can stay healthy.
When it comes to throwing the ball, Mornhinweg comes from the West Coast system; short, accurate passing with an emphasis on run-after-the-catch is what the coach will demand. Sanchez knows this style, but has struggled without good weapons. Stephen Hill and Santonio Holmes will get opportunities in this scheme.
On defense, Dennis Thurman takes over, but everyone knows it's still a Rex Ryan production. Pressure calls and pressure illusions from a 3-4 look is the core of this defense. The Jets need more pass rush; rookie Sheldon Richardson should help but the safeties are a question mark, in my opinion. Teams that spread the Jets out and isolate Landry or Bush will cause problems for Thurman's secondary.

Oakland Raiders
A change at offensive coordinator is nothing new here. It seems like every year, someone gets a chance to make this offense work. Now it's Greg Olsen 's chance.
Look for the zone scheme to take a back seat to a man-power scheme. It is all predicated on Darren McFadden staying healthy. Olsen's biggest challenge is at quarterback. Matt Flynn 's style fits Greg Olsen, but if he's ineffective, the staff has to consider Terrelle Pryor or rookie Tyler Wilson.

Philadelphia Eagles
The most intrigue surrounding any club's coaching staff is in the City of Brotherly Love. Chip Kelly makes the big jump from college with no personnel experience in the NFL. From what I have gathered, new offensive coordinator Pat Shurmur is installing his West Coast offense, so it appears there will be a blend of the Oregon offense and the more conventional NFL offense.
Michael Vick should benefit from the Kelly offense, but Nic Foles or Matt Barkley might get chances with the Shurmur package.
Talking to a few of the Eagles offensive linemen has led me to believe this will be an up-tempo offense no matter which package is being featured. Some say Vick struggles with the no-huddle, but all reports I got out of Philadelphia indicate the coaches like Vick's up-tempo no-huddle offense.
The run game will be different than most NFL teams, and LeSean McCoy might come out of the blocks with solid numbers in September.
Billy Davis takes over the defense, which will be advertised as a 3-4 but the post-snap look might be a different story. One opposing offensive coordinator said: "We will treat Philly like a 4-3 defense with a lot of one-gap penetration players." That might be the reason DeMeco Ryans will succeed in this 3-4, unlike his days with the Houston Texans , who traded him because he was viewed as a 4-3 linebacker.
Davis spent time with Dick LeBeau in Pittsburgh and has many pressure calls if he needs them. Davis is going to have to figure out if his secondary can hold up in man-coverage calls and this should be a point of interest all summer. Teams that use the 3-4 hope to get 20 sacks from their outside linebackers, but it seems to be a stretch to expect that from Connor Barwin and Trent Cole . Cole is new at standing up as a linebacker and Barwin had three sacks in 16 starts last year.

San Diego Chargers
Mike McCoy takes over as head coach and is best known for building a creative way to use Tim Tebow in 2011 when the Broncos made a playoff run. That experience doesn't apply to Philip Rivers in San Diego, but his one year with Peyton Manning in 2012 does.
Former Cardinals head coach Ken Whisenhunt is the offensive coordinator and play caller. He went to a Super Bowl with Kurt Warner and knows how to get the most out of a pure pocket passer like Rivers. Whisenhunt's biggest challenge will be protecting Rivers, who was sacked 49 times last year. Rivers keeps his interceptions to a minimum (15 in 2012) but he's at his best with the vertical seam-route game, and that calls for good protection.
Whisenhunt has health issues to manage. Running back Ryan Mathews has missed 10 games in his first three years in the NFL and had one rushing touchdown last year. Whisenhunt and McCoy will work to develop a run game, but for now, it looks like the offense will feature 35-40 pass attempts per game.

San Francisco 49ers
The 49ers are very aggressive at retaining their coaches with solid contract offers when other teams try to hire them away. Stability is important in San Francisco, so there is little change.
Meet new 49ers assistant Eric Mangini
Previous stops: 49ers, Browns, Jets, Patriots, Ravens
Eric Mangini is what the 49ers call an offensive consultant, but that's a little misleading. While it's the offense he works with, it's opponents' defenses he studies. Mangini is expected to serve as something like an advance scout, dissecting upcoming opponents and telling offensive assistants -- as well as coach Jim Harbaugh -- everything they need to know about their tendencies, their strengths, their shortcomings and how and where they can be attacked.
It's a smart move. Mangini was successful as a DC in New England and oversaw a defense in Cleveland that, in his last year as head coach there, shut down then-defending Super Bowl champion New Orleans and New England in successive weeks. But he's no stranger to offenses, having worked on that side of the ball his first two seasons in the NFL.
By Clark Judge
This year, the club added former head coach Eric Mangini to the staff. It appears the plan is to have him work with the offense, even though his area of expertise is defense. In my opinion, this is a brilliant move -- putting a guy that thinks defense in the room with the offensive staff. He will constantly look at the 49ers offense from the perspective of defending it, and offer advice about what the team should be preparing for each week. More teams should do things like this if they want to fully prepare.

Seattle Seahawks
Seattle had to replace defensive coordinator Gus Bradley, who left to become the head coach in Jacksonville. Dan Quinn, a former defensive line coach under Pete Carroll in 2010, gets the promotion. Quinn spent the previous two seasons as the defensive coordinator of the University of Florida. He gets the chance to guide a defense constructed by head coach Pete Carroll. Nothing will change under Quinn with the package, which will feature a bit of a hybrid front and lots of man to man in the secondary.
The key to the front seven is DE/DT Red Bryant, whom Quinn coached a few years ago. Quinn's biggest job might be finding or developing a third linebacker to play the "Will" spot.

St. Louis Rams
Last year, the issues surrounding then-defensive coordinator Gregg Williams really led to a defense coached by committee. Jeff Fisher was more involved than he needed to be and Dave McGinnis handled a lot of the day-to-day work. Now Tim Walton comes over from Detroit.
Walton was the secondary coach in a system that was similar to the Rams' scheme.
Walton will have little (if any) problems blending into the culture in St. Louis, because many of the things being done in Detroit were an extension of things Fisher did in Tennessee. Walton has much better cornerbacks to work with in St. Louis than he had in Detroit. That means more man coverage and pressure calls if he needs them. Don't be surprised to see a decent amount of corner blitzing, too.
The front four in St. Louis is a fast-emerging group that can get to the passer without help. Last year, the Rams had 52 sacks from 14 different players -- the front four had 39 of those sacks.
Walton's biggest challenge will come from trying to develop his safeties into solid players who can handle matchup issues. T.J. McDonald is a rookie and Darian Stewart didn't start a game last year. If Walton has to protect his safeties, it will limit some of the creative scheme ideas he might have for this defense.

Tennessee Titans
Technically, offensive coordinator Dowell Loggains is not new, but he took over for Chris Palmer midway through last season, and this is his first offseason to build his offensive package. Loggains has been a quarterbacks coach for most of his pro career after starting out as a scout for the Cowboys.
The offense will still be based on Chris Johnson and the run game. Loggains has to figure out how to get Johnson in the end zone more. In the past two years, Johnson has touched the ball 631 times but scored only 10 touchdowns. One touchdown every 63 touches is not going to win a lot of games.
The biggest winner in the decision to turn the offense over to Loggains might be QB Jake Locker . Loggains' system is less complicated and the offensive line will be solid with the additions of guards Andy Levitre and rookie Chance Warmack. Locker will get time to throw play-action off the Johnson run game.
Some believe the Titans are going to be a big, two-tight-end team, but I see them as a three-wide receiver team. Loggains knows the deepest position on this roster is at wide receiver.
On defense, Jerry Gray is still the coordinator, but Gregg Williams will have a dominating presence. Williams holds players accountable, believes in lots of pressure calls, loves to corner blitz, and will sit any player who makes mental errors.
Show Comments
Hide Comments
NFL teams find out their schedule on the same day you do

There probably weren't too many complaints in Kansas City after the schedule was released

Glen Coffee is hoping to make an improbable NFL comeback
Geography can be hard sometimes

Hernandez appears to have left suicide notes for at least three different people

Beast Mode and the Raiders apparently don't see eye to eye on this one thing