2014 NFL combine: Giants confident Manning will return to 'high stature'
Despite Eli Manning's subpar season, Giants coach Tom Coughlin still seems confident in his quarterback.
• 1 min read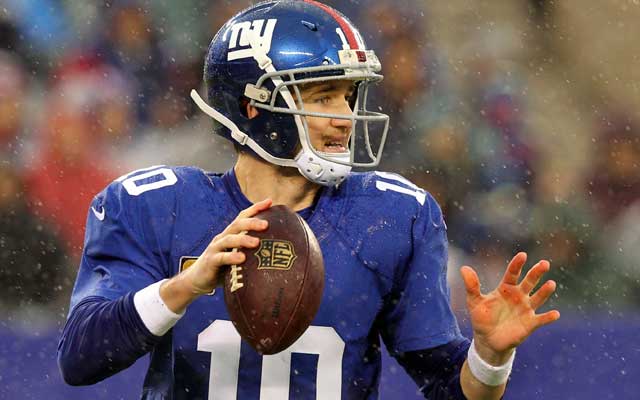 More Draft: NFL Mock Drafts | Big Board | NFL Combine news and updates
INDIANAPOLIS -- Eli Manning is coming off a 27-interception season, and considering how much he struggled in 2013, you have to begin to wonder if Manning's best days as a quarterback are behind him.
While there have been rumblings in the Giants front office that there's some worry about Manning's future, coach Tom Coughlin didn't seem concerned when asked about it Friday.
"We're very confident that Eli will return to the high stature we hold him in," Coughlin said Friday. "I've seen it in his eyes."
OK, Manning's eyes are clear (apparently). What about the high ankle sprain he suffered in the final game of the season that knocked him out of the second half?
"He can get up on his toes and is well on his way [to recovering]," Coughlin said.
And while Coughlin said he's happy with his quarterback room, you have to wonder if the Giants will think about taking another shot at drafting a signal-caller. Sure, the team has a ton of other needs -- most notably, on the offensive line -- but perhaps Manning's season will cause the team to rethink its plans. Or perhaps give more practice reps to Ryan Nassib, who the team drafted in the fourth round in 2013.
"That's been a position we've felt real good about," Coughlin said. "Until a year ago, we hadn't even considered a younger quarterback in the room. Ryan Nassib's development is important to our team."
Show Comments
Hide Comments
Brett Hundley was apparently on the block during Day 2 of the draft

The Bills fired their GM Sunday morning, then cleaned house

Get ready to start hearing a lot about Sam Darnold and Josh Rosen
College players who didn't get drafted are now free to sign with any team in the NFL

Benjamin has had weight issues going back to college

As one exec put it, 'We don't know what the hell they were doing'