2014 NFL combine: Value of QBs in question as OTs are climbing
There are a few trends after observing the NFL combine, notably there are questions about QBs at the top of the draft and more confidence in the offensive tackles.
More Draft: NFL Mock Drafts | Prospect Rankings | NFL combine workout results
I just got back from the NFL Scouting Combine, and after interviewing close to 40 players, coaches and front office people -- and watching many of the drills -- I'm starting to get a feel for where the draft is headed. It's too early for real predictions but issues are starting to emerge:
1. QB scrutiny: We all arrived in Indianapolis believing there were three quarterbacks set for the top five picks. However, one GM said, "I'm glad I don't need a franchise QB this year. ... too many questions [are] starting to surface on this group."
An example: Teddy Bridgewater told me Saturday he was going to run but never did. The same GM said of Bridgewater: "He beefed up to 214 to appear bigger, but he better not think he can drop the weight to run at his pro day. We don't fall for that one."
Johnny Manziel is 5-foot-11 3/4, not 6-foot as he had been listed. One coach told me "[Manziel] keeps trying to portray the image of the next Russell Wilson and I'm not buying it."
I liked Bortles the best of the three, but time will tell if the teams at the top of the draft think so. I left Indianapolis with the impression that the real QB work was about which guy to take in the second or third round.
2. The top pick: It's easy for the mock drafts to just drop Jadeveon Clowney's name in the top spot, but there is some doubt about how good he really can be and whether he's the right guy for the No. 1 pick. One coach said Clowney reminded him of LaVar Arrington. Arrington had 23.5 sacks in seven NFL seasons as the No. 2 overall pick. All I say is the jury is still out on Clowney, and that's why we could see the Texans try and trade out of the top spot.
3. Predictable rise of offensive tackles: We've only reached the combine in February and already I'm getting signals that the "safe" pick is one of the fine offensive tackles in the first round. Jake Matthews, Greg Robinson, Taylor Lewan, Zach Martin, Cyrus Kouandjio, and even Morgan Moses were considered first-round players, but over the weekend they all crept up draft boards. As one offensive coordinator said, "There's just less questions about these guys than some of the other talent."
4. Where is the true depth in this class? After talking to people who still draft players for a living, this is considered a very good draft for defensive linemen, offensive linemen and wide receivers. But any positions lacking depth will be revealed when teams hit free agency hard in two weeks, after finding out the draft will not provide those answers.
5. Already love the second, third rounds: The Friday night draft -- after Thursday's Round 1 -- should be a gold mine. Over the next few days I will break down top talent likely falling out of the first round and why I might try and get extra picks in the second and third rounds.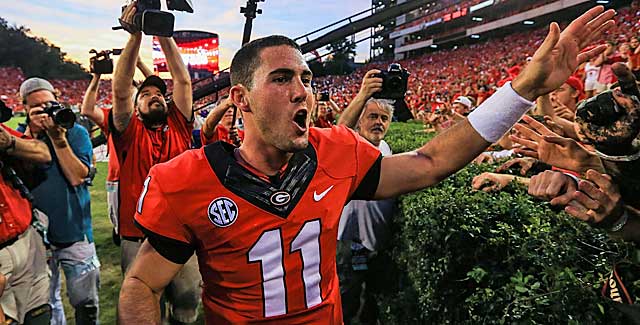 6. Who the players like: While interviewing many of the defensive players in this draft, especially the defensive backs, I always ask who most impressed them (they were not allowed to list any players from their own team).
It was clear the SEC players liked QB Aaron Murray and LSU wide receiver Odell Beckham Jr. Alabama DB Ha-Ha Clinton-Dix said, "Murray is real dangerous when he sends four vertical routes because he really can move the safety with his eyes and go the other way and he throws a tight ball."
Vanderbilt safety Kenny Ladler added that Murray throws a better seam ball than Manziel.
7. Three underrated LBs: Inside linebackers aren't the topic of conversation in Indianapolis but three guys really jumped out during my interviews. When I talk to guys who call the defense, I like to see how much they know and how much they have been mentally challenged.
There's little doubt that Chris Borland, the 5-11 MLB from Wisconsin, Max Bullough (Michigan State) and Jordan Zumwalt (UCLA) can handle an NFL defensive huddle and make adjustments on the field. Where they go in the draft likely is a different issue. But remember, last year, not many saw Kiko Alonzo as a guy that could step right in and play all three downs. He got my vote as AP defensive rookie of the year.
8. Too many underclassmen: About 100 underclassmen entered the 2014 draft and 20 probably will go in the first round. But what about the other 80? One GM said: "Probably 40 of them will be sitting there on the third day of the draft."
9. Helped by the combine: Offensive players who really benefited from the combine experience to either start moving up draft boards or holding their positions were QB Blake Bortles, OT Greg Robinson, WR Sammy Watkins, WR Jordan Matthews and WR Brandin Cooks. On Tuesday, I will reveal the defensive players who helped themselves.
Show Comments
Hide Comments
College players who didn't get drafted are now free to sign with any team in the NFL

Benjamin has had weight issues going back to college

As one exec put it, 'We don't know what the hell they were doing'
Beast Mode is headed to Oakland, but made sure to thank the people of Seattle on his way o...

The Broncos only drafted Kelly after first talking to his uncle, Jim Kelly

Whaley was on borrowed time, and now Sean McDermott gets his best shot at building a winne...