2014 NFL Draft: Best front offices know value of racking up comp picks
It's no accident that contenders like the Ravens, Pats and Packers have loaded up on compensatory draft picks in recent years. Also, look out for a run on corners in Round 1.
• 7 min read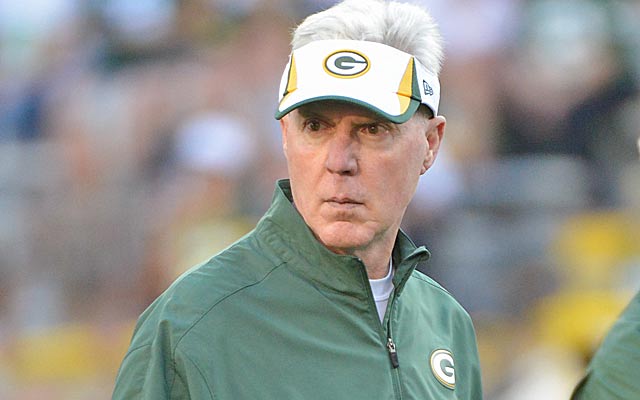 More NFL offseason: Mock Drafts | Prospect Rankings | Pro days | Top free agents
The currency of draft picks continues to soar. They are like gold.
In this new collective bargaining agreement, with the costs so fixed and finite, and the value of young talent never higher, clubs are beyond loathe to part with them. That helps explain why so much talent that was dangled for a long time on the trade market found no takers -- guys like Darrelle Revis and DeMarcus Ware -- and while their bloated contracts certainly played some role it, the sheer import of each pick is a part of that phenomenon. And for many of the shrewdest teams in the league, they approach free agency with the draft in mind, and I'm talking well beyond just targeting certain needs.
The teams that have loaded up on the most compensatory picks this decade -- and franchises that have traditionally been contenders and regular playoff performers, like Pittsburgh and Baltimore and New England and Green Bay -- seem to be paying even closer attention than ever to where their players come from. You see, those teams are specifically targeting players who have been released by their teams to hit the open market, and not those whose contracts have merely expired. And, in many cases, they will be waiting until after June 1 to make their final forays into the free agent market.
Why you might ask?
Well, simply, because those types of transactions only serve to help those teams accrue more compensatory picks in the future, and factor positively in the intricate and mysterious equation that goes into determining how many comp picks a team gets, and how high they come. Teams are rewarded for losing players to the open market through free agency, and, if they sign only players who are cut from other teams, and they sign other true free agents -- players whose deals merely expired -- after June 1, then those players do not factor in the comp pick formula. So you gain picks for losing players you didn't want to or plan to or couldn't afford to keep anyway, and you go out of your way to add talent that does not detract from your ability to keep those additional comp picks.
That's why you saw teams like the Baltimore Ravens and New England Patriots among those very interested in Steve Smith once the Carolina Panthers opted not to pay him a substantial roster bonus, and in fact he ended up in Baltimore. It's at least part of the reason the Green Bay Packers , who usually sit out the first wave of free agency entirely, pounced on Julius Peppers when he became a cap-casualty of their rival Chicago. And it's why you'll see a team like those very same Ravens probably wait until June to address lingering needs, like perhaps depth in the backfield with someone like veteran Brian Leonard , a versatile running back/fullback/tight end. (It's a deal I'd expect to go down with them pending whatever they might do at running back in the draft.)
It's never too early, or too late, to have those comp picks in mind, and those comp picks also help explain why Baltimore was willing to part with two picks, midseason, to trade for left tackle Eugene Monroe ; they fully expected to be getting several additional picks in 2014 already after astutely letting players like Paul Kruger and Dannell Ellerbe and Ed Reed leave for greener pastures elsewhere. It helps explain why they were willing to part with a future pick to land center Jeremy Zuttah from Tampa this offseason, knowing that letting players like Art Jones and Michael Oher walk away this year puts them in good shape to easily offset the loss of a 2015 fifth-round pick for Zuttah.
This draft alone, the Ravens have an additional four comp picks in 2014 (the max), including one in the third round (the highest possible), two in the fourth round and one in the fifth. If you don't think that is entirely by design, you haven't been paying attention. Baltimore has been awarded 41 comp picks since 1996, most in the NFL, and they have used them to draft several standouts.
Knowing you have that surplus on the way allows teams to be flexible in dealing future picks should a need arise, and keeping the pipeline coming every year is a way of life for many of the best front offices. That won't be changing anytime soon, and look for those teams in particular to be sorting through someone else's discarded player, let go for a bad contract or to avoid a big payment due or whatever. And it should provide for at least a ripple or two of action come June, which is generally the dullest month on the NFL calendar.
"It used to be that June 1 mattered because of cap reasons, with guys being cut," said one prominent agent, "but with teams able to designate them June 1 cuts, that's really gone away. Now it matters because of the compensatory picks. You have no idea who much some teams value them. They'll wait until then to sign a free agent if they can."
Don't expect lag time on rookie deals
Some NFL teams are already warning agents about their intentions for draft weekend, and it has nothing to do with which players they will select.
With the draft now pushed back an additional two weeks, and getting deep into May, few are happy. It's changing the time frames for some offseason plans and pushing back vacations and the rare downtime that coaches and scouts and front office execs get and making a drawn out and tiresome draft process even more so.
So, several teams have already informed the agents of some of the players on their radar that if in fact they do select said player, they intend to start contracts discussions soon. As in real soon. As in, starting the weekend they are drafted. Yeah, that soon.
Teams don't want to wait any longer than they have to, and a certain minority of them won't wait. They'll have some of their staff already working on signing drafts picks shortly after they select them. When you think about it, it makes sense.
These picks are essentially slotted and most of what still remains to fight about -- offset language, some other wording of certain clauses -- isn't ever going to actually come in to play for the vast majority of the picks. You know the salary and the signing bonus pretty much from the time the player is selected, and teams would like to have these players locked up as soon as possible. The new language in the CBA makes holding out pretty much a non-starter, so get them signed now with everything already pushed back two weeks to begin with.
I bet we see picks starting to get locked up much, much sooner than ever before.
Look for a run on cornerbacks
There's plenty of stuff out there about where the quarterbacks might go in the draft, and about the expected run on tackles and receivers in the first round. But I expect there to be at least a mini-run on corners in the opening round as well, with several of them possibly going in succession in the 20s.
The Cincinnati Bengals and New Orleans Saints have done exhaustive work on corners, with New Orleans bringing five corners in at a time at one point in the draft-pick visitation cycle. The Los Angeles Chargers also have an acute need at that position as well. The Bengals pick 24th, the Chargers pick 25th and the Saints pick 27th.
If the Cleveland Browns -- picking 26th -- go ahead and take a quarterback as many expect -- then we could well see all corners packed around them. I think we see more of them go in the first round than some are expecting. I wouldn't be surprised if the New York Jets (18th) and Philadelphia Eagles (22nd) took a corner as well. Plenty of potential.
A few GMs I've talked to thought the mid-20s might be too high for someone like Virginia Tech corner Kyle Fuller to go, but I have a hunch he lands right there, if not a smidge higher. Darqueze Dennard (Michigan State) will go in that area as well, I believe, and maybe Bradley Roby, even with his recent off-field issue, ends up with one of those three teams, too. TCU's Jason Verrett is in that mix as well.
Ultimately, I suspect we see at least four corners gone in the first round, and don't be surprised if they are bunched up in the 20s, with the run on corners following a splurge on tackles at the top of the draft.
Pryor worked out with Brown a couple years ago and now he's back at it again

The first-round QB from Clemson impresses Texans coaches with the way he's picking up the...

Dave Gettleman does not understand the DEFCON system
The Cowboys were big stars at Dirk's annual charity event

Floyd claims to have drank four or five bottles of kombucha tea, resulting in a failed alcohol...

Atlanta's new video board wraps around the length of the stadium and looks incredible