2014 NFL Draft: Deep draft for DBs could yield some steals
Bradley Roby is a known commodity, but he might be available in the second round. And guys like Pierre Desir and Deone Bucannon could provide value, too.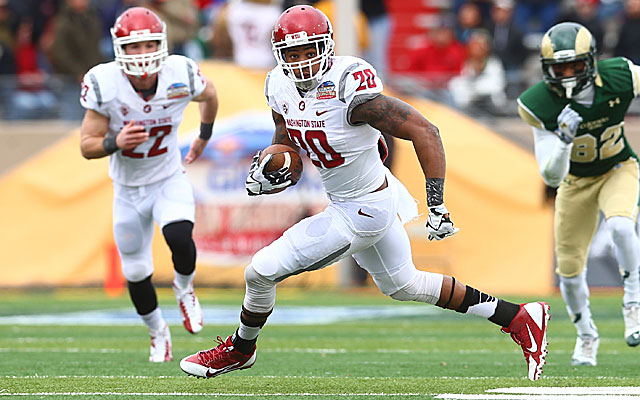 More NFL offseason: Mock Drafts | Prospect Rankings | Pro Days | Top free agents
The draft class for defensive backs is a deep one. Here are a few who are not likely to go in the first round but appear ready for solid pro careers:
Bradley Roby, CB Ohio State: Roby may go in the first round but right now looks like a second-round steal. Watched him in the Cal game and his off- coverage techniques are impressive. He comes out of his peddle and can close. His interception for a touchdown in the Illinois game was another example of his ability to come off a peddle and break on a ball. He likes contact and will try to lay the wood on receivers.
Pierre Desir, CB Lindenwood: Pierre played at a small college and was not out of place at the Senior Bowl. He does compete for the ball and knows what to do with an interception. He is not a blow-up tackler but he can get a ball carrier or receiver to the ground. I wouldn't be surprised to see him drafted in the third or fourth round.
Stanley Jean Baptist, CB Nebraska: He is a big, rangy zone corner that has anticipation and solid hands to see and grab an interception. He has speed to run away from opponents and will hit with toughness. The more I watch him the more I like what I see, especially if it is a zone scheme.
Jimmie Ward, S Northern Illinois: Ward is tough and has range to play in the middle. I went to two of his games, against Iowa and Purdue. The Huskies won both games and Ward had 25 tackles and two interceptions. Some believe a late first round is his spot, so if he's there in the second he will be a bargain.
Deone Bucannon S, Washington State: Any time a guy has 15 interceptions in college, which was more than Ha Ha Clinton-Dix and Calvin Pryor combined. This guy can play in the box as well as deep middle or half field. I might consider him in the late first round, but one personnel guy told me second or third round for Bucannon.
Surprise quarterback may emerge
Two reliable NFL evaluators of quarterbacks pointed me to the quarterback they like the most in this draft and the name was not Bortles, Manziel, Bridgewater or Carr. In fact it isn't the fast-rising Zach Mettenberger but a guy some thought would be an undrafted free agent a month ago.
First the description. He's a 6-foot-5 guy and a pocket passer who can throw from any position. Also, he dealt with an offensive line that struggled to protect him and he was able to slide and shuffle in the pocket. His name? Tom Savage from Pittsburgh is the one who has grabbed the attention of a couple of clubs.
Offense or defense for McKinnon?
I interview 10 to 15 draft candidates a week on my radio show and while most are impressive, every so often one of them is really special.
Jerick McKinnon is a former quarterback from Georgia Southern who went to the Senior Bowl to prove he could become a running back in the NFL. After a four-year career where he rushed for 3,899 yards and 42 touchdowns he might be a good running back candidate. McKinnon rushed for more than 100 yards against Georgia and Florida in games way over Georgia Southern's head when it came to talent on the field.
But here's my twist on McKinnon: I think I would draft him and put him at corner for a team that plays a lot of press man coverage. The kid benched 225 pounds 32 times, ran 4.35, and had a 40 1/2-inch vertical -- all better numbers than any corner in the draft. McKinnon can run, flip his hips and is explosive. McKinnon admitted two clubs were coming in to work him out as corner. Believe me that's a good idea.
Show Comments
Hide Comments
The former Florida State running back holds the school's single-season rushing record

Pete Prisco grades every second-round pick of the 2017 NFL Draft

The Panthers take Samuel one round after grabbing Christian McCaffrey
Philip Rivers is really going to like this pick

That was some fancy work by the Seahawks during the early part of the draft

The Bills moved up seven spots to grab another wide receiver to go with Sammy Watkins