2014 NFL Mock Draft No. 4: Sammy Watkins, Johnny Manziel moving up
With a couple of days of free-agency moves in the books, it's time for another mock draft.
More NFL offseason: Mock Drafts | Prospect Rankings | Pro Days | Top free agents
With a couple of days of free-agency moves in the books, it's time for another mock draft, No. 4 for me if you are counting.
There are some changes based on what happened during the open of the free-agent period, but there's a long time to go before teams actually do the drafting. There are more moves to be made and more over-analysis of draft-eligible players.
But here goes Mock 4.
Mock 5 comes next Wednesday.
1. Houston Texans -- Blake Bortles, QB, Central Florida: Call me stubborn, but for now I am keeping him in the top spot.
2. St. Louis Rams -- Sammy Watkins, WR, Clemson: They will get a big-play receiver outside to go with Tavon Austin inside.
3. Jacksonville Jaguars -- Jadeveon Clowney, DE, South Carolina: This is a team that has to fix the pass rush. Even if they get help in free agency, you can never have enough.
4. Cleveland Browns -- Teddy Bridgewater, QB, Louisville: They have Brian Hoyer and might add Matt Schaub if he's let go. But neither of those two is a franchise player.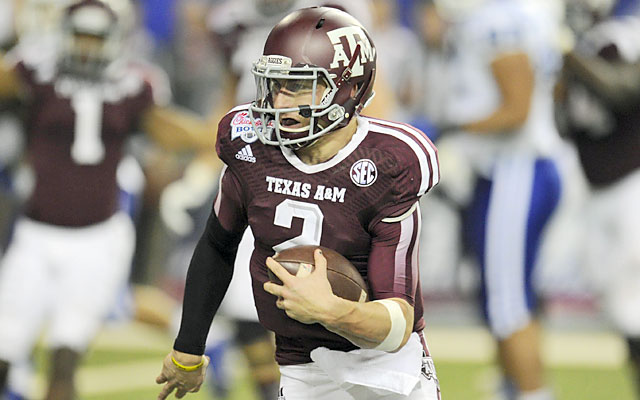 5. Oakland Raiders -- Johnny Manziel, QB, Texas A&M: They have to do something. There is a huge hole at the quarterback spot.
6. Atlanta Falcons -- Greg Robinson, T, Auburn: They got a big powerful guard in Jon Asamoah in free agency, so adding a power tackle would really help.
7. Tampa Bay Buccaneers -- Khalil Mack, OLB, Buffalo: Imagine their defense if they could add this talent to that side of the ball?
8. Minnesota Vikings -- Derek Carr, QB, Fresno State: Matt Cassel is coming back, but is he really the long-term answer? Didn't think so.
9. Buffalo Bills -- Jake Mathews, T, Texas A&M: They need help on the right side and this could mean a move of Cordy Glenn from left to right.
10. Detroit Lions -- Justin Gilbert, CB, Oklahoma State: They need help outside with their coverage players. Gilbert can provide that.
11. Tennessee Titans -- Taylor Lewan, T, Michigan: They let David Stewart go, so they take his replacement.
12. New York Giants -- Anthony Barr, OLB, UCLA: They still have big problems at linebacker, even if they do sign O'Brien Schofield .
13. St. Louis Rams -- Ha-Ha Clinton-Dix, S, Alabama: They need help on the back end. He would bring range.
14. Chicago Bears -- Aaron Donald, DT, Pittsburgh: Did you see the inside of their defense. If they re-sign Henry Melton , this could change. 
15. Pittsburgh Steelers -- Mike Evans, WR, Texas A&M: They need a big threat to go with Antonio Brown . There isn't much else.
16. Dallas Cowboys -- Tim Jernigan, DT, Florida State: This makes too much sense, although the loss of DeMarcus Ware could force a pass rusher.
17. Baltimore Ravens -- Marqise Lee, WR, USC: Even with Jacoby Jones coming back and Marlon Brown emerging, they need more help.
18. New York Jets -- Darqueze Denard, CB, Michigan State: Take a look what they have now. There isn't much.
19. Miami Dolphins   -- Zack Martin, G-T, Notre Dame: He would be a nice addition to a line that needs a lot of help.
20. Arizona Cardinals -- Ra'Shede Hegeman, DE, Minnesota: He is a big body who could step in at end in the 3-4. Darnell Dockett isn't a kid anymore.
21. Green Bay Packers -- Eric Ebron, TE, North Carolina: With Jermichael Finley a free agent coming off injury, they have to get a threat in the middle of the field.
22. Philadelphia Eagles -- Louis Nix, NT, Notre Dame: They have Bennie Logan , but he could easily move to end. This would give them more bulk.
23. Kansas City Chiefs -- Brandin Cooks, WR, Oregon State: He can fly and they need help for Dwayne Bowe .
24. Cincinnati Bengals -- Kyle Fuller, CB, Virginia Tech: Fuller is on the rise after a nice combine and the Bengals need corner help.
25. San Diego Chargers -- Bradley Roby, CB, Ohio State: They have to get better outside in coverage. Roby has speed. He's just inconsistent.
26. Cleveland Browns (From Indianapolis) -- Jason Verett, CB, TCU: They need an upgrade from Buster Skrine , so they try this corner from TCU.
27. New Orleans Saints -- Dee Ford, DE, Auburn: After signing Jairus Byrd , they need edge help for their pass rush. Ford can provide that.
28. Carolina Panthers -- Cyrus Kouandijo, T, Alabama: With Jordan Gross retiring, they have to get a left tackle. Kouandijo has some injury concerns, but that seems to be overblown.
29. New England Patriots -- C.J. Mosley , LB, Alabama: With Brandon Spikes likely moving on, they get a thumper for their run defense.
30. San Francisco 49ers -- Odell Beckham Jr., WR, LSU: He can fly and they lack that dimension on their offense.
31. Denver Broncos -- Ryan Shazier, LB, Ohio State: He would bring much-needed speed to the linebacker group.
32. Seattle Seahawks   -- Morgan Moses, T, Virginia: They need some help up front on their line. He can play guard or tackle. 
Show Comments
Hide Comments
Brett Hundley was apparently on the block during Day 2 of the draft

The Bills fired their GM Sunday morning, then cleaned house

Get ready to start hearing a lot about Sam Darnold and Josh Rosen
College players who didn't get drafted are now free to sign with any team in the NFL

Benjamin has had weight issues going back to college

As one exec put it, 'We don't know what the hell they were doing'