2014 NFL salary cap: Where each team stands as free agency looms
The Cowboys and Steelers have work to do to get under the $133M NFL salary cap. Meanwhile, the Raiders, Jets and Browns are swimming in cap room.
• 2 min read
More NFL offseason: Mock Drafts | Prospect Rankings | Pro Days | Top free agents
NFL free agency is less than a week away, and the cap is finally set, swelling to $133 million, which is much higher than original projections. With that in mind, here is a look at where each team stands in terms of number of players under contract, how much cap space they entered the week committed to spending in 2014, according to the NFLPA.
So, if you subtract that team's total from $133 million, you get their cap space. The third total in the chart is set out committed cash -- or the amount of actual payroll dollars the team is scheduled to spend as of now. Keep in mind, this does not include money yet to spent on contract extensions that will come later this week, and also does not include money yet to saved from players being released, taking pay cuts, etc.
It's a current snapshot, but keep in mind teams like Pittsburgh can save more than $10 million, easily, by redoing Troy Polamalu 's deal and cutting Ike Taylor , and will save another $6M by releasing Levi Brown , which they will do (Pittsburgh comes in about $7M over the cap in this chart).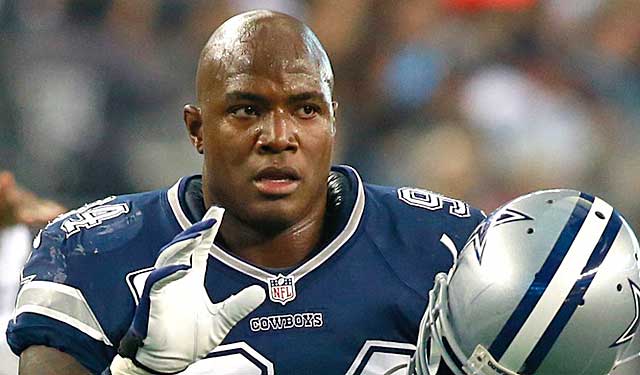 Chicago can save about $15M in cap room by designating Julius Peppers a June 1 cut, and Tennessee can save about $6 million by parting with Chris Johnson and St. Louis can save $9 million by cutting corner Cortland Finnegan . The Seattle Seahawks ' number does not yet reflect the roughly $11M in savings from their recent release of Sidney Rice and Red Bryant .
Dallas is about $20M over the cap here, but with tough choices coming for Miles Austin and DeMarcus Ware , they can at least get close to cap compliance.
Carolina, on the other hand, will be very close to the cap once the franchise tag they placed on Greg Hardy kicks on (close to $130M from the $117M threshold indicted here). And Washington will be right around $130M once the money for franchising Brian Orakpo kicks in.
Furthermore, Oakland, for instance, doesn't even have $70M in cap space allotted yet, and less than $50M in actual payroll, tens of millions less than anyone else in the NFL. The New York Jets -- even though I expect them to be primarily bargain shoppers on the open market, will have even more than their current $25M in space after parting with guys like Mark Sanchez and Santonio Holmes .
The Indianapolis Colts and Jags also have well over $30 million in cap space, and the Cleveland Browns are loaded with room as well.
2014 NFL Team Salary Cap Situations
 
Contracts
Team Cap
Team Cash
Arizona Cardinals
58
$122,454,920
$98,823,354
Atlanta Falcons
53
$116,431,071
$96,404,156
Baltimore Ravens
44
$106,402,323
$88,114,50
Buffalo Bills
63
$125,092,434
$89,611,536
Carolina Panthers
58
$117,340,304
$79,700,853
Chicago Bears
52
$125,102,001
$107,757,722
Cincinnati Bengals
62
$111,300,523
$91,788,771
Cleveland Browns
66
$101,572,067
$82,915,604
Dallas Cowboys
62
$152,201,383
$106,175,079
Denver Broncos
63
$127,230,112
$107,100,138
Detroit Lions
53
$123,679,422
$72,483,534
Green Bay Packers
60
$109,697,531
$83,552,456
Houston Texans
61
$125,336,520
$100,562,811
Indianapolis Colts
57
$92,593,156
$71,697,115
Jacksonville Jaguars
64
$96,517,190
$77,128,940
Kansas City Chiefs
68
$125,755,074
$100,997,115
Miami Dolphins
49
$111,882,727
$84,374,753
Minnesota Vikings
54
$102,078,828
$80,496,574
New England Patriots
66
$126,515,381
$82,101,117
New Orleans Saints
53
$125,327,008
$82,897,553
New York Giants
52
$117,121,817
$82,596,597
New York Jets
57
$107,728,879
$82,927,975
Oakland Raiders
52
$68,767,080
$48,666,126
Philadelphia Eagles
60
$124,008,964
$118,748,268
Pittsburgh Steelers
63
$140,100,516
$101,422,309
San Diego Chargers
60
$130,579,261
$95,858,904
San Francisco 49ers
64
$120,175,054
$99,477,884
Seattle Seahawks
59
$130,070,446
$111,656,748
St. Louis Rams
56
$126,057,768
$107,330,425
Tampa Bay Buccaneers
60
$120,978,242
$112,375,311
Tennessee Titans
59
$126,946,609
$102,970,396
Washington Redskins
64
$117,309,347
$86,703,274
Show Comments
Hide Comments
Plus Nick Saban sends a ton of talent to the NFL, the Browns find a QB and more from Rounds...

The Vikings' Latavius Murray and Bengals' Jeremy Hill also get put on notice with Cook, Mixon...

Here's everything you need to know about the 2017 NFL Draft
Here's a recap of Round 2 and Round 3 in the 2017 NFL Draft

Here are the 25 best prospects still available after three rounds of the 2017 draft have w...

The fans in Philadelphia did their best to make the 2017 NFL Draft more fun