2014 NFL season over/under win totals: AFC picks
Let's take a look at the 2014 NFL season over/under win totals, this time with the AFC picks. We love ... the Jaguars?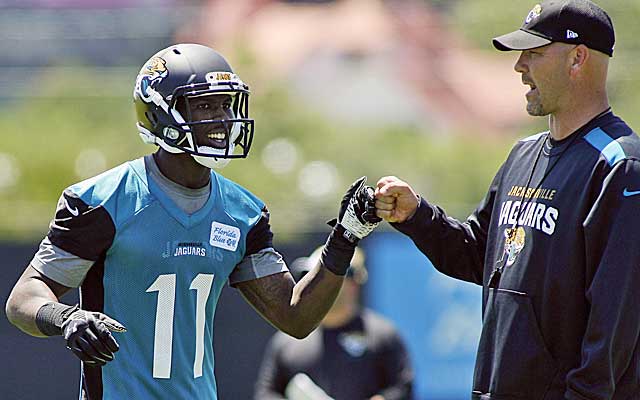 More NFL: NFC Over/Unders | 2015 Mock Drafts | 2014 Draft Grades | News
After a 17-12-3 record from 2012 (all predictions made in May, mind you), I followed it up last year with a 16-16 record in 2013. Not real pleased with that obviously, although I did go 10-6 in the NFC ... and a disappointing 6-10 in the AFC. 
2014 will be better. I promise. Favorites are noted with asterisks (***). 
Shoutout to Joe Fortenbaugh of NFP for providing the juice on these. In case you're new here, the parentheses beside the Over and Under notates the price of the bet. For instance: the Pats over is +115, so you would take home $115 if you bet $100 and won. Conversely, it takes betting $135 to win $100 on the New England under.
Leave your picks and favorite selections in the comments and feel free to let me know your thoughts on Twitter @WillBrinson.
New England Patriots , 10.5
Over (-135)/Under (+115)
No shocker to see the Pats with one of the four highest lines this year. They win a lot of games every season. In fact, they've only won less than 11 games twice since 2003 and in each instance they won 10. Tom Brady is very good. His weapons get another year working with him. Six of their games are against vastly inferior competition in the division. Assuming no major injury for Brady, worst case is 10 wins.
VERDICT: OVER***
Miami Dolphins , 8
Over (+110) / Under (-130) 
Really like the Dolphins more this year than last. Ryan Tannehill could take a leap, Mike Wallace could redeem his contract and the offensive line has to be better. They'll likely be on the roster for most of the season, so that should help. Knowshon Moreno and Branden Albert were good adds in free agency who should help the offense right away. But looking at their schedule and even an optimistic viewpoint gets me to eight wins max. Just don't see the over happening here.
VERDICT: UNDER
New York Jets , 7
Over (-125) / Under (+105)
Am I the only one getting a little excited about the Jets offense? It's mostly name value, but Michael Vick , Chris Johnson , Eric Decker and Jace Amaro automatically mean this unit's better than we've seen under Rex Ryan. RIGHT? I feel like I'm taking crazy pills when people don't agree. There's no Darrelle Revis and no Antonio Cromartie but all Rex does is coach up defense. With a decent offense on the other side, I'm having a hard time not seeing him get this squad to .500. Rex's 2013 was Coach of the Year worthy.
VERDICT: OVER
Buffalo Bills , 6.5
Over (-130) / Under (+110)
The addition of Sammy Watkins is a great one, even if I don't think giving up the 2015 first-round pick was worth it. Will they get the 1.5-game bump because of it? The offense looks dangerous. C.J. Spiller is still a potent feature back and Watkins, Robert Woods , T.J. Graham and Marquise Goodwin is some serious speed at wideout. The defensive line -- with Mario Williams , Kyle Williams and Marcell Dareus -- is very good. Stephon Gilmore remains underrated. I think they're close to a .500 team, but it all hinges on EJ Manuel 's development. It also might hinge on beating the Raiders in Oakland late in the season. *gulp*
VERDICT: OVER
Indianapolis Colts , 9.5
Over (+130) / Under (-150) 
Will the Colts ever regress? Betting against Andrew Luck is foolish, but their offseason leads me to believe they don't win double digit wins again. Trusting Trent Richardson (without Donald Brown ) to step up? No thanks. I do like the weapons for Luck though: Reggie Wayne , Hakeem Nicks , T.Y. Hilton , Da'Rick Rogers , Dwayne Allen and Coby Fleener is stout. The Robert Mathis suspension is particularly concerning because of the games he misses (at Denver, vs. Philadelphia, at Jacksonville, vs. Tennessee). I'm going against my gut because I believe ultimately they beat up on other teams in this division and sneak out double-digit wins under Luck again.
VERDICT: OVER
Houston Texans , 7.5
Over (-145) / Under (+125) 
The price on the over sure does scream "bounce back" huh? Vegas thinks the Texans will improve and they almost have to. Such is the nature of two wins. Arian Foster will be better and the J.J. Watt /Jadeveon Clowney combo is terrifying. But who's the quarterback here? I love Bill O'Brien's history succeeding with lesser quarterbacks but Ryan Fitzpatrick /Tom Savage/ Case Keenum / T.J. Yates are dragging you to a .500 record? Not so sure about that. 
VERDICT: UNDER
Tennessee Titans , 7
Over (-130) / Under (+110)
This is a surprising amount of faith being put into the Titans. There's a new coaching staff in town and I really like what Ken Whisenhunt and Ray Horton will do ... eventually. But is Jake Locker the guy here? And do they have the personnel on defense to fit around Horton's 3-4 scheme? Not entirely sure. Their first-round pick, Taylor Lewan, doesn't really have a place to play. It's possible everyone's wrong on them but right now, even giving them a few generous wins, they don't look like a .500 team at all.
VERDICT: UNDER 
Jacksonville Jaguars , 4.5
Over (-150) / Under (+130) 
Anyone else high on #DUVAL? This is the lowest over/under total released by the LVH sports book and it's basically priced like it's 5 wins at -150. Which is a shame because I love the over here. Jacksonville says they'll start Chad Henne over Blake Bortles, but come on. Marqise Lee and Allen Robinson will make an impact on the passing game and Toby Gerhart 's a sleeper for 1,000 yards this season. The defense is full of youth and is only getting better with guys like Dwayne Gratz and Johnathan Cyprien . The Jags are a long way from being a Super Bowl contender but they're better than a five-win team next year.
VERDICT: OVER***
Cincinnati Bengals , 9
Over (-135) / Under (+115) 
The Bengals don't get enough credit for their success. A lack of playoff wins under Marvin Lewis ignores their three-straight postseason appearances and three-straight years of 9+ wins. Jay Gruden is gone to the Washington Redskins ... but is that necessarily a bad thing? Hue Jackson remains controversial from his days in Oakland, but the guy can coach up an offense. Andy Dalton , A.J. Green and Giovani Bernard could all see career years. The weapons are there and Dalton wants to prove he deserves to be paid. Geno Atkins will be back on defense and while some concerns exist with respect to replacing Michael Johnson , losing Mike Zimmer and fixing the secondary, this is still a good unit. Tough schedule for them this year but still prefer their chances of going over instead of under.
VERDICT: OVER
Pittsburgh Steelers , 8.5
Over (-120) / Under (even)
2013's Steelers team is largely forgettable because of their 8-8 record and no playoff appearance. But they were the one team you did NOT want to play in the postseason, and they only missed because Kansas City kicker Ryan Succop couldn't hit a borderline chip shot against San Diego late. Ben Roethlisberger can carry a team, Antonio Brown remains underrated, they're high on Markus Wheaton and Le'Veon Bell is a feature back in waiting. Ryan Shazier should be an impact rookie on defensive and the front seven can alleviate some of the secondary concerns. The Steelers lost a pair of games last year (against Oakland and Tennessee!) they shouldn't have. Ten wins was doable and could be doable this year as well.
VERDICT: OVER
Baltimore Ravens , 8.5
Over (-120) / Under (even) 
Kills me that the Steelers and Ravens have identical odds. Kind of a "one of these teams HAS to bounce back in 2014" thing. A lot can hinge on their matchups, which means winning or losing on these totals will basically boil down to six points. I liked what the Ravens did in free agency (adding Steve Smith and Owen Daniels as weapons for Joe Flacco ) and the draft ( C.J. Mosley and Timmy Jernigan will improve the defense). Credit Ozzie Newsome for reworking things on the fly following an unsuccessful Super Bowl defense. Not completely sold on whether Gary Kubiak's offense will translate to the run and pass game in Baltimore but this is a CUSHY looking schedule for the Ravens to start.  
VERDICT: OVER
Cleveland Browns , 6.5
Over (-150) / Under (+130) 
Before you ask, it's not unprecedented for three of four AFC North teams to win 8-plus games. It happened in 2009, 2011, 2012 and 2013 in fact. Of course, that means someone suffers as a result. Ladies and gentlemen, yooooour Cleveland Browns. I was really high on their draft, the lack of wide receivers aside, and think ultimately Johnny Manziel will help save this franchise. But he's not doing it if Josh Gordon 's out for the season and it's not happening if Brian Hoyer 's winging the rock to Miles Austin all year. Jordan Cameron 's a nice weapon and the defense has a sick pair of cornerbacks in Joe Haden and Justin Gilbert. Someone has to lose games in this division though.
VERDICT: UNDER***
Denver Broncos , 11
Over (-140) / Under (+120)
Since 2003, when he's the full-time starting quarterback, Peyton Manning has won less than 11 games ONE TIME in a season (2010, when he won 10 with the Colts). This may be his toughest test yet, with a brutal schedule that include a strip to New England and matchups against the NFC West. But he's prepared: Montee Ball can be (will be?) a feature back soon and he's tossing to Demaryius Thomas , Emmanuel Sanders and Julius Thomas . The Eric Decker loss will be negligible. Ryan Clady is healthy. The defense is improved with Aqib Talib , Bradley Roby, T.J. Ward and Chris Harris returning. Von Miller comes back at some point. 11 won't be a cakewalk but betting against is betting on Peyton to get hurt, basically.
VERDICT: OVER
Kansas City Chiefs , 8
Over (-120) / Under (even)
An easy, easy choice from 2013, the Chiefs crushed the over on their win total before their bye thanks to a 9-0 start. They weren't scaring the '72 Dolphins or anything, but they were a vastly improved unit from the two-win team that took the field before. There's reason to be cautious this season. The loss of Branden Albert , Jon Asamoah and Geoff Schwartz should be a concern looking at Jamaal Charles and the rushing attack. Dee Ford was drafted because Tamba Hali is reportedly showing up overweight. And there's no secondary receiver behind Dwayne Bowe . They're somewhere between a seven- and nine-win team, so this number is right. Just not sure I trust the lack of moves.
VERDICT: UNDER 
San Diego Chargers , 8
Over (-120) / Under (even)
The opposite of KC, the Bolts were the biggest surprise maybe of the entire 2013 NFL season. How Mike McCoy and Ken Whisenhunt nearly coerced 4,500 yards and 70 percent completions from Philip Rivers while essentially throwing to no one is beyond me. That's not to disrespect Keenan Allen : he looks like a stud, but you don't bank on your third-round rookie developing into a Pro Bowl player out of the blue when everyone else is hurt. The addition of Donald Brown is nice and I LOVE Jason Verrett via the draft. The schedule down the stretch -- Ravens, Pats, Broncos, San Francisco 49ers , Chiefs -- is absolutely brutal. Arizona Cardinals - Seattle Seahawks to open is much better. But there's a meaty spot in the middle and if San Diego steals some wins again, well, they'll hit .500. Don't bank on them not overachieving.
VERDICT: OVER 
Oakland Raiders , 5
Over (+150) / Under (-150)
Not the best odds for betting against the Raiders, which is a shame because betting against the Raiders can be a fruitful endeavor. I like what Reggie McKenzie did once he recovered from the Rodger Saffold nightmare during free agency and this Raiders team should be frisky. A lot can hinge on whether Derek Carr is "the guy" (I don't think he is, but if McKenzie likes him, he got a steal). Khalil Mack is going to dominate at the NFL level. Matt Schaub - James Jones - Maurice Jones-Drew is at least something that's worth talking about. I think. Maybe. The defense is old but it's at least better. My problem is the schedule. If they surprise the Chiefs and Chargers then maybe this over happens, but I just see a four-win schedule with their division and the NFC West involved as well.
VERDICT: UNDER 
Show Comments
Hide Comments
The Cowboys' draft picks since 2002 have been to 17 more Pro Bowls than the next closest t...

The Cardinals, however, don't sound enthused about his return

According to NFL Network's Michael Silver, the Browns might want to trade up to draft a franchise...
The projected top-20 pick could fall out of the draft with teams having little time to gather...

Bryant will have his progress reviewed again before the coming season

From Jadeveon Clowney to Odell Beckham, here's the option year prognosis for each 2014 first-round...