2014 Super Bowl Odds: Cutler, Bradford injuries hurt Bears, Rams
2014 Super Bowl odds from Week 8 are here. Let's take a look at how injuries to Sam Bradford and Jay Cutler hurt the Rams and Bears, respectively.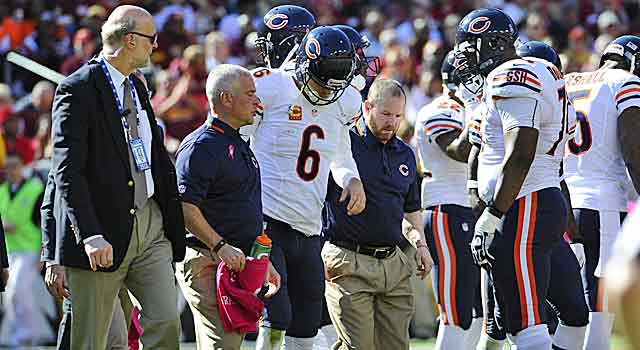 Nothing will wreck a Super-sounding season quite like a major injury to your quarterback. Example A: the Chicago Bears (50-1), who saw their odds plummet this week after they spent much of the season climbing up the charts. Jay Cutler is only supposed to miss "at least four weeks," but that sort of expectation given the injury at question -- a torn groin in this case -- seems highly optimistic.
We'll get a good idea of Marc Trestman in the coming weeks though. He's got Josh McCown and Jordan Palmer as his backups. When Cutler went down in previous seasons, the Bears ship capsized due to the total lack of offensive firepower. If Trestman's reputation as an offensive guru is accurate, the Bears should experience much smoother sailing, even with a questionable captain behind the wheel.
But there's definitely no reason to be optimistic about them winning the Super Bowl. The Packers (12-1) and Lions (50-1) might not be dominating teams, but they're superior options to emerge from the NFC North.
For the Rams (300-1), things are much worse. Sam Bradford's season-ending ACL injury sufficiently wraps things up for St. Louis. They weren't in a good place to begin with and were probably losing to the Panthers (50-1) on Sunday regardless of Bradford's status. But the Kellen Clemens show -- "give 'em hell with Kell (!!!!) -- isn't the type of event that gets the privilege of charging high prices for tickets.
Mix in a division with the Seahawks and 49ers and it's no surprise that the Lou finds itself at the back end of the Super Bowls and falling fast.
Notable Movement
• Speaking of the Panthers, it's easy to be feeling better about their chances to be a Super Bowl sleeper now isn't it? Sure wins against the Giants (150-1), Vikings (500-1) and Rams (300-1) are questionable at best. But the Panthers dominated those teams and were close to beating the Bills (250-1) and Seahawks (9-1).
• Vegas isn't silly enough to let a little thing like a loss derail the Broncos (3-1) from the top spot of the betting odds. Moving them anywhere north of 5-1 range would likely create a massive influx of money on Denver, as if there wasn't enough already. It's a reminder that they're mortal though.
• What did I say about the Chiefs (14-1) getting no respect? They're 7-0, should stretch things out to 9-0 eventually and are dominating teams on defense. Yet they remain the eight-highest odds out of anyone.
| | | | | | | | |
| --- | --- | --- | --- | --- | --- | --- | --- |
| Team | Week 7  Odds | Week 8  Odds | Trend | Team | Week 3  Odds | Week 4 Odds | Trend |
| Denver Broncos | 5-2 | 3-1 | | Philadelphia Eagles | 50-1 | 66-1 | |
| Seattle Seahawks | 11-2 | 9-1 | | Pittsburgh Steelers | 100-1 | 66-1 | |
| New Orleans Saints | 17-2 | 8-1 | | Houston Texans | 75-1 | 100-1 | |
| San Francisco 49ers | 17-2 | 17-2 | | Miami Dolphins | 75-1 | 100-1 | |
| Green Bay Packers | 12-1 | 12-1 | | New York Jets | 150-1 | 100-1 | |
| New England Patriots | 12-1 | 12-1 | | Washington Redskins | 125-1 | 100-1 | |
| Indianapolis Colts | 20-1 | 14-1 | | New York Giants | 300-1 | 150-1 | |
| Kansas City Chiefs | 20-1 | 14-1 | | Tennessee Titans | 150-1 | 200-1 | |
| Cincinnati Bengals | 18-1 | 16-1 | | Buffalo Bills | 500-1 | 250-1 | |
| Dallas Cowboys | 25-1 | 18-1 | | Arizona Cardinals | 100-1 | 300-1 | |
| Carolina Panthers | 66-1 | 50-1 | | Cleveland Browns | 150-1 | 300-1 | |
| Chicago Bears | 33-1 | 50-1 | | St. Louis Rams | 150-1 | 300-1 | |
| Detroit Lions | 40-1 | 50-1 | | Minnesota Vikings | 300-1 | 500-1 | |
| San Diego Chargers | 66-1 | 50-1 | | Oakland Raiders | 500-1 | 500-1 | |
| Atlanta Falcons | 66-1 | 66-1 | | Tampa Bay Buccaneers | 1000-1 | 1000-1 | |
| Baltimore Ravens | 50-1 | 66-1 | | Jacksonville Jaguars | OFF | OFF | |
Show Comments
Hide Comments
Melifonwu is one of the most enigmatic prospects in the entire draft class

The Browns are hoping Kizer can end the long quarterback drought in Cleveland

Pete Prisco grades every second-round pick of the 2017 NFL Draft
Mixon is arguably the best back and undoubtedly the most controversial player in the draft

Tight end Gerald Everett racked up 717 yards and four touchdowns last year at South Alabam...

Adam Shaheen is a monster-sized tight end out of Division-II Ashland