2014 Super Bowl Odds: Rodgers injury tilts NFC North needle
2014 Super Bowl Odds, where Aaron Rodgers injury changes things up in the NFC North.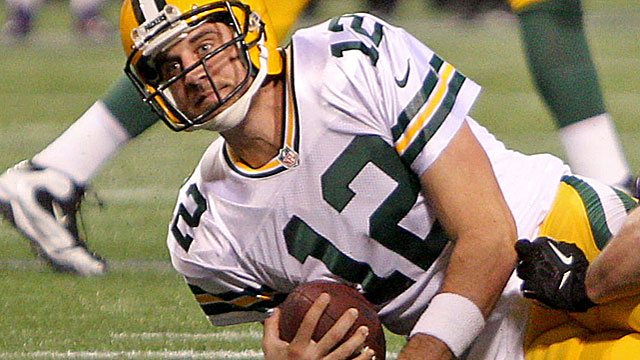 Ed. Note: These Super Bowl odds were set before the Minnesota-Washington game Thursday but published after. There's an asterisk. Washington will be lower and Minnesota will be higher.
That Aaron Rodgers injury on Monday night was pretty big, huh? Obviously the broken collarbone that Rodgers suffered was a massive blow to the Packers in Week 9 alone: they couldn't finish the job at home, in primetime, against a Bears team without Jay Cutler.
But it's a much bigger deal for Green Bay going forward, something reflected by the heavy shift in odds around the NFC North. The Packers' drop wasn't crazy precipitous or anything: they only fell from 9-1 to 14-1. But that's a pretty huge drop for a team as hot as they were and it also signifies that we don't yet know how long Rodgers will be out. If a week goes by and Seneca Wallace doesn't look good and the prognosis gets worse for Mr. Doublecheck, the Packers will keep falling.
Meanwhile we saw two other NFC North teams -- the Bears (33-1) and Lions (33-1) -- quickly move upwards. Relative to Green Bay, I'd call both nicely-priced bets. I wouldn't want to ride Josh McCown all season long but kudos to Quarterback Whisperer Marc Trestman for getting him ready to get it done in Green Bay. I wouldn't put it against them performing with Alshon Jeffrey and Brandon Marshall turning into a filthy 1-2 receiving punch.
The Lions moved up despite being on a bye because of the sudden change in the division. They've got a showdown in Chicago for the right to first place. A win there -- which is entirely possible given how good the offense looks with Reggie Bush and Calvin Johnson on the field together -- and suddenly Detroit's prospects are much, MUCH brighter than they were with just two minutes left in Week 8's game against Dallas.
Notable Movements
The Panthers keep on climbing. We'll see where they are after San Francisco (15-2) and New England (9-1) in the next two weeks. They'll either be a really nice price or really, REALLY expensive.
The Falcons (500-1) have the same odds as the Raiders (500-1). Friendly reminder no one knows anything.
Expect the Redskins (100-1) to drop drastically after their Thursday night loss. Vikings (1000-1) shouldn't see much upward mobility in a tough division.
Team
Week 9  Odds

Week 10  Odds

Trend

Team
Week 9 Odds

Week 10 Odds

Trend


Denver Broncos

13-4
10-3

San Diego Chargers



50-1
75-1

Seattle Seahawks

9-2
5-1

Baltimore Ravens



66-1
100-1

San Francisco 49ers

15-2
15-2

New York Jets



200-1
100-1

New England Patriots

12-1
9-1

Tennessee Titans



200-1
100-1

New Orleans Saints

15-2
9-1

Washington Redskins

*

125-1
100-1

Indianapolis Colts

16-1
12-1

Houston Texans



100-1
150-1

Kansas City Chiefs

12-1
12-1

Arizona Cardinals



150-1
200-1

Green Bay Packers

9-1
14-1

Cleveland Browns



500-1
200-1

Cincinnati Bengals

14-1
18-1

Pittsburgh Steelers



125-1
250-1

Dallas Cowboys

28-1
25-1

Atlanta Falcons



150-1
500-1

Carolina Panthers

33-1
28-1

Oakland Raiders



250-1
500-1

Chicago Bears

75-1
33-1

Buffalo Bills



500-1
750-1

Detroit Lions

40-1
33-1

Minnesota Vikings

*

750-1
1000-1

Philadelphia Eagles

100-1
66-1

St. Louis Rams



500-1
1000-1

Miami Dolphins

150-1
75-1

Tampa Bay Buccaneers



OFF
OFF

New York Giants

75-1
75-1

Jacksonville Jaguars



OFF
OFF
Show Comments
Hide Comments
Our Latest Stories
It's probably a good thing that Chiefs won't be playing in the Super Bowl

Johnny Football might not be done with football

Maybe home-field advantage isn't actually an advantage
It appears there's at least one thing Brady isn't good at

The NFLPA released the salary cap rollover numbers for the 2017 league year

You can go ahead and put those trade rumors to bed