2014 Super Bowl Odds: Turmoil up top for NFL powers
2014 Super Bowl odds, featuring a glut of contenders at the top who are struggling.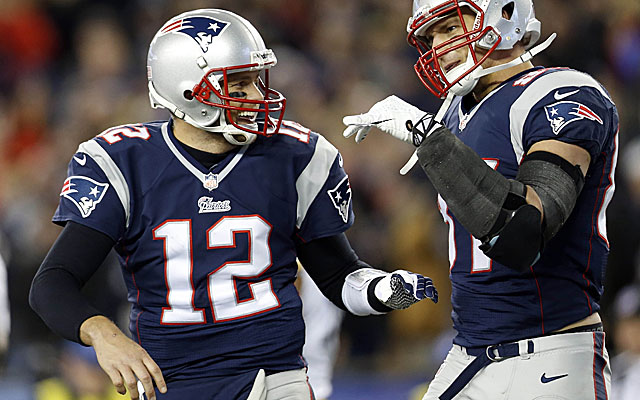 This is the time of the year when NFL teams are supposed to be rounding into shape, getting hot at the right time and prepping for the playoffs. Instead, things are kind of a mess up top.
The best example comes from Thursday night's Broncos-Chargers game, which has been incorporated below. The Broncos were 11-4 -- having moved up from their previous spot -- and tied with the Seahawks  until Thursday night. Now they're 3-1. Meanwhile, San Diego moved up from 75-1 to 50-1 on the heels of beating Peyton Manning and Co.
The biggest concern for the Broncos is their defense. They're still a top favorite, but you've got to consider Manning's semi-struggles and the Broncos inability to slow down the Chargers a pair of red flags moving forward.
Denver's not alone though. Seattle (11-4) just got beaten by the 49ers (8-1) in San Francisco, a firm reminder that those two teams are a lot more even than people like to admit sometimes. It matters big time where they're playing, and Seattle's a lot better at home, but they're a beatable team if you can play physical with them.
The Patriots (10-1) have a major problem with the loss of Rob Gronkowski. They'll still score points and are a near lock for a top seed and maybe even the No. 1 seed, if they can win out. But the offense won't be as dynamic and they won't be as dangerous in the red zone without Gronk.
The Panthers were manhandled by the Saints (8-1) in New Orleans. We'll learn a lot about them depending on how they bounce back against the Jets (300-1; no longer OFF???) and then in two weeks when they host the Saints. I'm worried about them against teams that can spread them out with multiple weapons and have a quarterback like Drew Brees who can get the ball out quickly. They turned Greg Hardy and Charles Johnson into a non factor.
Notable Movement
The Giants and Titans join a growing list of teams that are OFF.
The Chargers aren't a great bet at 50-1, honestly, even though they've got a shot at making the playoffs. They need a lot to happen and the Dolphins (66-1) and Ravens (50-1) are probably better bets to make the playoffs. Handling the Broncos was impressive though. Philip Rivers has beaten the Manning Bros in consecutive weeks. That ain't easy.
Look at the Eagles (28-1) flying! With the Cowboys (50-1) defense looking terrible against the Bears (50-1) on Monday night, the Eagles are a good bet to win that division. Chip Kelly is doing work.
Aaron Rodgers won't be back this week for the Packers (50-1) but if you like longshots they're a pretty good one. Beat the 'Boys, get Rodgers back and they're a sneaky NFC North division winner. There's a reason Vegas is moving them up the board quickly.
Odds via Bovada
| | | | | | | | |
| --- | --- | --- | --- | --- | --- | --- | --- |
| Team | Week 14  Odds | Week 15  Odds | Trend | Team | Week 14  Odds | Week 15 Odds | Trend |
| Seattle Seahawks | 5-2 | 11-4 | | San Diego Chargers | 125-1 | 50-1* | |
| Denver Broncos | 13-4 | 3-1* | | Arizona Cardinals | 100-1 | 100-1 | |
| New Orleans Saints | 10-1 | 8-1 | | New York Jets | OFF | 300-1 | |
| San Francisco 49ers | 14-1 | 8-1 | | Pittsburgh Steelers | 125-1 | 300-1 | |
| New England Patriots | 13-2 | 10-1 | | New York Giants | 75-1 | OFF | |
| Cincinnati Bengals | 20-1 | 16-1 | | Tennessee Titans | 250-1 | OFF | |
| Carolina Panthers | 10-1 | 18-1 | | Washington Redskins | OFF | OFF | |
| Kansas City Chiefs | 33-1 | 25-1 | | Atlanta Falcons | OFF | OFF | |
| Philadelphia Eagles | 33-1 | 28-1 | | Buffalo Bills | OFF | OFF | |
| Indianapolis Colts | 28-1 | 33-1 | | Cleveland Browns | OFF | OFF | |
| Detroit Lions | 25-1 | 40-1 | | Houston Texans | OFF | OFF | |
| Baltimore Ravens | 50-1 | 50-1 | | St. Louis Rams | OFF | OFF | |
| Chicago Bears | 75-1 | 50-1 | | Oakland Raiders | OFF | OFF | |
| Dallas Cowboys | 33-1 | 50-1 | | Minnesota Vikings | OFF | OFF | |
| Green Bay Packers | 75-1 | 50-1 | | Tampa Bay Buccaneers | OFF | OFF | |
| Miami Dolphins | 100-1 | 66-1 | | Jacksonville Jaguars | OFF | OFF | |
Show Comments
Hide Comments
The top three-technique prospect in the draft could see his name not called at all

The former Florida football player was expected to be a second-round pick in the NFL Draft

This much is certain: The Browns desperately need a quarterback
The man who signed Romo is happy to see him move on from playing the game

Roger Goodell typically announces all the first-round picks, but he'll make an exception this...

NFL teams find out their schedule on the same day you do